An Agent For
Change
---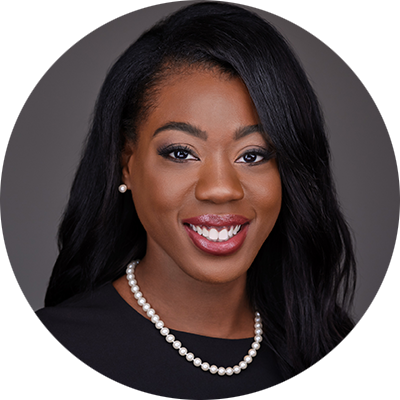 by Mike Jernigan
DR. SHAINA CRAIGE '18 WANTS TO CHANGE A FEW THINGS FOR THE BETTER.
The world for one. Diversity and inclusion for another. Oh, and maybe the veterinary profession while she's at it.
The Mobile, Alabama, native is already hard at work on helping change the world since being named to a Science and Technology Policy Fellowship (STPF)
by the American Association for the Advancement of Science (AAAS) last year. Awarded through a highly competitive process, the fellowships provide opportunities for outstanding scientists and engineers to learn firsthand about policymaking and apply their knowledge and analytical skills within the public policy realm. Fellows are assigned to one-year positions with appropriate federal government agencies to serve the nation and assist people around the world.
Craige has prepared throughout her career for just such an opportunity. After graduating from Southern University and A&M College — an HBCU in Baton Rouge, Louisiana — with a degree in agricultural science, she came to Auburn with the goal of becoming a public health veterinarian. "I wanted to utilize both my agricultural background and DVM to aid in the prevention and control of diseases affecting the nation's agriculture," she recalled. "That led me to enroll in the DVM/ MPH dual program, and there I became aware of the One Health initiative. Overall, I enjoyed my time at Auburn. We hadphenomenal professors and clinicians who truly went above and beyond for students."
While at Auburn, Craige also became involved with diversity and inclusion issues, helping found and lead Auburn Vet Med's inaugural Veterinarians as One Inclusive Community for Empowerment (VOICE) chapter. In 2016, as a Merial Fellowship Scholar, she studied the effects of niacin on nonalcoholic fatty liver disease and completed a rotation at Koch's Foods in Montgomery, where she worked on management compliance with National Chicken Council animal welfare guidelines. During this rotation, she was introduced to the policy side of the industry and discovered her interest in the field, which has had a major impact on her career path.
After adding her master's in public heath from the University of Minnesota, Craige moved to Houston, Texas, where she worked in several veterinary clinics. But her desire to have a greater impact and her growing interest in public policy soon led her to seek other opportunities. In 2020, she applied and was selected as an STPF and appointed to a one-year posting with the U.S. Agency for International Development (USAID) in Washington, D.C. Founded in 1961 by then-President John F. Kennedy, USAID is an independent government agency primarily responsible for administering civilian foreign aid and assistance to developing nations.
Craige is assigned to a division of the agency called the Bureau of Humanitarian Assistance, specifically within the Famine Early Warning Systems Network, or FEWS NET, a specialized team whose role is to provide early warning and analysis on acute food insecurity around the world. Created in 1985 by USAID in response to devastating famines in East and West Africa, FEWS NET "provides unbiased, evidence-based analysis to governments and relief agencies that plan for and respond to humanitarian crises." The team's analysts and specialists work with scientists, government ministries, international agencies and non-governmental organizations to track and publicly report on conditions in the world's most food-insecure countries.
"Right now," Craige explained, "I'm working on a project concerning pastoralism — a branch of agriculture concerned with the raising of livestock — in East and West Africa. Pastoralists, or people who practice pastoralism for their livelihood, are generally classified according to their mobility, such as nomadic, semi-nomadic, etc. Although pastoralists are extremely resilient, they have become increasingly vulnerable to various factors such as climate change, ongoing conflict, land degradation and forced or encouraged resettlement.
"As of right now, we're still teleworking due to the COVID-19 pandemic, so I'm primarily in a research phase working with our livestock model," she added. "The idea of the livestock model is to improve the monitoring of food security in pastoral and agro-pastoral areas by improving the analysis of likely changes in herd size and productivity over time."
Craige is quick to note that her work with the bureau is a perfect example of the interconnections between animal and human health and well-being. "Through my work with FEWS NET, I'm able to utilize the One Health perspective daily," Craige said. "We monitor zoonotic disease outbreaks that may result in food insecurities. We also monitor climate change — which results in droughts, floods, etc. — and its impact on livestock and the pastoralist community."
Not only is the USAID experience giving her new perspectives on the concept of One Health, it is also providing her with a valuable inside look at how government policy is influenced and implemented. Craige hopes to eventually apply her knowledge to amplify the veterinary point of view on the shaping of that policy.
"Public policy for human, animal and environmental health has a profound influence on veterinary medicine," she noted. "Yet veterinarians remain underrepresented in the policy process. As I've started this fellowship, I've gained insights on global health. I would eventually like to gain experience on the congressional side, as well as to advocate for policies with a more direct impact on the veterinary profession."
In fact, Craige has come to recognize that helping to shape public policy is the best way forward to large-scale positive change in many areas. For that reason, it has become the focus of her future career goals. "I possess a strong interest in policy-related issues concerning animal health and food safety," she said, "as well as issues related to environmental health and protecting our natural resources. My long-term goal is to remain within the policy sector and build a career that cultivates both public health and sound policy."
Along the way, Craige also plans to continue to use her voice and example to encourage more diversity and inclusion in the veterinary profession…
That is something else I am very passionate about," she stated with conviction. "As the U.S. population continues to become more diverse, an increase in diversity within our profession is critical. It is necessary to increase trust and access among underrepresented groups and reduce
potential disparities in the care sought for their pets. The veterinary field is vast and full of opportunities. I hope to continue to mentor students and advocate for diversity, equity and inclusion within veterinary medicine and other STEM professions."
Return to home