Attorney General Sessions Visits Vet Med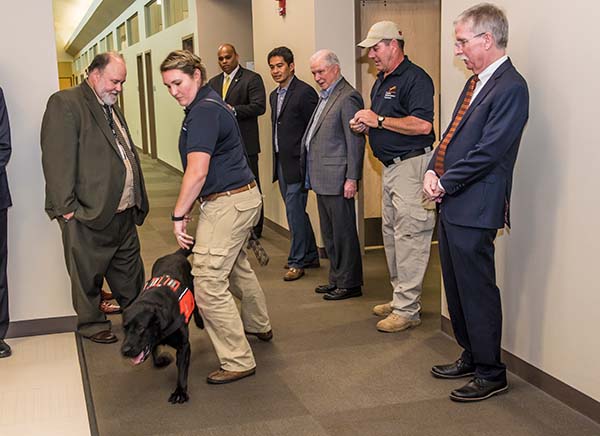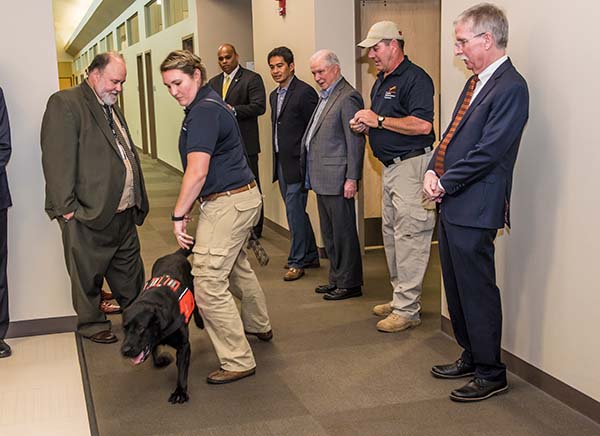 U.S. Attorney Jeff Sessions, center right, watches a demonstration of a detection dog by Canine Performance Sciences instructor Laura Reeder. Sessions visited Auburn University to examine two initiatives designed to protect the public—CPS, the world's most advanced detector dogs, and the Harrison School of Pharmacy, to discuss the national opioid crisis. College administrators who briefed the attorney general included CPS' Paul Waggoner, left, and Terry Fisher, in hat; and Frank "Skip" Bartol, associate dean for Research and Graduate Studies.
Wagner Earns Canine, Feline Certification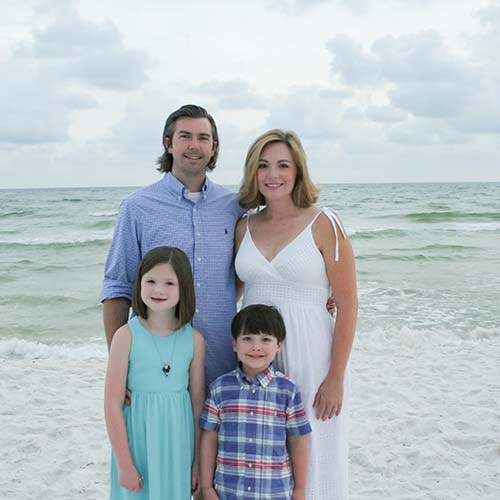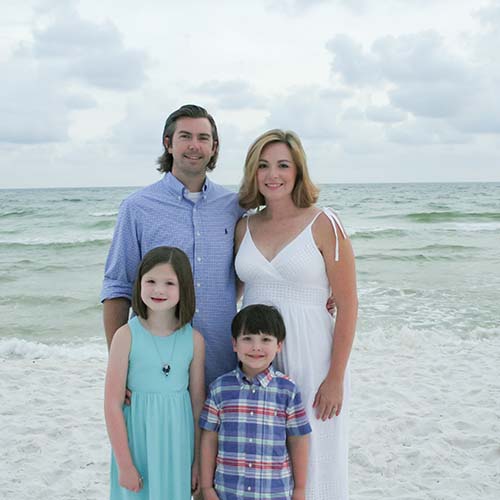 Travis Wagner '02, DVM, earned certification in canine and feline practice with the American Board of Veterinary Practitioners, one of fewer than a half-dozen veterinarians in the state with dual certification.Wagner, who passed the board exam at the ABVP conference in Atlanta in October 2017, is an associate at Rainbow City Pet Clinic in Rainbow City, Ala., where he also serves as the medical director.He and his wife, Stephanie, have a daughter, Natalie, and a son, Reade.
Drouet-Pratt Earns Diplomate Status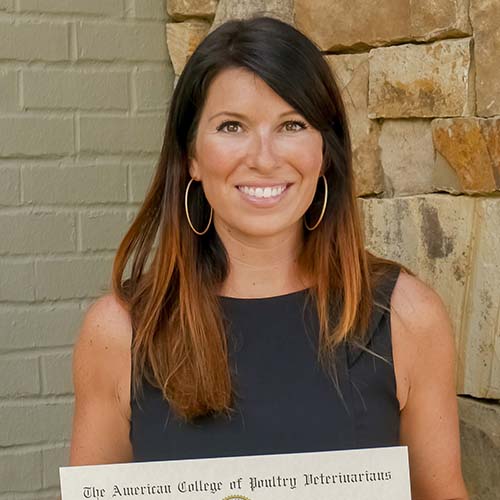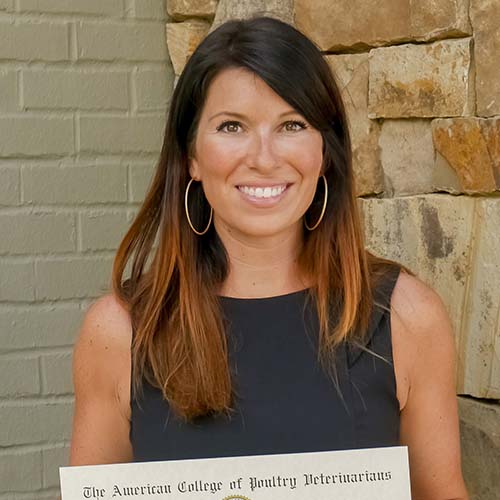 Victoria Drouet-Pratt '10, DVM, has earned Diplomate status with the American College of Poultry Veterinarians, joining an elite group of poultry veterinarians.
The Cullman, Ala., native works with Elanco Animal Health's Poultry Business Unit, working with commercial poultry companies covering 12 states while maintaining her private practice and relief veterinary work on the weekends.
Upon completing her DVM, she practiced mixed animal medicine for five years in Georgia and Tennessee. In 2016, Drouet-Pratt earned her Master of Avian Medicine from the University of Georgia. Following graduation, she accepted the position of Corporate Director of Veterinary Services for Koch Foods, the fifth-largest poultry integrator in the United States. In this position, she oversees the bird health program for all eight production complexes at various locations across Alabama, Georgia, Tennessee, and Mississippi. She lives in Chattanooga with her husband and two young children.
Southern Veterinary Partners Named Fast-Growing Company
Southern Veterinary Partners, founded and owned by Auburn veterinary alumni, ranked 235 on the Inc. 5000 list of the fastest-growing companies in America.
Founded by veterinarians Jay Price '06, Barron Lakeman '01, and Jeff Falone '04, this is the first year that SVP made the list, which evaluates growth over a three-year span. SVP is the highest-ranking company in Birmingham and in Alabama on the list and ranks as the 19th fastest-growing health care company in America.
Started in 2014 with three veterinary hospitals in Alabama, the company now has 60 hospitals across 10 southern states. Southern Veterinary Partners Named Fast-Growing Company.
"I am honored for SVP to earn a place on a list that has included heavy hitters like Zappos and Oracle," Price said. "We are inspired to continue expanding our footprint of hospitals providing best-in-class pet ca re."
Based in Birmingham, SVP is a veterinarian-owned and operated regional network of animal hospitals in the South with a goal of providing the highest-quality veterinary care to companion animals with exceptional client experiences.
Alumni Spotlight: Lawrence Garcia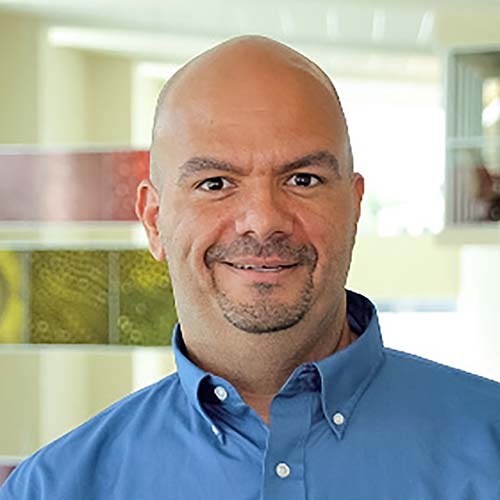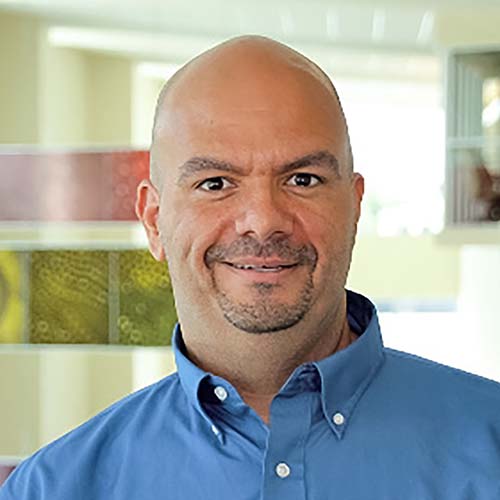 Lawrence Garcia '09, DVM, serves as clinical assistant professor in shelter medicine and surgery at the University of Florida's College of Veterinary Medicine.
In this role, he developed two clinical rotations in which clinical veterinary students are given hands-on experience in a fully functioning municipal shelter operation. "Students learn about protecting the health and welfare of dogs and cats and recognize and respond to compromised physical and behavioral welfare conditions; understand animal shelter operations and flow-through; and develop proficiency in basic diagnostic evaluation procedures and creating shelter appropriate treatment plans."
Prior to joining UF CVM, Garcia worked in general practice following graduation until 2014, when he accepted a position in a large municipal animal shelter.
Return to home