Annual Conference & J.T Vaughan Equine
Conference
111th Annual Conference Wraps Up as Record-Setting Event
The 111th Annual Conference, now history, takes its place in the archives as one of the largest and most successful for the College of Veterinary Medicine.
Drawing some 611 attendees for the annual conference Oct. 18-21, the event was expanded to also involve the 13th Annual J.T. Vaughan Equine Conference; bestowing of the college's highest alumni awards, the Wilford S. Bailey Awards and the El Toro achievement award; as well as alumni reunions for 10 classes: 1968, 1973, 1978, 1983, 1988, 1993, 1998, 2003, 2008 and 2013. Some 485 college alumni and their guests attended these reunions.
The Bailey Awards
Alumni recognized with College of Veterinary Medicine's highest awards
---
Three outstanding alumni and ambassadors of Auburn University's College of Veterinary Medicine were honored Oct. 19 at The Hotel at Auburn University and Dixon Conference Center by the college for their distinguished professional careers.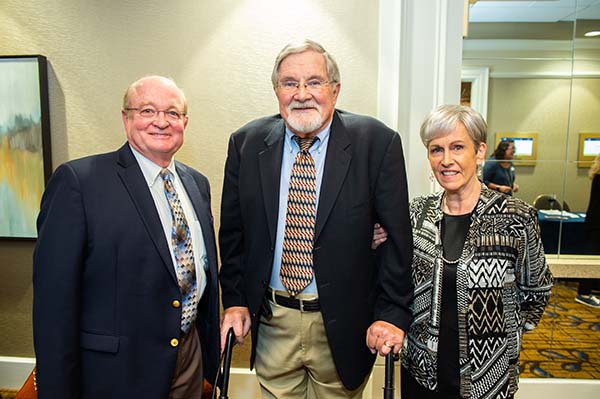 Patricia Kennedy Arrington '71, Robert Hoyt '74 and Steven Swaim '71 were recognized as the 2018 Wilford S. Bailey Distinguished Alumni.
The award is the highest honor given to College of Veterinary Medicine alumni to recognize their accomplishments in veterinary medicine, outstanding contributions to his or her community and the advancement of animal and human health.
The award is named to honor the late Wilford S. Bailey, who held a 50-year continuous faculty appointment at Auburn, serving in positions ranging from instructor to university president. A 1942 graduate of the college, Bailey was the first recipient of the Distinguished Alumnus Award. Following his death in 2000, it was named for him.
The awardees were recognized in three different areas of eligibility for the awards: academia, private practice, and research and public policy.
Kennedy Arrington is the co-founder and owner of two veterinary practices in Louisville, Kentucky, the Jefferson Animal Hospitals, which includes the Fern Creek Wellness & Surgery Center and the Outer Loop 24-hour Emergency Center. Both are considered among the top practices in the state and beyond for their commitment to animal care and the human bond. Both practices are operated using fear-free and low-stress techniques, ensuring the pet and their owner a positive experience.
"We believe that gentle handling and compassion, not muscling down the animal, will go far in how the animal feels about us and especially ensuring the owner will return their pet for health care visits," she said.
Upon receiving the Bailey Award, Kennedy Arrington said, "I am very passionate in my practice and among my community activities about talking and teaching about veterinary medicine. I like to encourage students, and I tell all that I work with to get involved and move the profession forward. I am extremely pleased and honored to receive this award."
Hoyt, who currently serves as the Animal Program director and attending veterinarian with the National Cancer Institute-Bethesda Lab Animal Science Program, spoke also about giving back.
"I am quite humbled," Hoyt said. "Coming to Auburn has been a wonderful lifelong experience for me and it helped me to develop a lot of confidence and really move forward with my life. I have many lifelong friends whom I met here, and I want to especially thank the Admissions Committee for allowing me to attend veterinary medicine school at Auburn."
Swaim, former director of the Scott-Ritchey Research Center at the college, also talked of his lifelong and deep ties to Auburn University and to the community.
"I cannot tell you how honored I am for the 38 years spent at Auburn," Swaim said. "This award is a great honor and it is an even greater honor to receive recognition like this from an institution like Auburn University College of Veterinary Medicine."
Now making his home in Kansas, Swaim said, "I have to come back at least twice each year to get my blue and orange fix."
About the Bailey Distinguished Alumni Recipients
Patricia Kennedy Arrington
---
Kennedy Arrington is a licensed, practicing veterinarian with more than 46 years of experience in both small and large animal medicine and surgery. She is co-founder and owner of Louisville's Jefferson Animal Hospital and Regional Emergency Center, opened in 1978. In 1980, the emergency center was expanded to provide 24-hour veterinary care with doctors and trained staff.
An 8,000-square-foot facility was constructed in 1996, taking the business concept to an increased level of service and earning Jefferson Animal Hospital national recognitions. Her second hospital, Jefferson Animal Hospital Fern Creek, opened in 1985. This "sister'' facility operates during normal business hours and works in tandem with the Emergency Center.
Both Jefferson Animal Hospitals are certified by the American Animal Hospital Association (A AHA), which requires strict standards and inspections, the first animal hospitals in Louisville to achieve this honor. Jefferson Animal Hospitals currently employ 14 licensed veterinarians and approximately 50 support staff.
Kennedy Arrington also is active in her community where she is an avid supporter of numerous youth education programs and the arts.
Robert Hoyt
---
Hoyt is Animal Program director and attending veterinarian for the National Cancer Institute Lab Animal Science Program in Bethesda, Maryland. He directs the program in support of the National Cancer Institute Center for Cancer Research, where he leads a staff of more than 80 professionals.
Among his noted accomplishments, Hoyt developed a waste anesthetic gas management plan for rodent imaging facilities and training plan for investigators which has become the model for the NIH intramural program; developed a novel intra-bone marrow delivery system in swine and non-human primates for delivery of hematopoietic stem cells as a potential treatment platform for a number of diseases, including leukemia; developed a hands-on surgical training program for research staff; and co-developed with NCI researchers real-time MR I imaging techniques for lymphatics in primates, dogs and pigs, including real-time visualization of sentinel nodes in prostate cancer model.
He is active on numerous NIH research and advisory groups and boards and has a long list of peer-reviewed scientific research publications. Hoyt served in the U.S. military and holds professional veterinary licensure in the states of Maryland, Georgia, South Carolina and Florida.
Steve Swaim
---
Swaim earned his DVM from Kansas State University, and after a year in private practice, he served three years as a captain in the U.S. Army Veterinary Corps.
He came to Auburn in 1971 for advanced training in veterinary surgery and earned his Master of Science degree in veterinary surgery under the late Dr. Frank Hoerlein. For the remainder of his career, he served the Auburn College of Veterinary Medicine with distinction, earning every academic rank from instructor to professor.
Swaim provided leadership of Small Animal Surgery and Medicine, and in 1984, became the second director of the Scott-Ritchey Research Center, succeeding its founder, Dr. Hoerlein.
In 1990, he stepped down from that administrative post to become the center's director of the Wound Healing and Reconstructive Surgery and Sports Medicine programs, where his contributions to research and education flourished for the next decade.
Now retired and residing once again in his home state of Kansas, Swaim holds the title of professor emeritus of Small Animal Surgery and Medicine and senior scientist in Scott-Ritchey Research Center at Auburn University.
EL TORO AWARD
Oklahoma veterinarian and Auburn alumnus receives El Toro Award
Calvin White
---
Calvin White, DVM, of Ada, Oklahoma, a '77 College of Veterinary Medicine graduate, received the El Toro Award for Excellence in Food Animal Medicine for his dedicated work in food animal practice.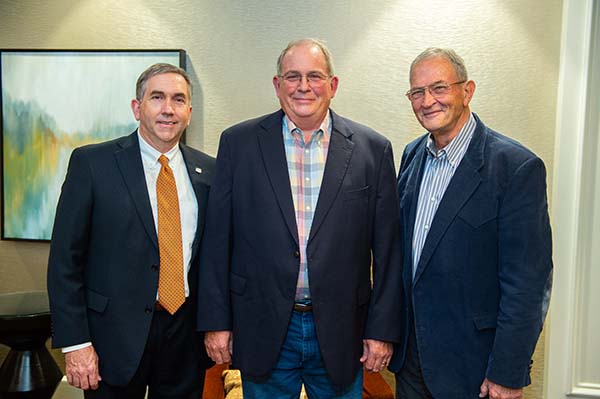 White was presented the award during the college's 111th Annual Conference.Following graduation from Auburn, White became an associate in a three-veterinarian mixed-animal practice in Coalgate, Oklahoma, a practice that was approximately 70 percent beef cattle service, including commercial cow-calf, purebred cattle ranches, and stocker cattle. In 1981, he bought half interest in Ada Veterinary Clinic in Ada, and assumed full ownership in 2007.
His mixed practice employs four full-time and one part-time veterinarians, and serves a broad area around Ada and includes services for commercial and purebred beef herds, extensive stocker calf operations, a large sale barn and dairy producers. The practice also serves sheep, goat and swine producers, along with pleasure and competitive horse operations.
"I want to thank the Auburn food animal veterinary faculty for nominating me for this award, and I want to thank Dr. [J.T.] Vaughan [dean emeritus] for raising the bar high for Auburn veterinary students," White said.
White is a member of the Oklahoma Veterinary Medical Association, American Veterinary Medical Association, American Animal Hospital Association, the Society for Theriogenology, American Association of Bovine Practitioners, American Association of Equine Practitioners, Oklahoma Quarter Horse Association and American Quarter Horse Association. He served on the program committee for the Western States Veterinary Conference; and he has served as a mentor for the Auburn Preceptorship Program for 36 years, through which numerous students under his tutelage have gone on to productive practice careers.
Additionally, White served on the Coalgate, Oklahoma, school board, was president of the Pontotoc County Cattlemen's Association, and the Pontotoc County Extension Advisory Committee. He was president of the Oklahoma Quarter Association and served on the national board of directors and the Public Policy Committee of the American Quarter Horse Association.
He served as president of the Oklahoma Veterinary Medical Association and is currently chair of the organization's Legislative Committee. White served on the Guidance Committee for the Murray State College Veterinary Technician Program and as mentor for Veterinary Technician Students from Tishimingo, Oklahoma. He was recognized as Oklahoma Veterinarian of the Year in 2012 and named Distinguished Alumnus for the Auburn College of Veterinary Medicine in 2013.
The El Toro Award for Excellence in Food Animal Medicine was established in 1994 and has been awarded annually through the generosity of Dr. James G. Floyd Jr. in memory of his father, J.G. Floyd.
The award recognizes a veterinarian, who through his or her contributions to food animal practice and organized veterinary medicine, high ideals and dedication to the production of food animals, serves as a role model for veterinary students. A major focus of the award is to provide opportunity for interaction between veterinary students and the recipient to increase veterinary students' interest in food animal medicine.
Annual Conference/ Vaughan Equine Conference
Held this year for the first time in conjunction with the J.T. Vaughan Equine Conference, Annual Conference attracted more than 600 participants attending specifically for the up to 20 hours of continuing education programs offered in the areas of equine medicine; practice management; small animal medicine; farm animal medicine; veterinary technicians programs; pharmacy; and laboratory education.
A noteworthy slate of internationally respected experts, including more than 40 Auburn veterinary faculty, in addition to residents and veterinary technicians, were featured speakers and presenters.
Wendy S. Myers served as keynote speaker. Myers is a certified veterinary journalist whose consulting firm, Communication Solutions for Veterinarians Inc. in Denver, Colorado, helps veterinary teams and owners improve communication skills, compliance, client service and hospital management.
Other featured speakers included:
• Equine Conference: Steve Adair, associate professor of equine surgery at the College of Veterinary Medicine at the University of Tennessee Knoxville. He is a burn injury specialist and an expert in equine rehabilitation modalities. Adair founded and is director of the Equine Performance Medicine and Rehabilitation Center, the only university-based course in equine rehabilitation in the United States.
• Small Animal: Michael Willard, senior professor and professor emeritus of Small Animal Clinical Sciences at Texas A&M University's College of Veterinary Medicine. He specializes in gastroenterology, hepatology, pancreatology and endoscopy (flexible and rigid).
• Farm Animal: Bob Larson, the Edgar E. and M. Elizabeth Coleman Chair of Food Animal Production Medicine at Kansas State University, and executive director of KSU's Veterinary Medical Continuing Education. Larson's research focuses on investigating ways to improve beef cattle health, production and reproduction. His primary area of interest is the integration of animal health, production efficiency and economic considerations in beef cattle production.
Because This is Auburn Campaign Celebration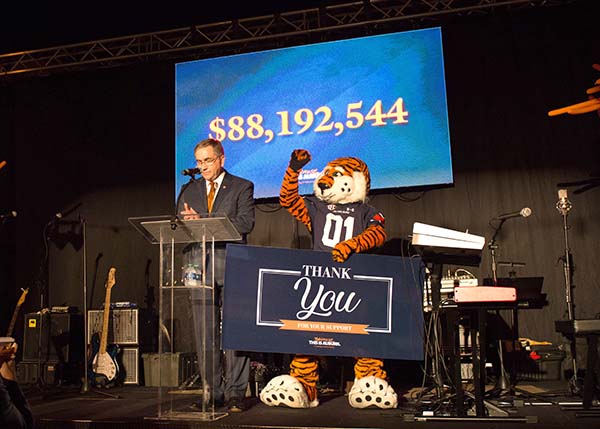 Social activities enjoyed by conference attendees included the celebration recognizing the close of the Because This is Auburn capital campaign, which raised a record-breaking $88,192,544 for the college.
Distributed at the celebration was the recently published biography, The Cary Legacy: Dr. Charles Allen Cary, Father of Veterinary Medicine at Auburn and in the South, written by Sam Hendrix, retired development director for the college.
AU President Steven Leath congratulated the college's donors, saying, "what you've accomplished through this campaign truly is exceptional.
"You have helped to shape the future of the College of Veterinary Medicine, and we will see the outcomes of your investments for generations to come—because it is here, in this college, that our future guardians of the world's food supply, promoters of national security, scientists, veterinarians, CEOs and educators will rise to take their place in this world, discovering cures for new diseases, developing therapies for existing and emerging diseases, and—as they have been since the very beginning—the perpetual caretakers of our pets and food animals.
"Through your support, Auburn will advance society with research and outreach, improving health around the world. We will work with our partners to create a stronger Alabama and a safer America. And we will do all these things while also creating a more sustainable world."
Dean Calvin Johnson thanked donors for their generous philanthropy, saying, "What we celebrate tonight, and where we celebrate it rests on the shoulders of donors who believe not only in hard work, but also in the importance of education, which, as our creed states 'gives me the knowledge to work wisely and trains my mind and my hands to work skillfully.'
"Because of that belief, John and Rosemary Brown's philanthropy enabled us to build a world-class Bailey Small Animal Teaching Hospital that will train our people and handle our caseload for years to come.
"And because of your investments, our researchers in the Scott-Ritchey Research Center are close to finding a solution for a neurodegenerative disease of children that currently has no cure—GM1 gangliosidosis. Because of this college's scientists, a treatment conceived and proven in cats in the center next door is now approved by the FDA to enter human clinical trials in early 2019.
"[Y]our philanthropy has…touch[ed] every corner in this college, from the 121 new student scholarships to our two new professorships, which enable us to recruit and retain world-renowned faculty members."
2020 Annual Conference Sponsors
Gold Level
Boehringer-Ingelheim
Henry Schein Animal Health
Silver Level
Merck Animal Health
Seminole Wellness
Bronze Level
Purchasing Services inc.
Total Practice Solutions Group
Zoetis
Zoetis Petcate
Return to home