---
Employee and Student Updates and Awards
Around The
College
Auburn Senior Interns at NIH
to Help Bring Rare Disease Treatment to Clinical Trial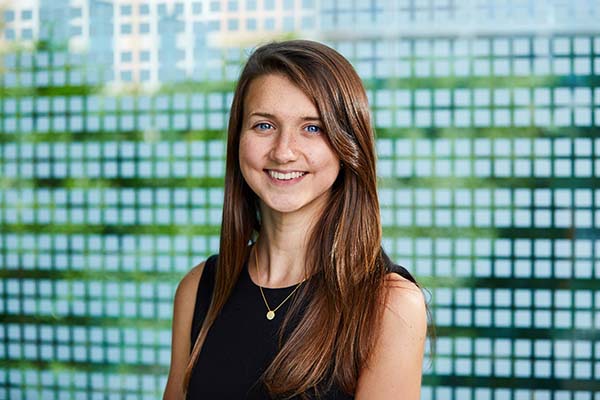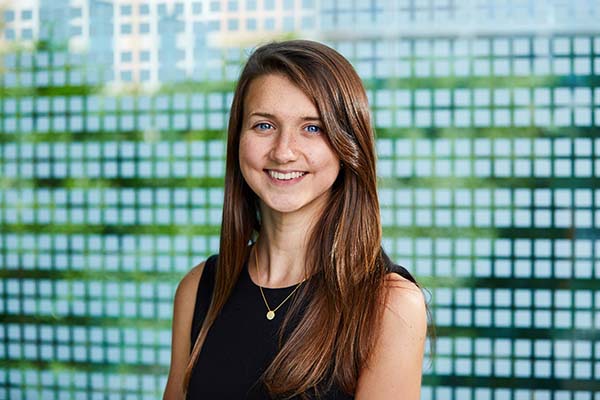 It's not unusual for a 20-year-old college student to be focused on a chosen career path, but Cassie Bebout has been focused most of her life, attending Auburn University so she could be a part of life-changing One Medicine research at the College of Veterinary Medicine.
The senior molecular biology major, who is on schedule to graduate Auburn in May in just three years, knew from an early age she wanted to be a physician and help cure a rare disease—so much so that the North Carolina native set her path to attend Auburn University so she could be a part of the laboratory team of Doug Martin, Ph.D., at the Scott-Ritchey Research Center.
Martin, a professor of Anatomy, Physiology and Pharmacology and a researcher at Scott-Ritchey, is the co-creator of a gene therapy—a non-harmful adeno-associated virus (AAV)—which produces enzymes missing in bodies with GM1 gangliosidosis and Tay-Sachs-related diseases.
Part of an international research consortium of human and veterinary scientists, Martin and Miguel Sena-Esteves, M.D., associate professor of neurology at UMass Medical School, have created the A AV and are working through the intensive process for human clinical trials.
Genetic diseases like GM1 gangliosidosis, similar to the more common Tay-Sachs and Sandhoff diseases, are inherited neurologic diseases that occur when genetic mutations prevent cells from producing enzymes needed to break down and recycle materials. Without these enzymes, the materials accumulate to toxic levels, slowly destroying the nervous system.
GM1 is caused when the body does not produce enough of a specific enzyme, β-galactosidase (βgal), which recycles molecules from the body. When the molecules build to abnormal levels, they progressively destroy the body's nervous system. The earlier the onset of the disease in children, the more quickly the disease kills, typically before age four.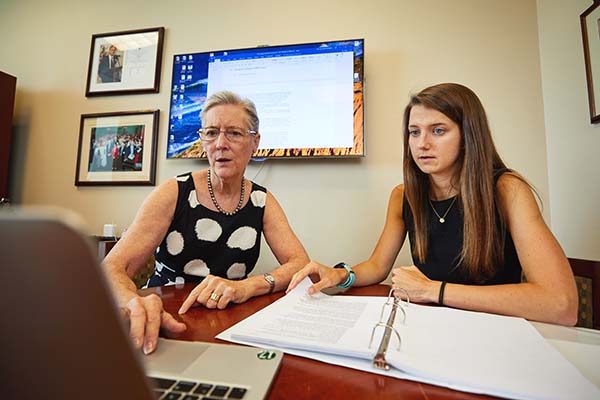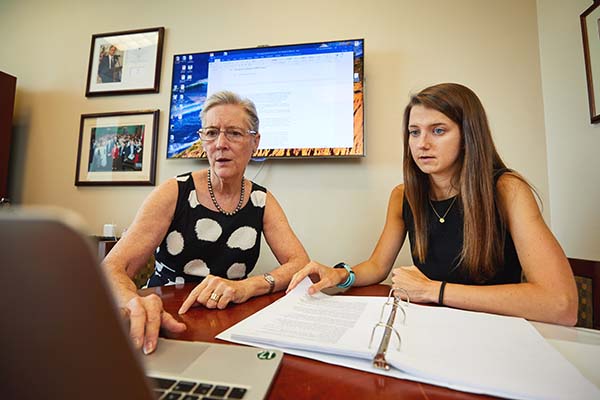 Martin and Sena-Esteves re-engineered the virus to introduce the gene that produces βgal. The virus acts as a vessel; its genetic material is removed and replaced with a concentrated dose of the βgal gene. Healthy cells pass along βgal, essentially allowing deficient cells to soak in the crucial enzyme.
At Auburn, researchers have studied how the treatment works in cats and Jacob's sheep, two animals which are carriers of the disease, like humans. In both cases, the treatment has dramatically improved the animal's quality of life. "There is no question now the disease can be treated successfully," Martin said. "We have seen how it has worked in cats with the disease and how it has extended their lives as healthy animals."
Bebout has been a vital part of Martin's team. "Cassie has been a major contributor to the research in many ways. As a lab member, she has been involved in every phase of the research. Her commitment to its success is outstanding.
"Even before she joined the lab, she raised funds and awareness through 5K races that she and her family organized."
Because of Bebout's dedicated work ethic, she had the opportunity to intern this past summer at the National Institutes of Health to continue her collaborative work in getting a cure for GM1 gangliosidosis to human clinical trials.
Bebout worked under Cynthia Tifft, M.D., director of the Pediatric Undiagnosed Diseases Program at the National Institutes of Health, where she investigates many rare diseases. Among her specialties are the lysosomal storage disorders (LSDs) Tay-Sachs disease, Sandhoff disease, and GM1 gangliosidosis, all uniformly fatal disorders of impaired lipid metabolism.
Tifft will lead the human clinical trial for GM1 gene therapy created by Martin and Sena-Esteves scheduled for early 2019 at the NIH.
While at the NIH, Bebout worked with Tifft to continue the regulatory information needed for the clinical trial, writing the Investigational New Drug application for GM1. "It was a big undertaking but I loved doing it."
Why has Bebout set her sights on a cure? Her brother, Jake, died in 2004 at nine years old from the disease, and as a six-year-old, Bebout's life was changed. "My family has stayed involved with national advocate organizations and talking with families," she said. "We have friends who have children who have the disease.
"I learned about Martin's research through Facebook," said Bebout. "A mother of a child with GM1 had shared an article about Dr. Martin's research. I knew I wanted to be a part of his work."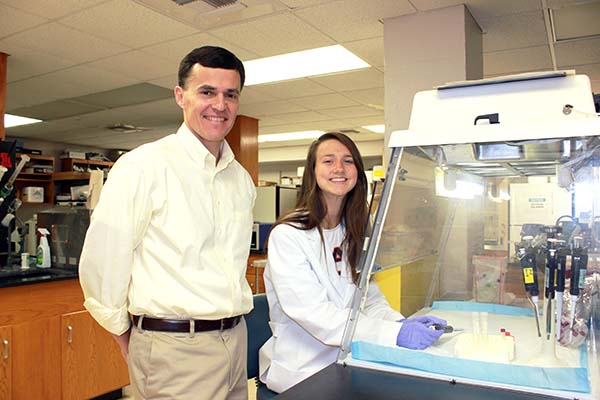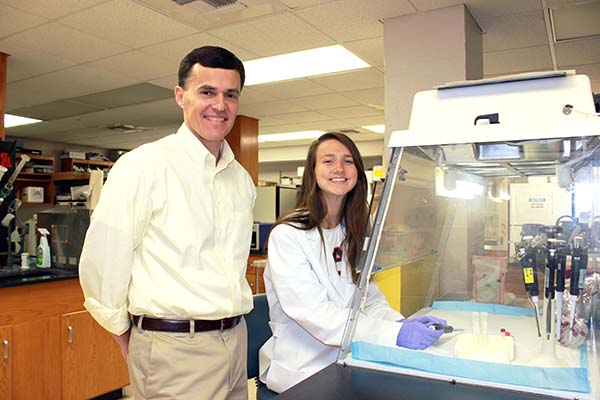 Auburn became a priority college for Bebout, who received a Presidential Scholarship to attend Auburn, when she learned of Martin's pioneering research. "The summer before my senior year of high school I spent three weeks interning for Dr. Martin, learning about Auburn's campus, the environment and people," she said. "I knew I wanted to come to Auburn. It aligned with my priorities."
Academics hasn't been Bebout's only priority while at Auburn. She is a member of the university's track team. Though she wasn't able to compete last year because of injury, Bebout was named the Women's Most Improved Cross Country Runner by coaches at the 2017-18 Track & Field banquet.
The Misenheimer, N.C., native is gearing up for competition this fall.
While the road hasn't been easy, watching other families suffer the same heartache as her own, Bebout said she knows Jake would be proud. "It is absolutely inspiring to see where my parents were, and how difficult it was for a diagnosis, to the hope we have today for a cure. I think Jake would be looking on us with a smile."
As for her hopes for medical school, Bebout thinks her work at the College of Veterinary Medicine, and her mentor in Martin, have prepared her for the future. "I'm prepared because of the research and clinical experience I've had, and I'm grateful to have learned as much as I have and been a part of Dr. Martin's team."
Veterinary Faculty Earn Promotion, Tenure
Six College of Veterinary Medicine faculty members were promoted and/or granted tenure effective Oct. 1.
Anne Wooldridge, DVM, was promoted to professor; earning tenure and promotion to associate professor were veterinarians Robert Cole and Tekla Lee-Fowler; Iryna Sorokulova, professor, was awarded tenure; and promotions to associate clinical professor were awarded to veterinarians Lenore Bacek and Erin Groover.
"We are very proud of the professional accomplishments of these faculty members who have earned academic promotions or tenure through each of the college's three departments," Dean Calvin Johnson, DVM, said. "It is through the hard work and scholarly achievements of our faculty that the College of Veterinary Medicine is able to distinguish itself as an international leader in veterinary and graduate education, biomedical research, production medicine, and the delivery of veterinary specialty services."
Anne Wooldridge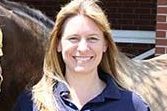 Wooldridge received her DVM degree from Texas A&M University. She completed a rotating internship in large animal medicine and surgery, a residency in large animal internal medicine, a master's degree at Louisiana State University and the Ph.D. in pharmacology and cancer biology at Duke University Medical School. As a faculty member in Equine Internal Medicine, she sees clinical cases on the Equine Internal Medicine Service and trains veterinary students, residents and graduate students. She collaborates extensively with the Department of Chemical Engineering to evaluate the use of vascular progenitor cells and biomaterials for equine regenerative therapies. She also works with researchers in the College of Veterinary Medicine on both equine and small animal-focused projects. Her research interests include endocrine and metabolic disease in horses, endocrinopathic laminitis, vascular disease, equine regenerative medicine, equine endothelial progenitor cells, smooth muscle disorders (feline respiratory disease, equine gastrointestinal motility). Her research in horses is primarily focused on vascular and metabolic disease in the horse, with special interests in laminitis and advancement of regenerative therapies.
Robert Cole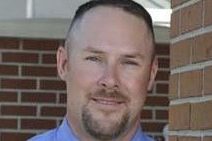 Cole graduated from Auburn's College of Veterinary Medicine in 1998. After completing a residency in radiology at the University of Tennessee, he served on the faculty at Texas A&M University and as imaging director in a specialty practice in Dallas. He is a Diplomate of the American College of Veterinary Radiology.
Tekla Lee-Fowler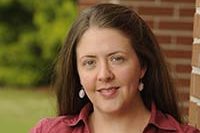 Lee-Fowler received her DVM from Mississippi State University College of Veterinary Medicine. After graduation, Lee-Fowler completed a rotating small animal internship at Mississippi State; she completed a residency in Small Animal Internal Medicine at the University of Missouri and earned board certification in the American College of Veterinary Internal Medicine (ACVIM). During residency, Lee-Fowler earned her master's degree with research focusing on feline asthma. After residency, she served as a clinical instructor at the University of Missouri while completing a post-doctoral fellowship focusing on feline asthma and immunology. Her research interests include respiratory disease, immunology and obesity.
Iryna Sorokulova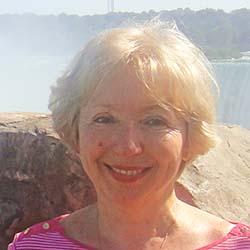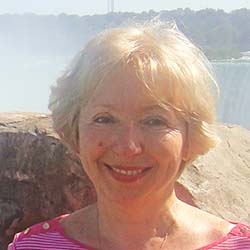 Sorokulova joined the College of Veterinary Medicine in 2002. She graduated from Taras Shevchenko National University (Kiev, Ukraine) with a master's degree in microbiology. She received her Ph.D. and D.Sci. degrees in microbiology from the Institute of Microbiology and Virology National Academy of Sciences of Ukraine. Dr. Sorokulova received professional training at Moscow State University (Russia), Bureau of Biologics (Ottawa, Canada), and Massachusetts Biological Laboratories (Boston). She is the recipient of the Ukraine State Prize in Science and Technology.
Lenore Bacek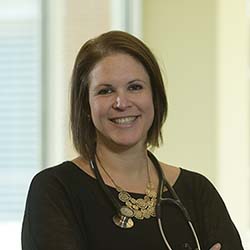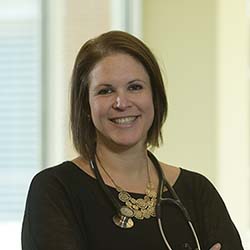 Bacek received her DVM from Ross University School of Veterinary Medicine and completed a one-year internship in Small Animal Medicine and Surgery at Louisiana State University. She completed both a residency in Small Animal Emergency and Critical Care and a master's degree at Auburn in 2011. Bacek is board-certified by the American College of Veterinary Emergency and Critical Care. She serves as head of the Emergency and Critical Care Service and has mentored numerous residents and interns on the clinic floor and in the research lab. Under her direction, the service received certification as a Veterinary Trauma Center by the American College of Veterinary Emergency and Critical Care in 2016. Bacek's research interests include critical care of polytrauma patients, troponin as a biomarker in traumatic myocarditis, the application of Continuous Renal Replacement Therapy (dialysis) for companion animals with acute kidney failure, advanced therapeutic approaches to immune mediated hemolytic anemia, and novel laboratory assessment of coagulopathies (including thromboelastography and platelet aggregometry).
Erin Groover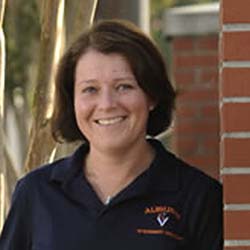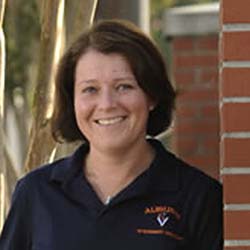 After completing a bachelor's at the University of Georgia, Groover continued her education and received her DVM from Georgia in 2001, completing an internship and residency in Large Animal Internal Medicine in 2005. She achieved Diplomate status in the American College of Veter-inary Internal Medicine in the specialty of Large Animal Internal Medicine in December 2005.
After completion of her residency, she worked as a clinical instructor of Equine Internal Medicine at Washington State University before coming to Auburn in 2007. Groover's clinical interests include equine gastro-intestinal, lower respiratory, and renal diseases. When not in the clinic, Groover competes in the equestrian discipline of dressage with her horse, Rochester JPD. She is a member of the United States Equestrian Federation and the United States Dressage Federation.
2018 New Faculty
In the summer issue of Auburn Veterinarian, one faculty member was inadvertently omitted from the 2018 new faculty listing. We apologize for the error.
Claudia Reyner, DVM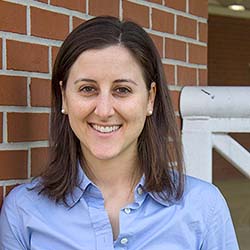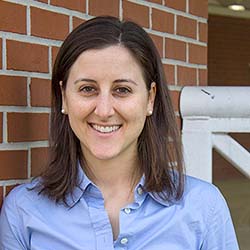 Clinical Lecturer, Equine Emergency Medicine and Surgery, Department of Clinical Sciences
Reyner received her DVM from the University of Georgia in 2013. She completed an equine medicine and surgery internship at North Carolina State University in 2014 and completed her residency in equine surgery at North Carolina State University in 2017.
Thomas Named Surgeon
for Auburn Veterinary Specialists-Gulf Shores
An experienced veterinarian is returning to his roots, taking the reins as the surgeon for Auburn Veterinary Specialists-Gulf Shores.
Todd Thomas, a 1995 DVM alumnus of the college, comes to the Gulf Shores facility following more than 20 years in the U.S. Army Veterinary Corps.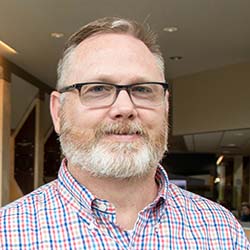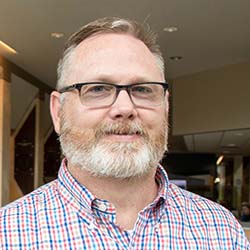 The College of Veterinary Medicine's referral center is the centerpiece of a 24,000-square-foot Auburn University Educational Complex and will provide specialty veterinary services and educational opportunities for students interested in internal medicine and surgery.
A board certified surgeon with more than 22 years of clinical practice and 10 years of specialty practice experience, Thomas will provide general surgery, orthopedics and neurosurgery. "I am looking forward to serving the people of the area and getting to know and assist the local veterinary community," Thomas said.
The Somerville, Alabama, native said he is excited to be working at the Gulf Shores facility.
After receiving his DVM degree, Thomas served a year-long internship in small animal medicine and surgery in New York before entering the military. "A lot of that experience was gained caring for military working dogs," Thomas said.
After retiring from military service, Thomas spent the last two years at the LTC Daniel E. Holland Military Working Dog Hospital in San Antonio, Texas, including a nine-month deployment to Afghanistan, where he worked with the Department of Defense's detector and patrol dogs.
Thomas' other professional credentials include: Diplomate, American College of Veterinary Surgeons, Small Animal; more than six years working and teaching in two facilities accredited by the Association for Assessment and Accreditation of Laboratory Animal Care Internal (AAALAC); and more than a year as principal investigator for three research projects.
In addition to the DVM, Thomas completed a residency in small animal surgery at North Carolina State University, a master of science in specialized veterinary medicine from N.C. State University, and certifications associated with U.S. military training.
Thomas' clinical interests are in the areas of small animal surgery with an emphasis on working dog health care and management, including lumbosacral disease, minimally invasive procedures, emergency procedures, pain management and perioperative critical care.
"This is the closest I have lived to home since I graduated from veterinary school," Thomas said. "Coming back as a member of the Auburn veterinary faculty is a dream come true. I am excited to be getting in on the ground floor with this new clinic and being a part of helping it grow and to serve the Gulf Shores area."
As a part of the Auburn University Educational Complex, Auburn Veterinary Specialists-Gulf Shores will function as a satellite of the Wilford and Kate Bailey Small Animal Teaching Hospital. Dedication is scheduled for Oct. 30. The center will operate on a referral-only basis, providing services in surgery and internal medicine for the local veterinary community.
The facility will provide an educational function as fourth-year Auburn veterinary students participate in elective two-week clinical rotations. In addition to Thomas and an internal medicine veterinarian, staff will include six veterinary technicians, a radiology technician, and front desk personnel.
The City of Gulf Shores announced in 2014 a strategic plan called "Small Town, Big Beach- Vision 2025 for Sustainability" that included plans for the Coastal Alabama Center for Educational Excellence, an academic campus with a new high school and a new location for Coastal Alabama Community College. As a part of that project, the Auburn University Educational Complex will help meet the needs of the strategic plan by offering educational and economic development resources for the community, strengthening the region's ability to serve its citizens, said Gulf Shores Mayor Robert Craft.
Other Auburn programs included in the Gulf Shores complex are offices of the Auburn Aviation Center, the Alabama Cooperative Extension System and the Office of the Vice President for Research and Economic Development.
The Auburn University Educational Complex, is located at 21541 Coastal Gateway Blvd. (formerly County Road 8) in Gulf Shores.
---
Diagnostic imaging in the facility will be all digital, and will be sent electronically for reading to the Radiology Service at Auburn's Veterinary Teaching Hospital. Imaging equipment at the Gulf Shores facility includes:
• GENERAL RADIOGRAPHY ROOM: VET RAY SEDECAL X-RAY.
• CT SCANNER: SIEMENS SOMATOM PERSPECTIVE 64 SLICE SCANNER
• 1.5T MRI: SIEMENS MAGNETON AERA WITH A 70 CM BORE
• ULTRASOUND MACHINE: SIEMENS ACUSON NX3
Teaching Hospital Installing State-of-the-Art Linear Accelerator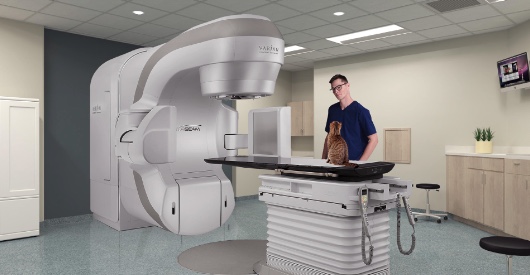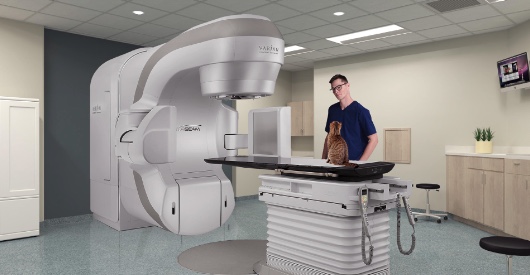 The College of Veterinary Medicine's Veterinary Teaching Hospital and Oncology Service are preparing for the future, making building modifications to install the new state-of-the-art technology that will deliver treatments unavailable in many human cancer treatment facilities.
The previous imaging equipment has been removed, and work is underway to install a Varian Edge linear accelerator.
"It will greatly expand our radiation therapy capabilities," said Greg Almond, assistant clinical professor of radiology.
"The Varian Edge linear accelerator will allow us to provide Intensity Modulated Radiation Therapy (IMRT) for cases treated with the standard 18-dose definitive radiation therapy," Almond said. "Most excitingly, the Edge will enable us to deliver definitive stereotactic radiation therapy (SRT/SRS)—highly targeted treatment delivered in one to five doses—for many patient cases."
Due to the technical installation process, external beam radiation therapy will not be provided until Spring 2019.
However, the service will continue to deliver Intensity Modulated Radiation Therapy (IMRT) for cases treated with the standard 18-dose definitive radiation therapy; medical and surgical programs remain fully operational; and radiation oncology continues to conduct strontium radiation therapy for treatment of superficial skin and ocular cancers.
Veterinarian Recognized for Cardiology Research, Clinical Trial Results
Firsts are beginning to become the norm for College of Veterinary Medicine cardiology resident Daniel Newhard, DVM, who recently added to his list of accomplishments the prestigious Resident Research Award from the American College of Veterinary Internal Medicine (ACV IM).
"He was the only one who received this award this year among all cardiology residents in the country," said his faculty mentor, SeungWoo Jung, DVM. "This is a significant honor for Dr. Newhard, the service and the College of Veterinary Medicine."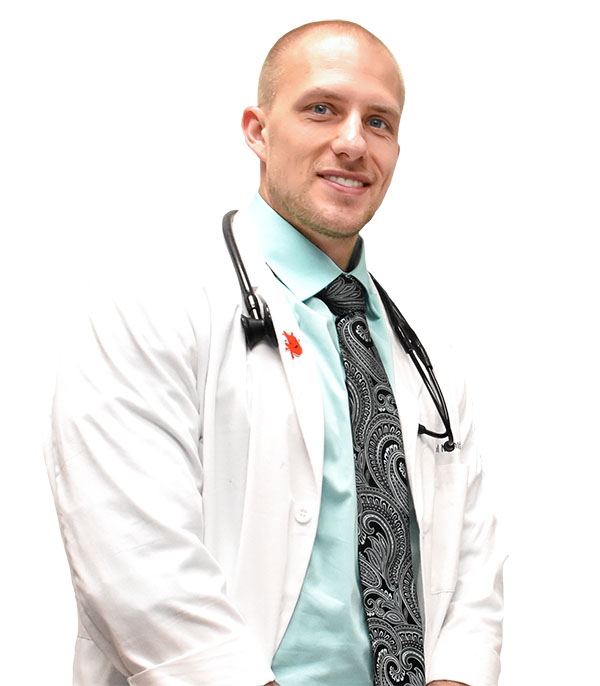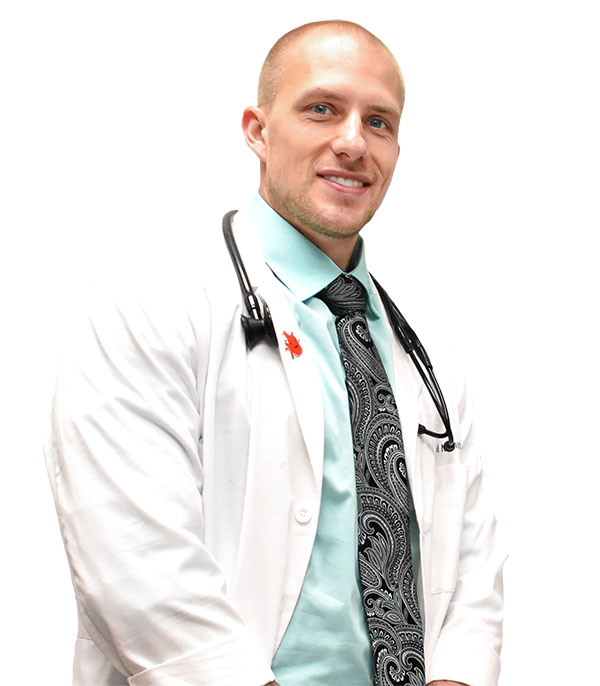 Newhard was recognized for his groundbreaking research conducting a clinical trial on the drug Entresto as a heart disease treatment for dogs.
"Dr. Newhard is the first cardiology resident that we have ever had in our veterinary teaching hospital," Jung added. "And, Auburn is the first veterinary medicine program to explore and evaluate Entresto as a heart treatment medication for dogs."
Newhard, as lead investigator with his CVM colleagues, began the clinical trial in the spring of 2017. It was completed following a 10-month process, and the results were published recently in the Journal of Veterinary Internal Medicine (JVIM).
"The JVIM is the most highly respected, peer-reviewed veterinary medicine journal," Jung said.
The U.S. Food & Drug Administration (FDA) granted approval for the use of Entresto in human medicine in 2015. The drug has become the standard of care for heart disease in humans, including myxomatous mitral valve disease (MMVD), Newhard said. MMVD is also a common heart illness among dogs and can lead to congestive heart failure (CHF).
"The drug was found to be so effective in human clinical trials that tests were stopped earlier than planned, and the drug was FDA approved for use," Newhard said. "We had previously tested it with dogs. We know that it is safe for use with dogs and major adverse effects have not been observed, but we did not know if it would produce the same kind of tremendous benefits in dogs with MMVD that it has proven to produce with humans."
The clinical trial compared Entresto and a placebo in dogs with MMVD.
"We were looking at the effects of Entresto as an effective inhibitor of aldosterone," Newhard said. "Aldosterone is a hormone that causes fluid retention in the body, and it can lead to CHF."
The clinical trial required a specific patient participation sample. The researchers examined dogs that were in the pre-stages of congestive heart failure. Participation requirements were:
Dogs must weigh between 8.8-33 pounds and have a heart murmur consistent with MMVD and heart enlargement that shows on an X-ray;
Dogs could not be taking any heart or corticosteroid medications;
Dogs could not have been diagnosed previously with congestive heart failure.
"We wanted to show that Entresto was an effective treatment," Newhard said. "What we found was more surprising than we originally anticipated."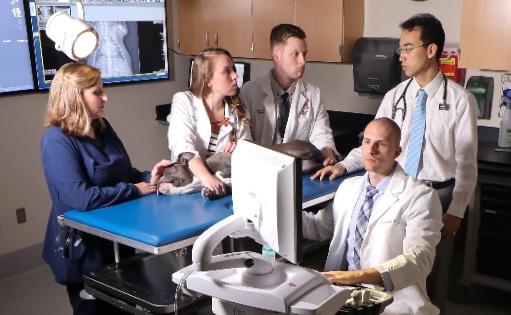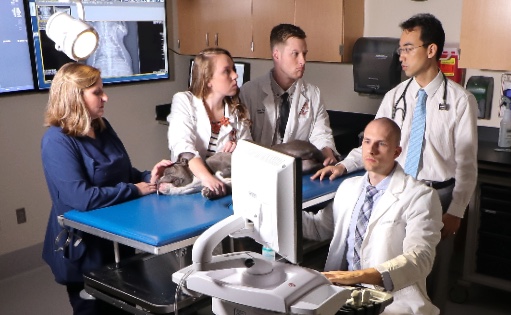 The team found that levels of aldosterone increased only eight percent in the patients treated with Entresto, compared to a 171 percent increase among patients in the placebo group.
"This type of a drastic efficacy is virtually unheard of among conventional medications," Jung added.
With the first phase of the clinical trial complete and its results so promising, Jung is organizing and planning to launch a second study. It is aimed to evaluate Entresto as an alternative treatment for the drug, enalapril, which he says is the current standard of treatment for dogs with CH F.
"We tested its use in dogs with only pre-stages of CHF, and we know that it has a tremendous quality-of-life improving effect," Newhard said. "We next want to evaluate it as a medical treatment for dogs already suffering with symptoms of CHF. We know that it is effective pre-congestive heart disease. We know that it is safe and—unlike the kidney function and blood pressure altering side effects possible with enalapril—Entresto produces no drastic adverse effects."
Jung hopes to begin that study this fall, but he added that—because of the patient numbers and the extremely focused scope of conditions needed for a study of this magnitude—it will likely involve other veterinary medicine institutions in a joint clinical trial.
College Maintains Full AAALAC Accreditation
Animals play a key role in veterinary education and the advancement of medical care, and the College of Veterinary Medicine strives to ensure that it follows only the highest standards in the care of animals under its charge.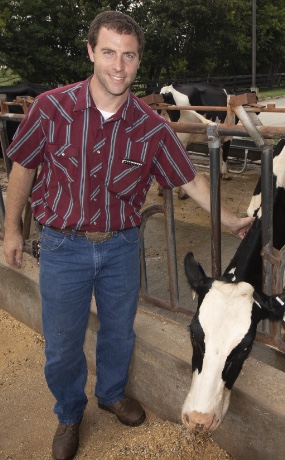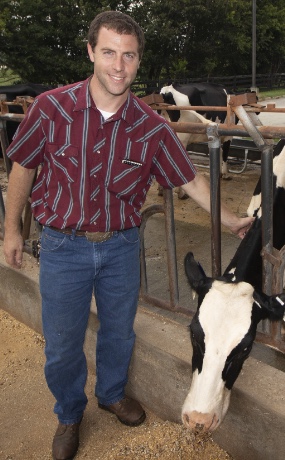 To validate that obligation, the college recently underwent a rigorous evaluation, attaining full accreditation by the Association for the Assessment and Accreditation of Laboratory Animal Care, International (AAALAC), a distinction that the college has maintained continuously since 2003.
"It is like having the Good Housekeeping Seal of Approval for your animal program," said Patricia Rynders, director of the Division of Laboratory Animal Health, who also serves as the University Veterinarian. "A A ALAC is an international program and accreditation tells the world that your program has met or exceeded all regulatory requirements and that it follows only the highest standards of care."
All vertebrate and some invertebrate animal species fall under auspices of A A ALAC accreditation, according to Rynders. Attaining accreditation and maintaining it is a journey of continuous improvement.
"We undergo this evaluation every three years," Rynders said. "But it takes a true team effort working daily to maintain the environment and the care that is expected and required. The college is fortunate to have such dedicated individuals."
The evaluation is conducted by a multi-person team of animal welfare and care professionals from various organizations and institutions operating on behalf of A A ALAC, Rynders said. Its visit follows a period of self-assessment by the institution seeking accreditation; participation is voluntary.
The A A ALAC accreditation team made its site visit to the college in February. The college was notified in July that it would be re-accredited.
"It's a three-year cycle, but we really never stop seeking ways to improve our animal care program and striving for excellence above and beyond," Rynders said. "It's a hard process and it can be very stressful, but it is something that we should do and that we are very proud of."
Theriogenology Program Recieves Resident Support from AKC
For a third time since its association with the College of Veterinary Medicine, the American Kennel Club's (AKC) Canine Health Foundation and the Theriogenology Foundation have funded a residency program in companion animal theriogenology.
According to a recent announcement, the AKC and the foundation awarded a $100,000 grant to support a third residency in Auburn's theriogenology program. Only two veterinary medicine theriogenology programs—Auburn University and the University of Pennsylvania—received the grant.
"This is a huge show of support for our program," said Robyn Wilborn, who leads the small animal therio-genology program at the Bailey Small Animal Teaching Hospital.
The AKC Board of Directors recognized an unmet need for additional veterinarians with knowledge in this field and launched a competitive grants program to provide funding for veterinary residency programs providing specialty training in all aspects of companion animal reproductive medicine and surgery, clinical genetics, and clinical practice related to male and female reproduction, obstetrics, and neonatology.
"Clinicians trained in reproductive medicine are critical to the health of our individual dogs and breeding programs," said Mari-Beth O'Neill, AKC vice president of Sport Services and head of Veterinary Outreach.
"By training this next generation of veterinary specialists, we will provide increased clinical competency in the veterinarians serving companion animal owners and accelerate improvements in canine health and breeding programs," said Charles F. Franz, executive director of the Theriogenology Foundation.
The theriogenology residency is a three-year program at Auburn; post-graduate DVMs who want to specialize in reproduction compete for the positions, which exist among only a small number of veterinary education institutions.
"This is our third residency position funded by the AKC, and we are thrilled to be able to continue to grow the program with this tremendous support," Wilborn said. "The training of theriogenology residents is a team effort and an interdisciplinary approach, and we are fortunate to have a dedicated team here at Auburn."
Auburn investigators on this grant include Robyn Wilborn and Aime Johnson with the Department of Clinical Sciences; Xu Wang, Department of Pathobiology; and Craig Angle and Paul Waggoner, Canine Performance Sciences.
Return to home