---
Employee and Student Updates and Awards
Around The
College
Research Focus
Effects of Environmental Chemicals on Reproductive Development
by Mitch Emmons
There is growing public concern that chemicals in the environment (food, air, water), which are capable of acting as hormones, may exert adverse effects on reproductive health—particularly those that have the ability to mimic and/or antagonize steroid hormones and interfere with the function of the endocrine axis.
More than 10,000 chemicals are used in the manufacture of consumer products in the United States. A researcher at the Auburn University College of Veterinary Medicine is studying the likelihood that environmental chemicals have a negative impact on population health by disrupting male reproductive development.
Dr. Benson Akingbemi, a professor of anatomy in the Department of Anatomy, Physiology and Pharmacology, has focused his research on two chemicals used widely in the manufacturing sector, namely, bisphenol A (BPA) and phthalates. More recently, he also has examined food products—particularly the effects of soybean isoflavones on male reproductive tract development.
"Our major focus is investigation of the role of steroid hormone receptors in mediating effects of environmental toxicants on Leydig cell differentiated function and the process of male reproduction," Akingbemi said.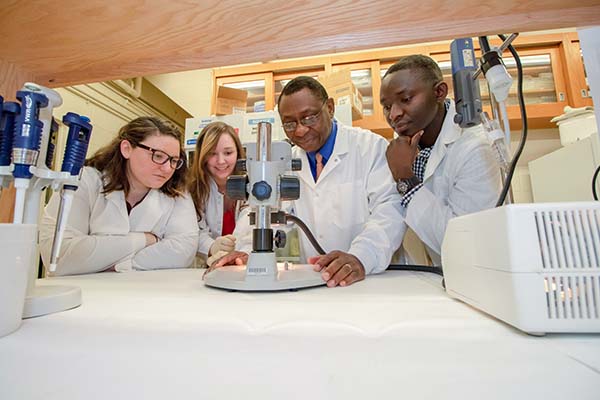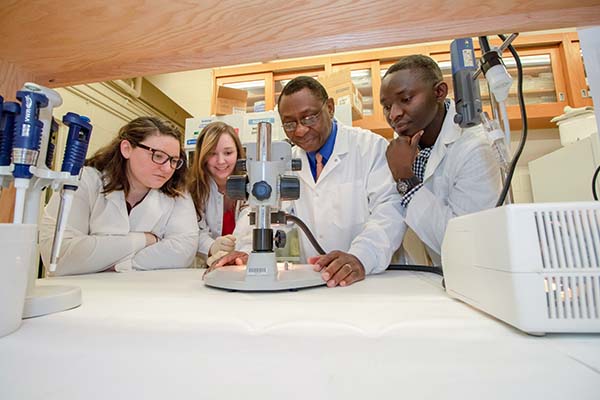 Chemicals that mimic and/or antagonize sex hormones and/or interfere with their secretion have been desig-nated endocrine disrupting chemicals or EDCs. Due to high expression levels of steroid hormone receptors, reproductive tract tissues are especially targeted by EDCs. Working with the rodent model, Akingbemi's work has shown that exposure to EDCs regulates androgen secretion with implications for male fertility. Also, there is a growing consensus that similar molecular mechanisms mediate chemical effects in the rodent and human testis.
The long-term goal of Akingbemi's research is to describe vulnerable segments of the population, identify biomarkers of exposure to environmental chemicals, determine the molecular basis for persistent chemical exposure effects, and provide data to inform development of strategies to mitigate chemical exposure effects in the population.
Studies of Industrial Chemicals
"Bisphenol A and phthalates are present in many consumer products, including as canned food liners, and in plastic containers, epoxy adhesives, vinyl flooring, PVC pipes, children's toys, sports equipment, and many personal care products," Akingbemi said. "Chemical levels in the environment are regulated by the Environ-mental Protection Agency (EPA) with a congressional mandate to ensure that populations are exposed only to levels that are considered safe. Still, new research data continue to link levels that were previously considered safe to biological activity across species and organ systems.
"Although epidemiological data are scanty, the literature indicates that increased incidence of urogenital anomalies and testicular dysgenesis syndromes in the adult population parallels use of industrial chemicals in the last 40 years," Akingbemi said. "It is likely that reproductive anomalies such as breast cancer in females and prostate cancer in males result from prolonged exposures to hormonally active chemicals—even at low levels."
Akingbemi said that his studies to date have involved low-dose chemical exposure levels. Given the homology in reproductive physiology among mammalian species, his research and work by other scientists have convinced the Food and Drug Administration (FDA) to ban the use of BPA in the manufacture of infant toys and products. However, implications for BPA and phthalate exposures in the adult population remain to be resolved and are the subject of ongoing studies and debate.
Studies of Soybeans and Isoflavones
With NIH support in 2009, Akingbemi began to inves-tigate effects of isoflavones. These plant-based chemicals have been credited with hormonal properties. Soybeans represent the most common source of isoflavones in the human diet. Interestingly, numerous studies have associated soy-based diets with possibly reducing the risk of breast, prostate, colon and certain types of skin cancers.
Isoflavones are thought to achieve their cancer-fighting ability by mimicking and regulating the body's levels of the female hormone estrogen. However, in recent years, scientists and medical professionals have become concerned that heavy soybean consumption among men may also have a negative side to otherwise beneficial health effects.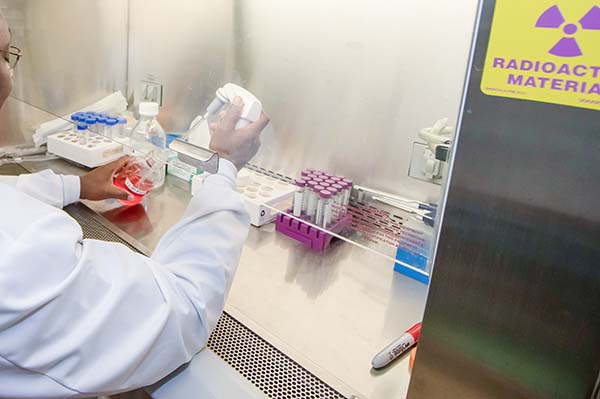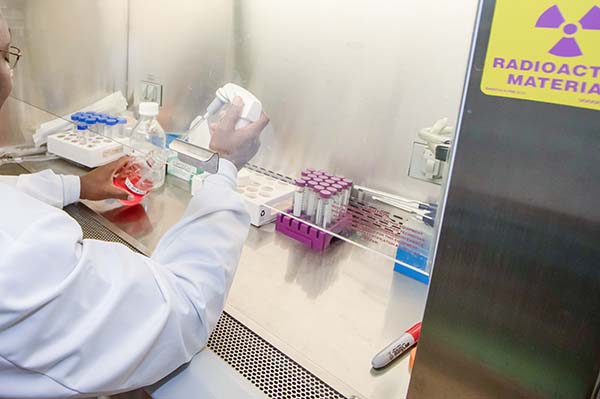 In the past several years, the NIH has funded research to help shed light and increase scientific and medical understanding of biological effects associated with consumption of soy-based food products, Akingbemi said.
Akingbemi is particularly interested in the long-term and permanent effects that soy-based diets may exert in the reproductive system of infant males. Given their small body sizes, infants raised on soy infant formulas are exposed to high doses of dietary isoflavones. While the NIH supports soybean studies in other areas of work, including nutritional and cardiovascular effects, his research has focused mostly on identifying isoflavone effects in the developing male reproductive tract.
"This is important because more than 250,000 infants are raised on soy infant formulas each year in the United States." Akingbemi said. "The ultimate challenge is to provide NIH with research data for use as a basis to promulgate health guidelines related to risk management for hormonal effects associated with soybean consumption. In order to promote healthier lives, the NIH is interested in how the environment affects the population, and consumption of hormonally active food products is now a primary concern."
Akingbemi recently received an NIH grant to continue his toxicity assessment of soy-based diets. A member of the Auburn College of Veterinary Medicine faculty since August 2004, Akingbemi has studied environmental and molecular toxicology since 1997. His overall research interests are in male reproductive biology and toxicology.
"The male sex steroid hormone, testosterone, which maintains the male phenotype, is produced primarily by Leydig cells in the testis," Akingbemi said. "However, the concept that 'androgen is male and estrogen is female' is no longer tenable because androgen and estrogen receptors are both localized to the male reproductive tract, including Leydig cells."
Akingbemi added that data from transgenic mice lacking androgen and estrogen receptors demonstrated clearly that both androgen and estrogen have physiological roles in male reproduction.
"These findings inspired and have sustained our interests in endocrine disruptor biology," he said.
Elaine Coleman Recognized
as 'Woman of Distinction' for Leadership
Elaine Coleman, DVM, an associate professor of anatomy and neuroscience in the Department of Anatomy, Physiology and Pharmacology at the Auburn University College of Veterinary Medicine, received the Woman of Distinction Award for Leadership and Inspiration at the Women's Leadership Conference in a ceremony April 15 at The Hotel at Auburn University and Dixon Conference Center.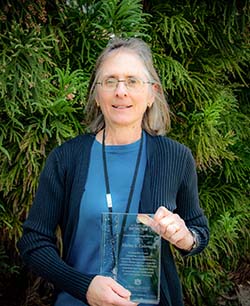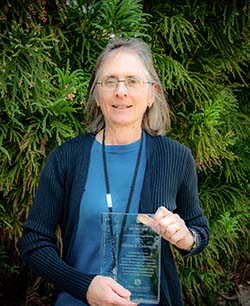 A native of West Virginia, Coleman has taught anatomy at the college since 2001. She received her DVM degree from The Ohio State University, and completed an internship in small animal surgery and medicine from 1984 to 1985, and a residency in small animal neurology/neurosurgery from 1985 to 1988, both at Auburn University College of Veterinary Medicine. Coleman received her doctorate degree from Auburn University in 1992 and was a postdoctoral fellow. She then taught at Tuskegee University School of Veterinary Medicine before returning to Auburn in her present capacity teaching small animal anatomy and neuroscience.
Among Coleman's other teaching honors, she received:
• The Gerald and Emily Leischuck Endowed Presidential Award for Teaching Excellence – 2015;
• The Zoetis Distinguished Teaching Award, College of Veterinary Medicine – 2014;
• The Dean's Annual Award for Excellence in Teaching, College of Veterinary Medicine – 2011, 2004;
• The Norden Distinguished Teacher Award, Auburn University – 2009; and the Auburn University Student Government Association Teaching Award – 2005.
In her research, Coleman studies the effects of metabolic disorders on astrocyte function in the brain; astrocytes serve an important role in signal transduction, in certain growth factors and in other neuronal functions.
Coleman lectures and assists in team teaching labs to first-year veterinary students and graduate students in veterinary anatomy and veterinary neuroscience. She also is active in outreach through a program in which she and some 20 of her students provide hands-on scientific activities to children from underserved communities to foster diversity in the health profession.
Return to home