---
Employee and Student Updates and Awards
Around The
College
Class of 2019 White Coat Ceremony
The Class of 2019, who are in their third year of professional education, recently received their white coats, symbolizing the transition from the didactic to the clinical phase of veterinary medical education.
Dean Calvin Johnson addressed the 122-member class and families, saying, "These white coats mean so much, and they mean different things to different people. To the students, this is a transition of months of very intensive coursework to be able to gain the knowledge that puts them in a position to succeed as they learn clinical skills.
"From a faculty perspective, who I must commend because they do an amazing job every day of training students to put you in a position to succeed, they see that coat and say 'It signifies our confidence that we have trained the student to be able to go out and protect animal health and welfare; to prevent and relieve animal suffering; to conserve animal resources; to promote public health; and to advance medical knowledge.' Those are the tenants of the veterinarian's oath and the principals we train by."
Representatives from the Alabama Veterinary Medical Association and the Kentucky Veterinary Medical Association participated in the program, coating students residing from each state. Dr. Roslyn Casimir-Whittington, associate dean of the Tuskegee University College of Veterinary Medicine, brought greetings from our sister college and colleagues.
Dr. Charles Ashwander, president of the Alabama VMA, said students received the "ultimate symbol of the professionalism and empathy in the practice of medicine. I urge you to combine passion with compassion for a successful career," he said. "The education you receive at Auburn will give you the foundation to excel and become a great veterinarian and the tools to continue to learn.
"The most important thing I can say to you today is: you are the future of this profession and from what I've seen both here and at Tuskegee, it's going to be a very bright future. Congratulations on this milestone in your journey."
Dr. Jennifer Quammen, president-elect of the Kentucky VMA, provided advice for the class. "I want to encourage you to think about caring for yourself as well; you are here in an intensive program and learning a lot, but I encourage you to take care of yourself because we need holistic individuals who can care for our animal patients and human client owners.
"GET INVOLVED IN ORGANIZED VETERINARY MEDICINE AND TAKE CARE OF YOURSELF."
Dr. Boosinger Retires
Timothy Boosinger, provost and vice president for Academic Affairs and former Dean of the College of Veterinary Medicine, was honored recently for his significant contributions during his 35-year Auburn career at both a university-wide event and a special reception at the Auburn CVM campus.
Prior to provost, Dr. Boosinger held academic and administrative positions at the College of Veterinary Medicine, including serving as dean from 1995 to 2011.
"In addition to his accomplishments as provost, Dr. Boosinger is a recognized leader in veterinary medical education and a staunch advocate for the advancement of the Auburn University College of Veterinary Medicine," Dean Calvin Johnson said.
"Tim was instrumental in establishing national standards of excellence in veterinary education through his service to the Association of American Veterinary Medical Colleges [A AVMC; President, 2007-08] and the AVMA Council on Education [member, 2000-06]." Dr. Boosinger served for 20 years in the U.S. Air Force, three years active duty and 17 years in the reserves, and retired at the rank of Lieutenant Colonel in 1996.
During his 16 years of leadership as dean, the college grew in nearly every measurable way, including:
The CVM physical plant was expanded through more than $125 million in new construction projects, including the J.T. Vaughan Large Animal Teaching Hospital (2004), the Veterinary Education Center (2013), and the Wilford and Kate Bailey Small Animal Teaching Hospital (2014);
From 1995 to 2011, the college's budget nearly doubled from $24 million to $43 million;
Over the same interval, research expenditures increased from $2.8 million to $10.2 million annually; and
Private giving surpassed $39 million.
Dr. Boosinger was named provost in 2012 after serving as interim provost for a year. Working with the university's stakeholders, Dr. Boosinger has implemented multiple programs and initiatives that have strengthened the institution's capacities and advanced its land-grant mission.
"As I reflect on my 35 years at Auburn University, I am deeply proud of our institution's achievements and the impact Auburn students, faculty, staff and alumni continue to have on our state, nation and world," said Dr. Boosinger. "It has been an honor to serve Auburn University in so many capacities and share in the success of the Auburn Family."
"Auburn is a better place because of what Tim accomplished as dean and provost. He leaves after distinguished service to this institution and with Auburn on a solid foundation to excel even further. We appreciate his leadership and commitment through the years," said President Steven Leath.
"Student academic success is important to Dr. Boosinger, and his leadership improved graduation and retention rates and made Auburn stronger," said Auburn University Trustee Sarah Newton. "Members of the Board appreciate his long-time service and offer our best wishes for a wonderful retirement."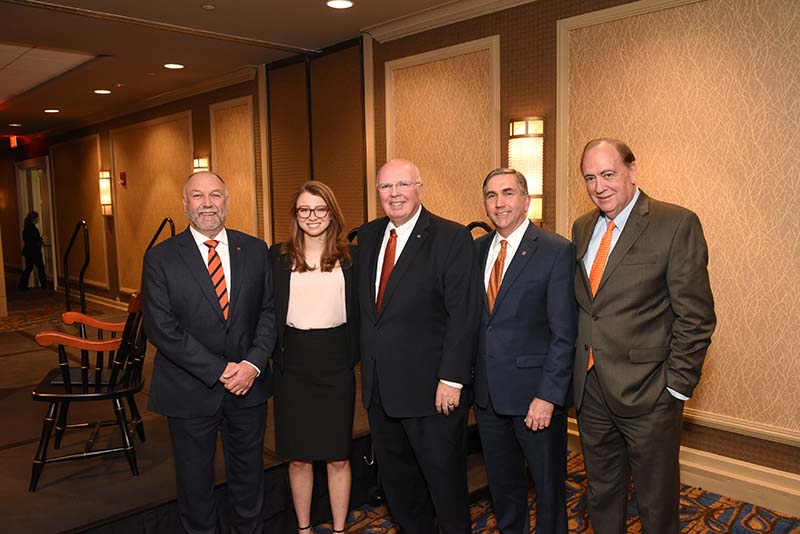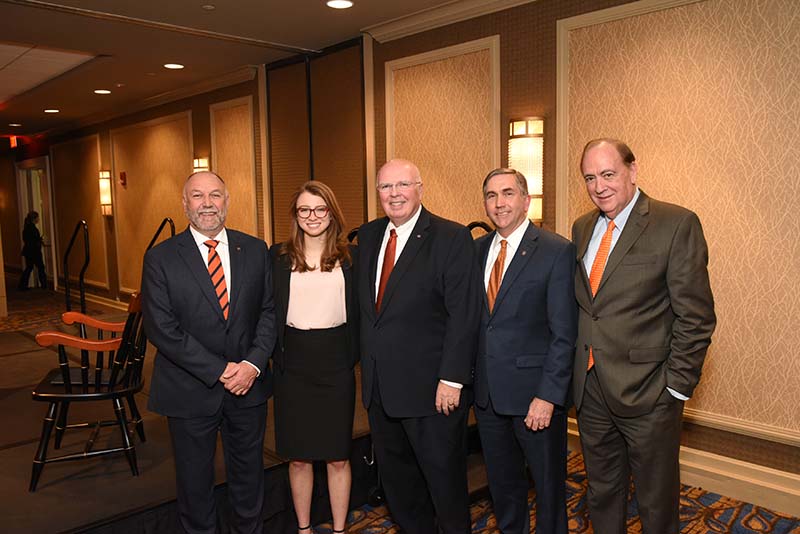 CVM Establishes Auburn Veterinary Academy
For Practitioners Seeking In-Depth, Intensive Continuing Education
The College of Veterinary Medicine has created the Auburn University Veterinary Academy, an inaugural program dedicated to providing the highest standard of veterinary medical education for veterinary practitioners and alumni via opportunities for professional development through high-quality, practical continuing education.
The academy has been designed for practitioners seeking in-depth, intensive continuing education experiences. Members of the academy will attend multiple single-focus CE seminars throughout the year, allowing them to gain more comprehensive knowledge on specific areas of veterinary medicine, said Dr. Robert Lofton, who returned to the college as a faculty clinician in 2013 after nearly 40 years of private practice in Louisiana.
"The Veterinary Academy was an idea born out of the Annual Conference committee, after hearing from practicing veterinarians that they desired more practical continuing education," Dr. Lofton said.
For the convenience of practitioners traveling from a distance and/or working Saturday hours, seminars will be held 2-6 p.m. on Saturdays and continue 8 a.m.-noon on Sundays. Social opportunities will be available on Saturday evenings. "These seminars will be convenient to the practitioner who has to travel long distances for specialized CE and will offer them current best practices, diagnostic and treatment information," Dr. Lofton added.
Annual Membership in the Veterinary Academy is $675 and includes the cost of Annual Conference as well as three weekend seminars, which will run Saturday afternoon through lunch on Sunday. In total, 44 hours of continuing education will be provided, and electronic notes will be given to participants.
"We created the three weekend seminars with busy practice owners in mind," said Meredith Smildsin, interim director of Continuing Education, Special Events and Outreach. All weekend seminars will be held in Newsom Auditorium at the Auburn University College of Veterinary Medicine.
MEMBERSHIP BENEFITS
Quarterly Seminars (three eight-hour CE seminars plus 20 hours for Annual Conference)
Annual Conference Registration (20 hours of CE)
Intensive, practical subject information to take back to your practice
Opportunities to network with like-minded colleagues committed to seeking high-quality continuing education• Certificate of Completion for each seminar
Membership Acknowledgment certificate
Construction Underway
For Gulf Shores Veterinary Referral Center
Construction on the Auburn University Educational Complex in Gulf Shores, including the veterinary referral center, is underway. The project is about 40 percent completed with an expected opening of midsummer.
The building shell is in place, and interior partitions are being installed, along with electrical and mechanical rough-in, said E. Bowden "Skip" Wyatt of Foil Wyatt Architects & Planners.
Major equipment needed for the veterinary referral center has been bid and will be delivered and installed in coordination with the construction schedule.
The staffing process is underway as well, with searches for an Internal Medicine specialist and a Small Animal Surgery specialist expected to close in mid-March.
The complex will serve as an educational outpost for Auburn University and a resource for the Gulf Coast. The College of Veterinary Medicine's referral center will be the centerpiece of the 24,000-square-foot educational complex, providing specialty and after-hours veterinary services and educational opportunities for students interested in internal medicine and surgery. Other Auburn programs to be in the complex include the Auburn Aviation Center, the Alabama Cooperative Extension System and the Office of the Vice President for Research and Economic Development.
The Auburn University Educational facility is located at 21656 County Road 8 in Gulf Shores, at the corner of the Beach Express and County Road 8, and adjacent to land acquired by the City of Gulf Shores for a new high school and the planned Coastal Alabama Center for Educational Excellence."
This new educational complex is an excellent example of collaboration and provides a model for the type of partnership that serves us all," said Auburn University President Steven Leath. "As an institution, Auburn will continue working with public and private partners to help drive the state's economy and provide the research and knowledge that will enhance residents' quality of life."
"Auburn University's Veterinary Teaching Hospital has long served as a referral center for veterinarians practicing in south Alabama and west Florida," Dean Calvin Johnson said. "The Veterinary Referral Center in Gulf Shores will be permanently staffed with Auburn University veterinarians, technicians, and office personnel."
The City of Gulf Shores announced in 2014 a strategic plan called "Small Town, Big Beach—Vision 2025 for Sustainability" that included plans for the Coastal Alabama Center for Educational Excellence, an academic campus with a new high school and a new location for Coastal Alabama Community College. The Auburn University Educational Complex will help meet the needs of the strategic plan by offering educational and economic development resources for the community, strengthening the region's ability to serve its citizens.
Return to home