---
Employee and Student Updates and Awards
Around The
College
Gulf Shores educational complex opens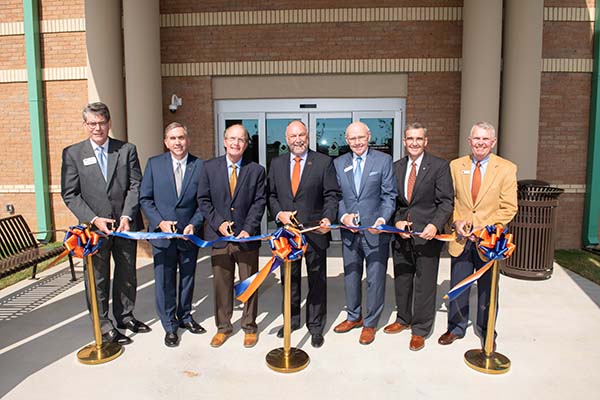 In a move that strengthens the educational and economic development resources for the citizens of South Alabama and the Gulf Coast, Auburn University launched a new educational complex in Gulf Shores Oct. 30 with a ribbon-cutting ceremony and tour of the facility.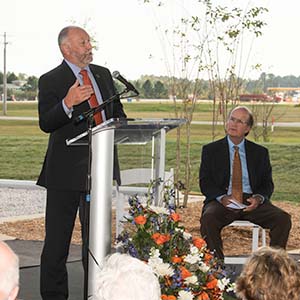 The centerpiece of the 24,000-square-foot complex is the Auburn Veterinary Specialists – Gulf Shores, a veterinary referral center which opened Feb. 11. The complex also includes aviation instruction, research administration and cooperative extension support for that region, delivering a tangible value to the state of Alabama while providing the community access to Auburn's pioneering research and innovative faculty.
"At Auburn, we seize every opportunity to fulfill our land-grant mission," said Auburn University President Steven Leath. "This outstanding facility affords more Alabamians access to Auburn's world-renowned faculty, innovations and discoveries, and it expands our capacity for transformational instruction, research and outreach."
Adjacent to Gulf Shores' planned Coastal Alabama Center for Education Excellence, the new complex expands Auburn's role as a partnership university, anchoring Auburn's efforts in South Alabama and coordinating research among faculty and researchers on the Gulf Coast.
"Establishing the Auburn University Educational Complex is a giant step in the right direction for the future of education in our community and we couldn't be prouder or more excited to welcome the Auburn Family to Gulf Shores," said Gulf Shores Mayor Robert Craft.
"This is absolutely something we dreamed about … creating a better opportunity for education in totality for Gulf Shores."
The complex's 12,000-square-foot veterinary referral center provides specialty veterinary care in surgery on a referral basis and will allow senior-level veterinary students to participate in two weeks of clinical rotation under the supervision of clinical faculty.
Lee Ann McGill, DVM '88, who practices veterinary medicine at Magnolia by the Gulf Animal Clinic in Gulf Shores, said she sees endless opportunities for students, a place for research, and convenient surgical facilities for complicated procedures for pets and farm animals.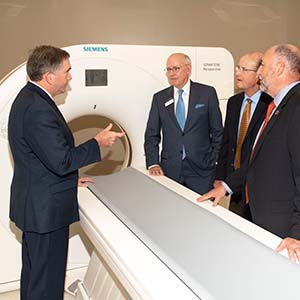 "The fact that just two miles from my clinic we have a CT scanner and an MR I available to our patients is amazing. We are excited about having the additional services they will bring, as well as their expertise," she said.
The veterinary center offers six exam rooms, two operating rooms, intensive and critical care areas, a treatment suite and endoscopy room, a clinical laboratory, a pharmaceutical dispensing area, compre-hensive imaging capabilities (MR I, CT, ultrasound, and radiography), an infectious diseases isolation area, pet nutrition kitchen and separate housing capabilities for dogs and cats.
Also housed at the complex:
The Auburn University Aviation Center, designed to provide aviation learning opportunities for K-12 students as well as host Unmanned Aircraft Systems (UAS) courses to prepare students, entrepreneurs and professionals for such industries as mapping and surveying, precision agriculture and public safety.
The Alabama Cooperative Extension System (ACES) will offer a plant diagnostic lab at the complex, helping plant nursery operators, farmers and homeowners diagnose and manage plant disease and insect problems. A new Extension agent will likewise be housed there, and a resource room will help expand the Master Gardener network in Baldwin County. In addition, the complex will feature a landscape demonstration and training garden for industry and homeowner programs.
The new location serves as a base of operations for Auburn's regional economic development and entrepreneurial activity through administrative space for Auburn's Office of the Vice President for Research. Meeting and office space is available there for collaboration among business and industry leaders and Auburn experts. Focus areas will include coordinating research in additive manufacturing (3D printing) and training highly skilled technical personnel focused on aerospace.
Veterinary Medical First State-of-the-Art Linear Accelerator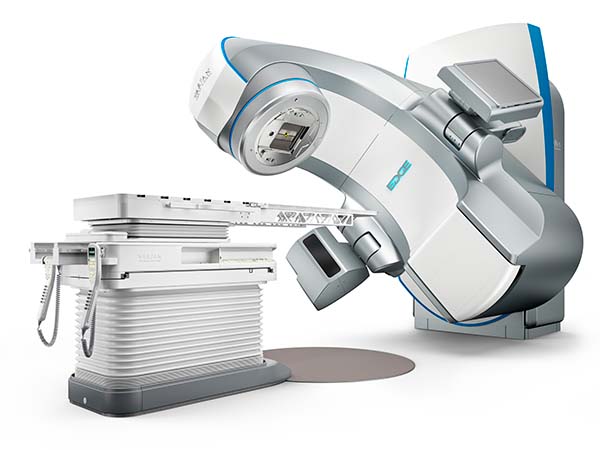 The College of Veterinary Medicine's Veterinary Teaching Hospital and Oncology Service are preparing for the future, making building modifications to install a new radiation therapy machine (linear accelerator)—the only one of its kind in a veterinary teaching hospital worldwide.
The upgrades will enable the Oncology Service to offer a new treatment technique called Stereotactic Radio-therapy (SRT) in addition to conventional treatments that are completed in 18-20 weekday treatment sessions. SRT is a highly targeted and image-guided therapy that will enable curative-intent treatments to be completed in 1-5 treatment sessions.
In many cases, the new equipment will allow delivery of traditional treatments, SRT, and palliative treatments with vastly diminished potential for side effects typically associated with radiation therapy.
While these upgrades are underway, the Oncology Service would like the referral veterinary community to know:
The Oncology Service will not be able to provide external beam radiation therapy until June/July 2019;
Medical and Surgical Oncology Services will remain fully operational;
Radiation Oncology will continue to conduct strontium radiation therapy for treatment of superficial skin and ocular cancers;
Medical Oncology currently provides electro-chemotherapy, used in some tumors that are closer to the body surface, or for tumors that have incomplete excisions in some situations where the client is not able or willing to pursue post-operative radiation therapy or further surgery.
Family Receives Miracle
Scooby's succesful skull tumor surgery
If at the heart of every miracle is transformation of a hopeless situation, then the Vinson family of Phenix City, Alabama, received their miracle with the successful skull tumor surgery for their dog, Scooby.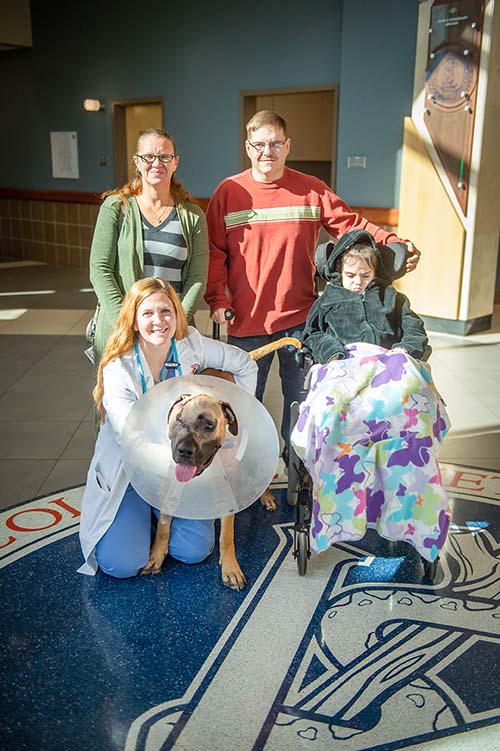 The one-year-old Great Dane mix underwent surgery Dec. 10 at the college's Bailey Small Animal Teaching Hospital to remove the large bony tumor on the right upper side of his skull.
He was discharged two days later, doing exceedingly well and wagging his tail when he was returned to his owners, Casey and Cindy Vinson.
The three-hour surgery was under the direction of veterinary oncology surgeons Dr. Brad Matz and Dr. Daniel Linden; Dr. Katelyn Hlusko, a resident in small animal surgery; and numerous oncology and anesthesia faculty, technicians and fourth-year clinical students.
Surgeons performed a challenging procedure: removing an extensive 12cm tumor from the front of the skull, as well as part of the jaw, a nasal bone and frontal bones.
"The Vinsons are great folks and Scooby is clearly an important part of their family," Matz said. "I am happy to have played a small role in their story and I wish them the best."
"I've wanted to be a veterinarian since I was three years old and this case is exactly why," said Kileigh Speed of Dothan, Alabama, the fourth-year veterinary student assigned to the case. "Veterinary medicine is a people-oriented job that allows you to combine a passion for both animals and people, and this case proved just how phenomenal it can be.
"What I will take away from this is that it's possible—even when so many things are stacked against you—with the right people in place and a plan, it's possible," she said. Other fourth-year students involved in the case were Courtney Hawthorne of Alexandria, Louisiana, and Kelly Whippo of Longwood, Florida, who were on the oncology surgery rotation.
"There were times in the surgery I was holding my breath because I saw the trust between the surgeons and the team, and that was superb to watch," Speed said. "Veterinary medicine is an exciting adventure where I learn every day and I am in awe of what I experienced with this case. I know I'll never forget it and it will mold me to be a better veterinarian when I graduate."
The Vinsons already consider Scooby to be a miracle dog, adopted in September from an Atlanta-area animal shelter for their daughter, Georgia-Ray, who has Rett syndrome, a debilitating neurological disorder. The disease has caused Georgia-Ray to have limited intentional movements, something Scooby immediately changed.
"It's rare for her [Georgia-Ray] to smile and connect to anyone, and she immediately did with Scooby." -Casey Vinson
Return to home