VETERINARY MEDICINE
AT AUBURN UNIVERSITY
---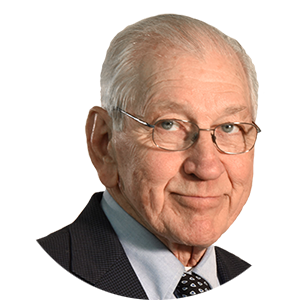 By Dr. Tom Vaughn '55, Dean Emeritus
Dr. Cary extended the bounds of veterinary medicine at Auburn to statewide programs that materially affected both human and animal health. In close cooperation with the handful of graduate, licensed veterinarians in the state (the early Alabama Veterinary Medical Association), this resulted in the enactment by the state legislature of laws regulating the practice of veterinary medicine, livestock sanitation, meat and milk inspection, and prevention and control of such animal diseases as tuberculosis, brucellosis, Texas tick fever, hog cholera, and rabies. In 1907, in response to his 15 years of efforts statewide, as well as a growing number of national offices, and with the support of then-President Charles C. Thach and Governor Braxton Bragg Comer, Cary succeeded in establishing the College of Veterinary Medicine at Alabama Polytechnic Institute. It became the seventh or eighth veterinary college in North America, tied with Colorado, and the first in the entire southern United States from coast to coast below the Mason-Dixon Line (lat. 39 degrees 43' 26.3" N.)—the southern boundary of Pennsylvania. Cary was, of course, appointed its first dean.
In the same year, with the urging of President Thach, the Alabama Legislature made Cary the State Veterinarian. Before the year's end, together with 11 Alabama veterinarians who were graduates of approved veterinary colleges, Cary organized the Alabama Veterinary Medical Association with the purpose of establishing standards of professional ethics, education, public health, and licensure. This greatly increased public recognition of accredited graduates of professional colleges and sharpened the distinction between the practice of veterinary medicine by licensed graduates and the all-too-common laymen and farriers on whom the public had had to rely. Cary served as the association's secretary-treasurer for 28 years until his death in 1935.
Covering all bases during that inaugural year, Cary also organized a student veterinary medical association. His recognition of the importance of organized veterinary medicine and his unflagging support at the national as well as the regional levels earned him the presidency of the American Veterinary Medical Association in 1920.
The original veterinary department boasted a two-story frame building with independent gas, water, and sewer system. It included classrooms, museums, and laboratories for physiology, bacteriology, pathology, and photography. Separate facilities provided housing for laboratory animals, anatomical studies, and a one-story hospital for livestock.2 Paddocks and sheds had sufficient capacity for 125 cattle or other large animals as well as isolation quarters for contagious diseases. The department had close relationships with the departments of animal husbandry, pharmacy, chemistry, botany, and physics.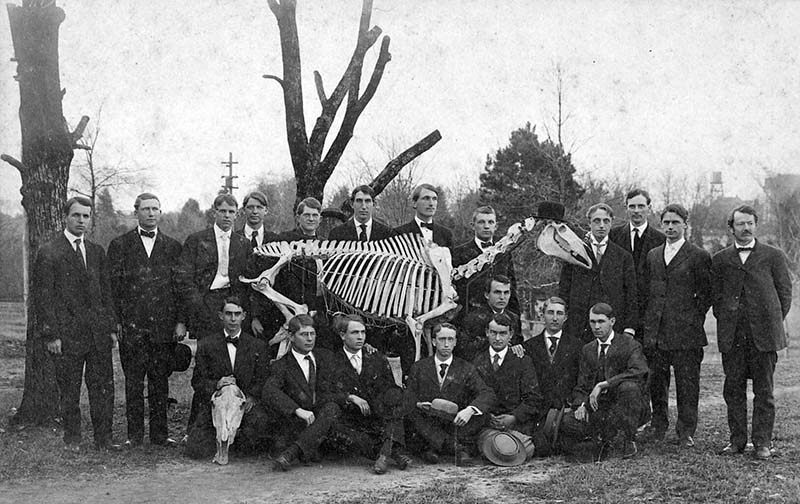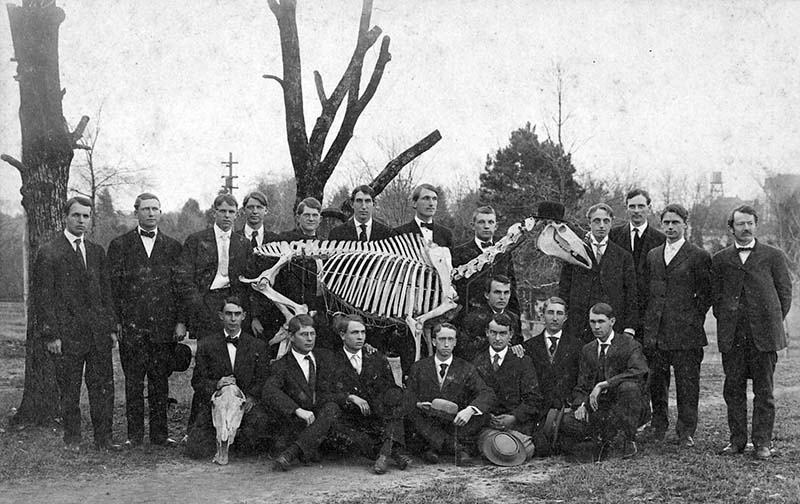 Requirements for admission were: 18 years of age, of good moral character, and passage of a satisfactory examination on 1) geography and the history of the United States, 2) English (grammar and composition), 3) reading (an extensive booklist of the classics of literature), and 4) mathematics (through algebra and geometry). Transfer students had to supply certificates of honorable discharge from previous colleges. It is interesting that, although Cary reinforced President Broun's desire to emphasize science, he also retained significant elements of the old liberal arts core curricula. Cary himself was multilingual and continued to follow the professional literature in German and perhaps French. The three-year course leading to the DVM degree consisted of three terms per year that covered an impressive array of subject matter ranging from physics, chemistry, botany, pharmacy, and livestock management to all the basic and clinical sciences in a modern curriculum today. In addition, a thesis was required in all three terms of the last year. Suffice it to say that the graduate was deserving of a professional degree.
Nineteen students were registered in 1907, increasing to 51 by 1909, at which time five qualified for their degrees. These numbers continued to rise to 74 registrants and 23 graduates in 1916. World War I intervened, and the student population experienced a sharp decline which extended through the next decade. This could be attributed to several factors incident to the war. An infestation of boll weevils from Mexico swept across the South early in the twentieth century; a virtual embargo was imposed on southern cattle due to tick fever;3 a large segment of available labor moved north to work in factories; and the reliance on the horse and mule for draft and transportation was being replaced by the use of steam- and gasoline-powered internal combustion engines. A farmers' depression in the South hit in the 1920s before the Great Depression enveloped the country. It was 1932 before student numbers regained their pre-war strength; and, by then, the Great Depression had to be dealt with.
In less than another decade, World War II arrived. At the cessation of hostilities in 1945, veterans returning to school under the GI Bill accounted for a sharp rebound in numbers with students matriculating from as far away as New England. By the time the Southern Regional Education Board was established in 1948 (which was the brainchild of Dean Redding Sugg, 1940-1958), Auburn was providing contract spaces for students from a nine-state area of the Southeast, and at one time boasted an annual enrollment of nearly 500 students.
Proceeding apace with the growth of the young school during these uncertain times were aggressive programs to eradicate tick fever, tuber-culosis, hog cholera, and rabies. These consumed the energies and perennially outstripped the resources of the college, the state association, and the office of the State Veterinarian. However, they persevered, and by 1935 the BAI and USDA certified that tuberculosis in Alabama cattle had been reduced to less than 0.05 percent; tick fever was under control and all but eradicated; a program of brucellosis eradication had begun the year before; and programs of rabies vaccination in dogs and of hog cholera prevention were in progress.
During these years, two of Dean Cary's stalwart faculty emerged as leaders of the profession. In 1908, Isaac Sadler McAdory graduated from McKillips Veterinary College in Chicago and shortly thereafter joined Cary as professor of anatomy and physiology. In 1915, Redding Stancill Sugg graduated from API; and, in 1919, after serving in the Veterinary Corps during World War I, joined the faculty at Auburn as professor of bacteriology. Both men were integral in the development of the state's livestock industry as well as the young school to which they dedicated their lives. Upon Dean Cary's death in 1935, Dr. McAdory was appointed dean and served from 1935 to 1940. Dean Sugg succeeded Dean McAdory and, with the exception of a three-year interruption (1942-1945) for his second period of service in the Veterinary Corps during World War II, occupied the deanship until his death in office in 1958.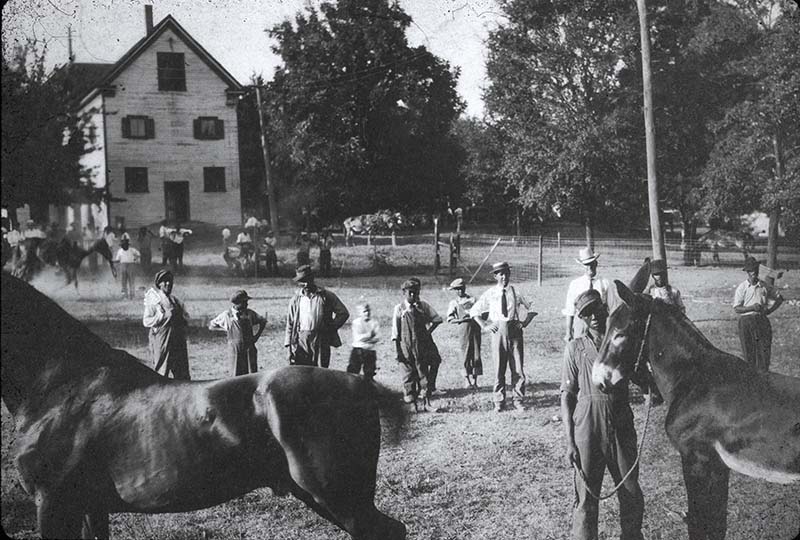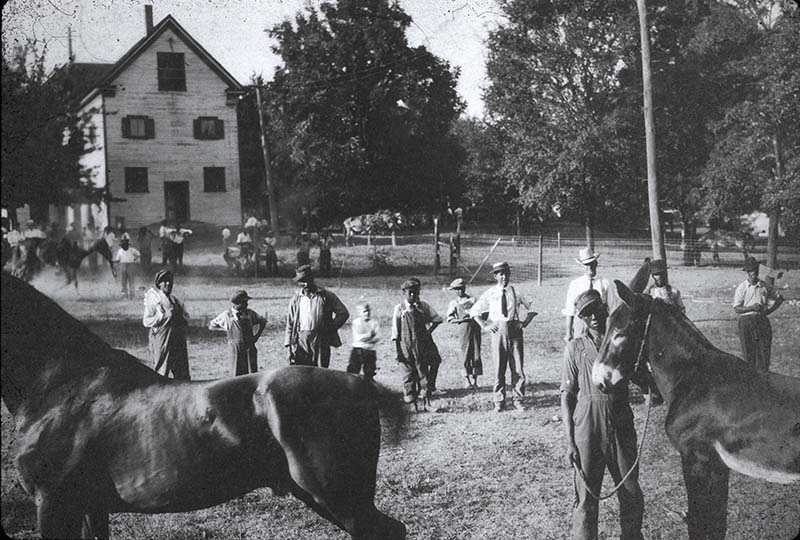 Graduating under Dean Cary in 1933, Dr. James Etheridge Greene joined the faculty of Small Animal Medicine and Surgery in 1937. After four years of military service in World War II, he returned as professor and head of his department until he succeeded Dean Sugg in 1958. Dean Greene served with distinction until his retirement in 1977. He was succeeded in turn by John Thomas Vaughan '55, who served until his retirement in 1995. The following dean, Timothy R. Boosinger (Purdue '76), led the college to a period of impressive growth that saw construction of new facilities for isolation of contagious diseases, the Linear Accelerator Laboratory, the Southeastern Raptor Center, the Large Animal Teaching Hospital, the Alabama State Diagnostic Laboratory, and many other improvements. Growth continues with a new small animal teaching hospital and expanded classroom and teaching facilities.4
It may be said that the institution's stability throughout periods of national conflict, economic reversals, and sea changes in science and technology is a reflection of the fact that it has experienced only six changes of leadership in more than one hundred years. Listing the accomplishments of each of the administrations and of the faculties and their graduates worldwide is the assignment of future histories.
Today, the College of Veterinary Medicine at Auburn University is one of 32 schools and colleges remaining (28 in the U.S.) of 63 that had been started in North America since 1862. Between 1852 and 1938, 41 independent (proprietary) schools were opened. By the turn of the twentieth century, 20 were closed, merged, or suspended. Fourteen more were added to the list by the end of World War I (1920), six more by the Great Depression (1933), and the last one by the end of World War II (1947). That Auburn's veterinary curriculum has continued without interruption for 125 years as of 2017, and 110 years as a free-standing college is due to the strong foundation on which it was established and the unstinting efforts of five generations of loyal supporters from all ranks of society, of academia, of government, industry, and the military.
For a profession that had languished in the shadow of European science for the first 350 years of its existence in the New World, to have emerged to its current stature in the 21st century is the finest tribute that can be paid to these dedicated men and women who have gone before, and the sternest challenge that can be made to those who follow after. Perhaps Goethe (1749-1832) said it best:
"What you have as heritage, take now as task; For thus you will make it your own!"—Goethe, Faust
2 By 1907, a second floor had been added to the one-story part
3 The embargo consisted of 15 states in the southern U.S. from the Carolinas to California.
4 Dr. Boosinger recently retired as provost at Auburn University. Upon attaining that appointment in 2012, he was succeeded as Dean by the College of Veterinary Medicine current dean, Calvin Johnson '86.
Return to home