---
COMPANION ANIMAL PARASITE COUNCIL HONORS
BYRON BLAGBURN


WITH LIFETIME
ACHIEVEMENT AWARD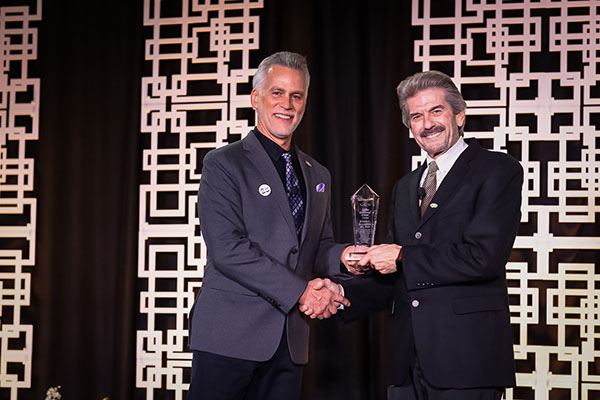 The Companion Animal Parasite Council, or CAPC, recently recognized Dr. Byron Blagburn, Distinguished University Professor in Auburn's College of Veterinary Medicine and a CAPC founding board member, for his contributions to veterinary medicine and his outstanding career achievements in the field of parasitology. Founded in 2002, CAPC is an independent, nonprofit organization dedicated to increasing awareness of the threat parasites present to pets and their owners.
Blagburn, who received a master's degree in biological sciences from Andrews University and doctorate in parasitology from the University of Illinois, was cited for his role in helping to create CAPC's Prevalence Maps, which are updated monthly and provide a county-by-county diagnosis of the prevalence of many parasitic and viral diseases of both pets and people. The maps have been widely used by veterinary practitioners and researchers to better understand and predict the regional threat of diseases over the last decade since their creation.
In addition, Blagburn was recognized for his part in the establishment of the CAPC parasitology practice guidelines. These guidelines have become a primary resource for veterinary practitioners in the prevention, diagnosis and treatment of parasitic diseases in practice and have set the standard for
the profession.
Blagburn was also honored for helping establish CAPC as a national leader in the forecasting of parasites in pets. The organization's monthly, county-by-county forecasts for major parasitic diseases are used by TV broadcasts, publications and social media to alert pet owners across the nation to the threat of parasitic diseases in their area.
In addition to instruction at Auburn, Blagburn directs
graduate student research and serves as director of the clinical parasitology diagnostic laboratory. He is a past president of the American Association of Veterinary Parasitologists, the Southern Conference on Animal Parasites and the Southeastern Society of Parasitologists. A previous recipient of the Pfizer Award for Research Excellence, he has served as an associate editor for the Journal of Parasitology and on the editorial boards of Veterinary Parasitology, the Journal of Eukaryotic Microbiology and Veterinary Therapeutics.
Blagburn is also a previous recipient of the American Association of Veterinary Parasitologists Distinguished Veterinary Parasitologist Award and the Teacher of the Year Award from the Auburn Student Government Association.
Return to home