---
Alumni Impact Profession Throughout
Equine
Clerkship
---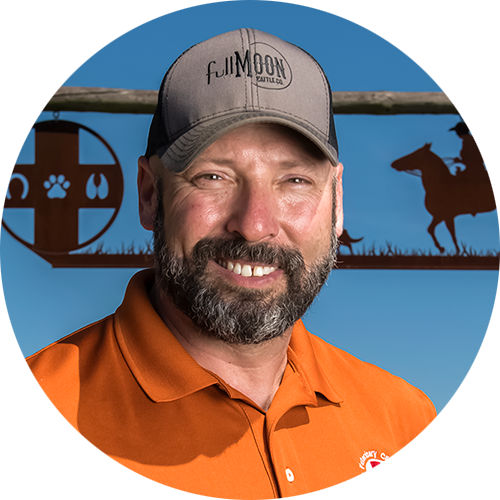 by Janet L. McCoy
Veterinarians impact the next generation of professionals by being mentors through various programs along a student's educational path, and three Auburn alumni and their clinics are having a profound impact on students through a specialized clinical rotation.
Dr. Hank Lee '00, Dr. Laura DuVall Molony '95 and Dr. Tim Stewart '79 are partners with the college to offer their private veterinary practices as a classroom for a two-week equine rotation, providing students with extensive, hands-on experiences they can't always receive in the Veterinary Teaching Hospital.
The college started the clerkship program, in its third year, following a curriculum review to ensure students receive additional access to equine primary care cases. "We wanted to provide students the opportunity to see first-opinion cases in the field, the type of cases that are rarely referred to the teaching hospital," said Erin Groover, DVM, DACVIM-LA, associate clinical professor of Equine Internal Medicine in the Department of Clinical Sciences. "Through the development of the equine clerkship program and partnership with three equine and mixed animal private practices, we have the opportunity to give an additional 60 students per year the chance to see these types of cases."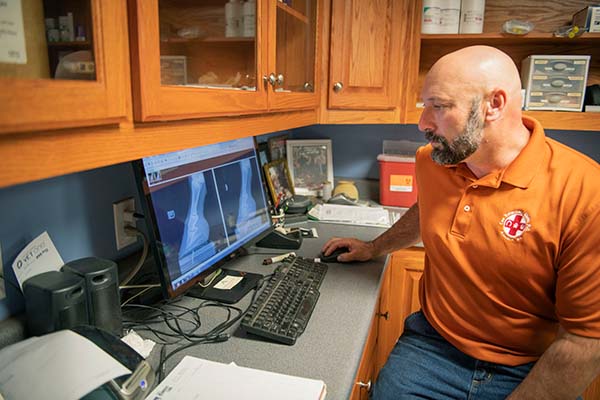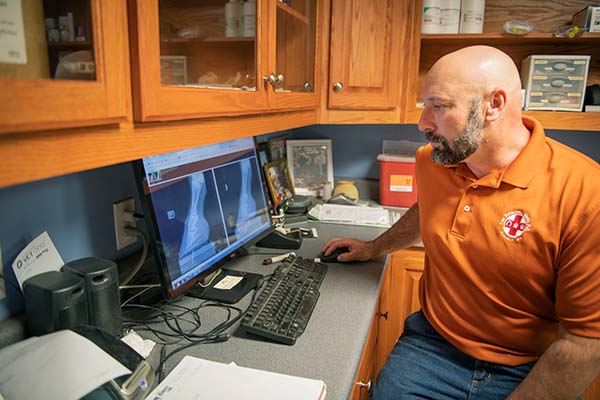 In combination with the teaching hospital's Equine Ambulatory Service, all students now have a chance to experience equine primary care cases."
The Equine Clerkship clinical rotation is a two-week rotation offered every two weeks from May to March. Each practice hosts approximately 15-18 students per year, with one student at a practice at a time. "Students received focused one-on-one time with the mentors at the practice," Groover said.
"The rotation is a total immersion experience. The students live on-site in apartments at the practice. They participate in daily on-farm and in-hospital appointments, as well as evaluating emergency cases."
Groover, who debriefs students following the rotation, said "students love the rotation and are so appreciative of the opportunity to learn in these practices.
"I ask them to log the cases they see over the course of the two weeks. Some students report having seen 50 or more cases over the two-week period, which is something we could never do in our hospital setting. It's an amazing experience for them.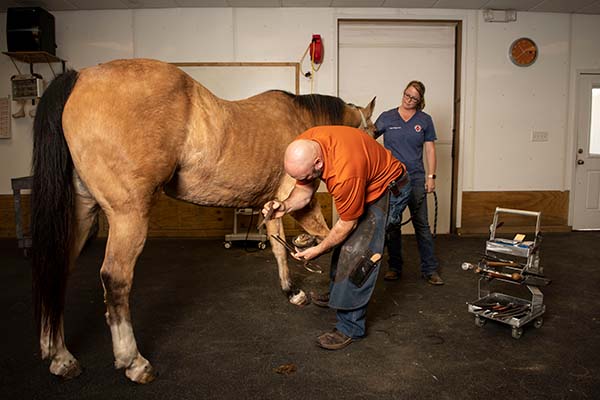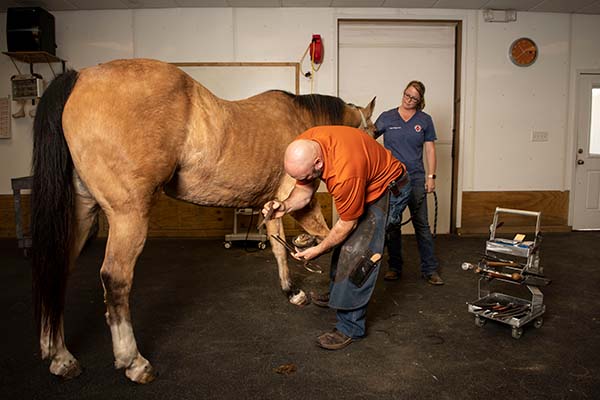 "From a college perspective, the equine clerkship is helping us to provide opportunities to students that help them be 'practice-ready' more quickly," she said. "Additionally, our partnership has strengthened the relationships we have with the practices and our alumni."
Stewart, practice owner of Gulf Coast Equine Hospital in Summerdale, Ala., participates in the program because he loves teaching. "I have always enjoyed sharing what I have learned with extern and preceptor students."
Molony, practice owner of Georgia Equine Veterinary Services in Canton, Ga., agrees. "I love mentoring students. The clerkship has allowed us to stay in touch with Auburn and see what is coming out of vet school these days."
Lee, and his wife, Lacey Lee '00, who together own Lee Veterinary Clinic, a five-doctor, mixed animal practice in Atmore, Ala., have "long recognized the need for and importance of solid, hands-on practical experience during the education process. We have provided extern-ships and preceptorships for senior veterinary students for the past 15 years."
Stewart agrees, saying, "my desire is that the quality of care and service increase significantly from generation to generation of veterinarians" and calls the program "the bridge between the classroom and the real world [that] cannot be duplicated in any other way."
He said it's also a way of thanking those veterinarians who assisted him. "As a veterinary student I was always amazed at how certain practitioners opened their doors to me, explained to me what they were doing and why, and allowed me to assist them in what they were doing."
Stewart said while he oversees the clerkship program, all members of his veterinary team are involved. "Drs. [Tara] R iddick and [Lacey] Davis '15 take great pride in mentoring as well. We elected to help with the program as soon as Dr. Groover proposed the idea. It is a wonderful opportunity for the students and for us."
The biggest thrills come for me when a student actually discovers that they can pass an endoscope, manage a colic, find a cryptorchid testicle, or properly place the screws in a bone plate," Stewart said. "Until someone lets you do it, you just aren't sure you can.
"I am very confident that the program is working when a student tells us that they are now considering mixed animal practice because they realize that they can do it.
"A student who saw a stallion herniate following castration was able to go with the patient from [the] farm to [the] surgery table saving the patient and seeing that even the most unfortunate situation can be dealt with," Stewart said. "Another student decided that orthopedic surgery was definitely in his future after never even thinking of it as an option while at the CVM."
"We provide students mentorship that is not as readily available to a large or mixed animal veterinarian working in the field as too many of their peers working in a small animal hospital," Lee said. "Every student that goes though the clerkship program at our practice and pursues a career in large or mixed animal medicine has 24-hour access to me, and a full-time opportunity to learn from my mistakes."
Knowing that I have helped young veterinarians to achieve their goals by providing the mentorship needed to successfully enter this field is rewarding."
Stewart said the clerkship program creates benefits for the veterinary student, the college and his practice. "The primary benefit is being a real-world experience for the students, [and] the benefits to our practice include a constant flow of fresh insights, new technical data from students, and better lines of communication with the college."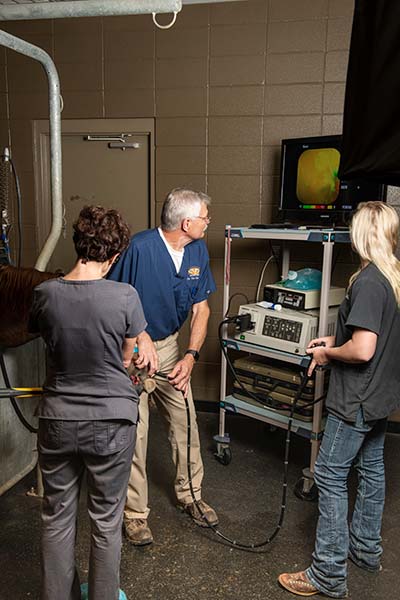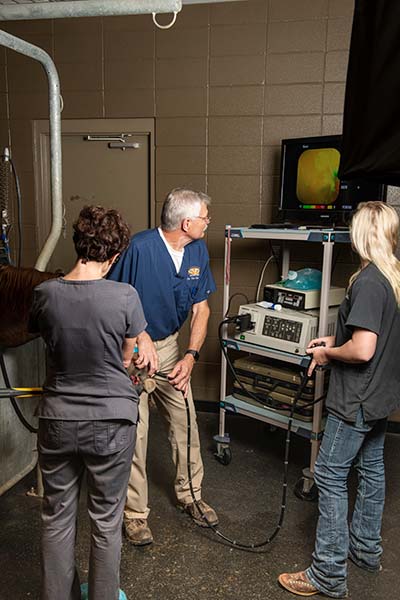 Students come from extremely varied backgrounds and bring a plethora of ideas on everything from case management to practice management," Stewart added. "There is no doubt that our hospital staff feels an intense sense of pride in respect to the mentorship program. They realize that they have a responsibility to teach students and an opportunity to learn from them at the same time."
Lee said the program "is essential to offering today's students the same opportunities that I was given while at AU CVM. During my tenure as a student at Auburn, there were ample opportunities for practical experience. In fact, we were more concerned about being cut by the scalpel of a student surgeon than of not getting enough exposure.
"I believe this program's importance is validated by the phone calls and texts I receive daily from students who have been through the program," Lee said. "This continued professional relationship proves the value students place on the experience."
"The mentorship program just might be the best way to give the students a light-speed leap forward in our educational mission—the best part of which is shining a light through doors a student would have never opened. It is extremely rewarding when a student realizes 'I can do this!'"

Dr. Tim Stewart
Molony said, through the clerkship program, the practice stays "on it toes" and validates "that we are practicing medicine to the highest standards with the most current information. We feel it has benefited students as it gives them a chance to see the real world and understand some of the challenges that go along with private practice.
"It also shows them how things aren't always perfect and gives them the skillset to adapt, adjust and improvise."
"The mentorship program," Stewart said, "just might be the best way to give the students a light-speed leap forward in our educational mission—the best part of which is shining a light through doors a student would have never opened. It is extremely rewarding when a student realizes 'I can do this!'"
"Being a part of the clerkship program has been rewarding for clients. Though a minority have said they don't want me to take the time out to teach, the overwhelming majority see that it gives students and clients a better education and understanding," Molony said. "It has been exciting to see students gain confidence in their knowledge and their abilities and also letting them know that they really are ready to go.
"As usual, Auburn still turns out the most practical practice-ready veterinarian out there."
"There is no doubt that my personal workload and that of the support staff is increased by student case involvement," Lee said. "Nonetheless, the many mentors I had available to me early on paid it forward and I want to do the same for these students."
Molony said as the equine veterinarian market struggles to find answers to getting and retaining veterinarians, "the ability to listen to students' needs and concerns about the equine lifestyle has been very helpful to me. Working on finding that life balance within the equine industry that we're also passionate about has been reiterated by the veterinary students," she added.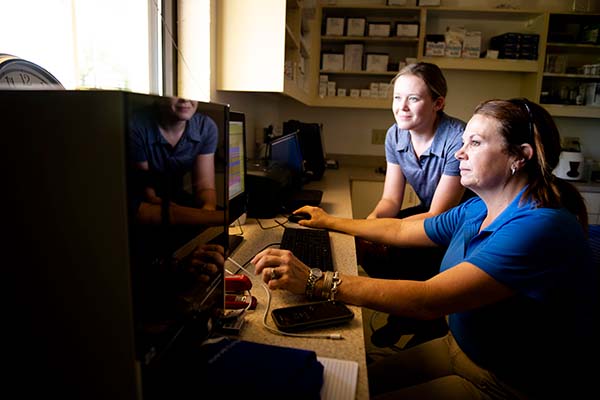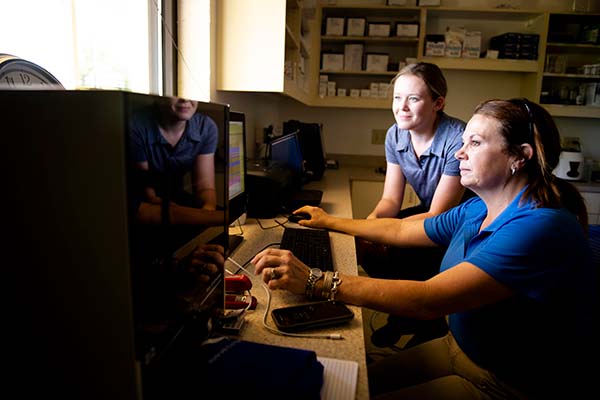 "I take pride in the fact that as a female veterinarian practice owner who has been in the industry for 24-plus years, I can be a great role model for new veterinarians coming out of college. When I graduated from that school, there were no 'old lady' horse veterinarians in private practice. The few that were around were in a university setting so I could not look to somebody who was in their 50s and still flexing horses and doing the job.
"I hope I'm an inspiration to a few of the students who are coming out these days."
Return to home