---
For Trich Research to Help Cattle Industry
Faculty
Recognized
A College of Veterinary Medicine faculty research team was one of three Auburn teams who were recognized by Auburn University for an innovative treatment that could significantly impact the cattle industry in Alabama and worldwide.
The CVM team has created an extended-release, novel topical formulation of an approved drug to treat the infectious reproductive disease trichomoniasis in cattle.
Trichomoniasis, commonly referred to as trich, is a venereal disease in cattle caused by a protozoa organism, Tritrichomonas foetus. This small organism is found in the reproductive tract of infected bulls which can spread the infection to cows. Infection can lead to major economic losses due to infertility, low pregnancy rates, an extended calving season, diminished calf crops and occasional abortions in pregnant cows and heifers.
The Office of the Vice President for Research presented faculty experts with funds from the LAUNCH Innovation Grant Program in an effort to help move their ideas from the lab to the marketplace. "The LAUNCH program helps bring some of Auburn's most promising research innovations to the marketplace, for the public good," said James Weyhenmeyer, Auburn vice president for research.
"We encourage our faculty, staff and students to be entrepreneurial. Delivering research-based solutions to our stakeholders is part of Auburn's land-grant tradition—delivering those solutions through commer-cialization creates jobs, grows the state's economy and improves quality of life," said Cary Chandler, director of Business Development and Startups for Auburn's Office of Innovation, Advancement and Commercialization.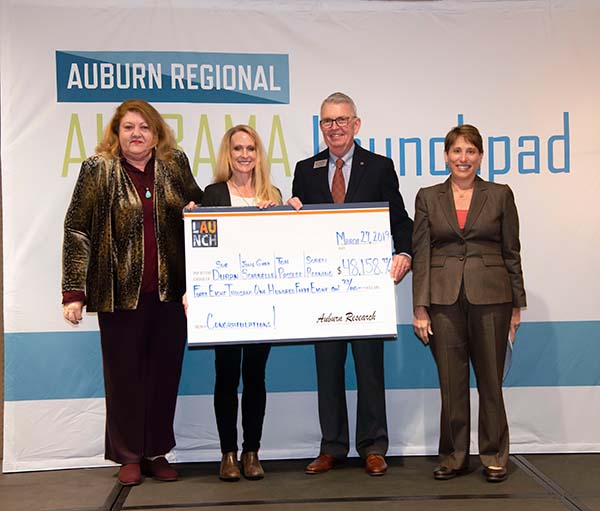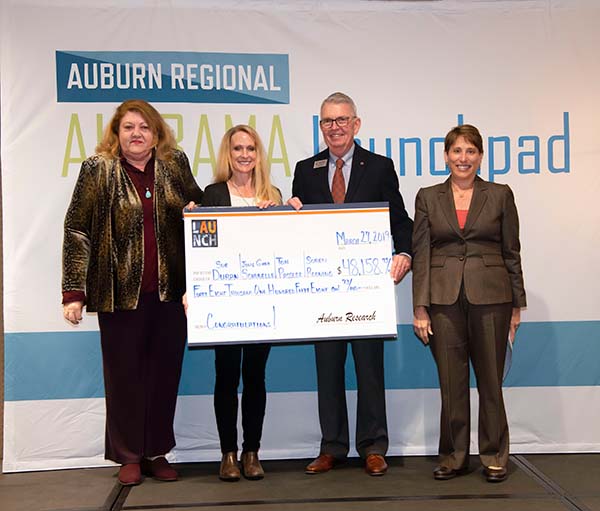 College of Veterinary Medicine faculty Drs. Sue Hudson Duran, Julie Gard Schnuelle and Thomas Passler, as well as Dr. Soren Rodning, extension veterinarian and Department of Animal Sciences associate professor, were recognized. Additionally, Dr. Misty Edmonson, associate state veterinarian, and Dr. Jennifer Koziol, now at Purdue University, as well as other student researchers were involved in the project.
Other Auburn teams receiving awards through LAUNCH include:
Feng Li, assistant professor, Department of Drug Discovery and Development, for SMILE Plus: A Nanoparticle Drug Formulation for Cancer Therapy, a new drug formulation to increase effectiveness of an approved drug against resistant, late-stage cancers for which there is currently no treatment.
Elizabeth Lipke, the Mary and John H. Sanders associate professor in the Department of Chemical Engineering, and Yuan Tian, a Ph.D. chemical engineering candidate for Flexible microfluidic platform for rapid production of uniform cell-laden hydrogel microtissues, a device which can encap-sulate human cells to better mimic their natural environment, allowing for more efficient early screening of drug candidates.
Each team receives a cash stipend from a pool of $100,000 toward commercialization of their work. An endowed fund conceived by the Auburn University Research and Economic Development Advisory Board, LAUNCH is a mechanism to bridge the gap between innovative research and the marketplace. The fund was created in 2015 with the goal of creating an endowment of $10 million that will generate approximately $400,000 annually for research grants. Until the endowment is fully funded, the Office of the Vice President for Research provides the awards.
Sue Duran, R PH, MS, PhD, DICVP, a 47-year faculty member in the Department of Clinical Sciences who recently retired but continues to work on contract, said that the university has sought a provisional patent on the team's work.
Drs. Kelly Joiner and Jennifer Spencer worked in the lab with Dr. Duran; and the other team members included a Merck Merial summer student, Laurisa Niehaus, and a former graduate student. This work involved testing 12 different drugs for the most efficacious formulation.
These funds will aid the team to study the combined drugs and extended-release formulations on infected bulls using the appropriate dosages needed for the treatment. Dr. Duran has tremendous knowledge and experience. She was invited as a keynote speaker to China in 2015 at the BIT's 5th Annual World Symposium on Drug Delivery Systems to present her work with extended release polymers as well as several other U.S. programs. This program brought together 350 scientists and researchers in academia and industry for Innovative DDS Technology.
With the U.S. being the largest cattle producer in the world (94.3 million), and representing an $80 billion industry, the team's work could have a significant impact on the cattle industry in the U.S. and worldwide."
This is a world-wide disease that is a more common problem in larger herds," said Thomas Passler, DVM, PhD, DACVIM, an associate professor of clinical sciences who specializes in medical and infectious diseases. "It is the most important venereally transmitted disease in the industry and there is no approved treatment in cattle."
Julie Gard Schnuelle, DVM, PhD, DACT, a professor of large animal medicine specializing in reproduction, says the disease is under-diagnosed, sometimes only being diagnosed at the time an animal is sold and tested for trich. "It is not just a problem in beef cattle, but in dairy cattle as well, causing tremendous problems in the entire industry."
There currently is no effective treatment; and, in some cases, state regulations require that all bulls on the farm are culled. If one bull is infected with trich, as many as 80-90 percent of cows can be affected. With the cost of some bulls exceeding $250,000, the loss of a prized bull can have devastating impact on a cattle farmer.
This funding will allow faculty to extend clinical trials of the treatment to more diseased animals to determine the efficacy of the research.
This new extended-release topical formulation helps the drug penetrate the tissues better and faster as well as extends the release of the drug, a transdermal patch, so it does not have to be applied daily.
Duran, who has worked on a delivery of the treatment for years, said technology and research funding has made the work possible. Several veterinary students spent summers working with her on the research through the Merial Summer Scholars program.
Return to home