---
AU DVM USES PROFESSIONAL SKILLS IN...
Farming
Oysters
When Dr. Andrew Duke '75 of Mobile, Alabama, is not practicing veterinary dentistry, he often can be found on the oyster farm he and his son operate on Dauphin Island.
While farming is not an unusual vocation for a veterinarian, as many have farming backgrounds and operate agricultural interests outside of their professional lives, an oyster farm is a little different commodity than cattle, cotton or hay.
Six years ago, Dr. Duke and his son, Cullan, began exploring the idea of an oyster farm in the Mississippi Sound, and today run Isle Dauphine Oysters.
Auburn Veterinarian recently interviewed Dr. Duke about his unusual and interesting venture.
AV: HAVE YOU ALWAYS BEEN INTERESTED IN MARINE ANIMALS?
DUKE: Growing up in Mobile, I enjoyed the sun and sand of Dauphin Island, as well as the fishing, shrimping, crabbing and gathering of oysters. It was fascinating to observe how all of the marine species interact and form such an intricate ecological web, especially oysters. As a "keystone" species, they reproduce by the millions, creating habitat for hundreds of species, stabilizing the reefs and filtering the water. All while furnishing us oyster po'boys.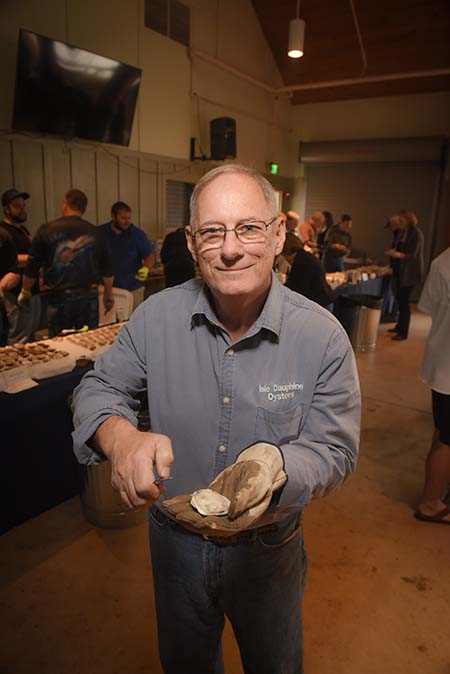 AV: WHAT GAVE YOU THE IDEA TO START AN OYSTER FARM?
DUKE: P.J. Waters of the Auburn University Marine Extension and Research Center spoke at the Rotary Club where Cullan and I are members. He gave a presentation on their Oyster Gardening Program. With that program, young oyster "seed" produced by the Auburn University Shellfish Laboratory on Dauphin Island are given to people who have access to waters that can support the oysters. The people raise them for about six months and then turn them back in to the Extension Service for use in restoration projects. We met with P.J. and explored the possibility of us becoming oyster gardeners. P.J. sensed our enthusiasm and suggested we consider starting an oyster farm.
He introduced us to Bill Walton, head of the Shellfish Laboratory who was spearheading an effort to facilitate the formation of oyster farms in Alabama. He explained the process of starting a farm and gave us the benefit of his personal experience as well as the Alabama Cooperative Extension System's expertise in oyster spawning, research and cultivation.
AV: WHY DID YOU SELECT DAUPHIN ISLAND AS THE SITE FOR YOUR FARM?
DUKE: The primary considerations for the oysters' health and growth are an adequate flow of water, salinity and nutrients in the water. Studying marine data, public health records, satellite images and bottom-land lease availability brought us to the west end of Dauphin Island.
AV: WHAT IS INVOLVED IN STARTING AN OYSTER FARM AND HOW LONG DOES IT TAKE?
DUKE: Once a site was selected, we developed an operational plan and submitted it for approval to authorities to ensure there is no negative impact on native oysters, sea grass, marine traffic, archaeology, etc. The Army Corps of Engineers reviews the total proposal, and the last hurdle is working with the U.S. Coast Guard to determine what type of warning buoys, pilings or lights are required for marine safety. Cullan, who at that time was a private practice attorney, handled the documentation and guided the operational plan through the maze of regulatory agencies, and I covered the biology and public health issues.
Then you decide what technology to use, accumulate your gear and determine the source of your seed oysters. Almost all oyster farming in Alabama is done off the bottom in cages or baskets suspended in the water.
The technology we chose is the "Oyster-gro" system. Floating cages are tethered to helical anchors placed into the bottom. Each cage has multiple compartments into which we place bags of oyster seed. Our lines of 15 cages each are maintained in three-to-five feet of water, which keeps the oysters in the prime part of the water column for feeding on plankton and algae. Once a week the cages are inverted for 24 hours so that the gear and oysters are desiccated. The drying and the UV light help control fouling organisms and some of the predators.
AV: HOW LONG DOES IT TAKE TO RAISE AN OYSTER TO MARKET SIZE?
DUKE: There is some variation in the growth rates as the water temperature changes with the seasons. The first seed delivery is usually in June. These oysters then have about four months of water temperatures above 75 degrees. They grow very fast and can go to market at about 10 months of age and two-and-a-half inches in length. The seed produced in the late summer only get a month-and-a-half of warm water and then they slow down during the colder months. That group will take about 12 months before going to market.
AV: HOW DID YOUR EDUCATION AT THE CVM HELPED PREPARE YOU FOR YOUR ROLE IN OYSTER FARMING?
DUKE: I hardly know where to start. Parasitology, microbiology, physiology, genetics, nutrition and pathology. We use them all. As an example, we have an external worm, Polydora websteri that tunnels through the shell of the oysters causing unsightly blemishes on the inside of the shell. These lesions are known as "mud blisters." While not deadly to the oysters, they detract from the restaurant half-shell presentation. Desiccating the oysters weekly is the most economical method of controlling these worms.
There is also a dinoflagellate, Perkinsus marinus, which can be disastrous to oyster populations. It is ubiquitous in our warm Gulf waters, and the oysters acquire it as they feed. The best control is to have healthy water that allows the oysters to grow rapidly and go to market before the disease builds up in your livestock. When we are planning the acquisition of a new cohort of oyster seed from the hatchery, we have to consider placement in our nursery cages, splitting the density down as they grow and the marketing timetable.
Mentally, I am 23 years old again and sitting in Dr. Cottier's Avian Medicine Class. That, and the large animal herd health templates that are available, have proven very useful.
In the past few years, I have been called on more and more often to inspect oysters from other farms, nurseries and hatcheries for interstate and international seed sales. This has added another professional activity to my practice activities that I would have never anticipated. This is a rapidly growing industry, and more veterinarians will be needed to serve the needs of the oyster industry.
AV: IS THERE ANY EVENT OR SITUATION THAT YOU HAD NOT ANTICIPATED IN THE OYSTER BUSINESS?
DUKE: Two factors come to my mind when I think about the first few years of our venture. First is the amount of time and frequency that the waters are closed to harvesting oysters. The second is getting the oysters to the restaurants.
Mobile Bay and the Mississippi Sound [form] one of the most biologically rich and productive bodies of water in the country. However, that richness is due to Alabama's expansive river system: more than 43,000 square miles in four states drain into the bay, and, on average, 62,000 cubic feet per second of water pass through the bay. When heavy rains inundate the state, state Health Department guidelines dictate closure of the waters to oyster harvesting until the waters test clear of coliform bacteria. In 2015, we had a high water closure and, before it was lifted, red tide algae moved in from Florida, closing harvesting for 14 weeks during the prime part of the season.
As we started selling oysters, we found a large challenge was getting wheels under them. In the beginning, we did some direct marketing and arranged our own transportation. It did allow us to get our oysters to the restaurants faster than using distributors, but it was very time consuming. Over the past five years, we have partnered with a number of people in the seafood business, and getting from farm to table is running much more smoothly.
AV: WHERE CAN WE GET ISLE DAUPHINE OYSTERS?
DUKE: They regularly show up on the menus of the best seafood restaurants in the Southeast: Pêche in New Orleans; The Snack Bar in Oxford, Mississippi; Kimbell House in Decatur, Georgia; 5 Points Public House Oyster Bar in Birmingham; and The Depot in Auburn. If you come to Dauphin Island, let us know. We'll fix you up.
Return to home