CELEBRATING AUBURN'S SPIRIT
Fearless and True
---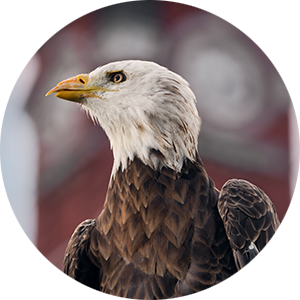 by Mike Jernigan

It's the start of another eagle workday, early on a recent muggy summer morning at the Auburn University College of Veterinary Medicine's Southeastern Raptor Center. Today, bald eagle Spirit and golden eagle Aurea, also known as War Eagle VIII, are ready to fly.
Spirit, celebrating her 25th birthday this year, is a short-timer. Nearing retirement this fall — after an Auburn flying career spanning 18 years — she still vocalizes her excitement as she and Aurea are loaded into the SRC van for the short trip to Jordan-Hare Stadium, where they and a second bald eagle named Independence, Indy for short, fly most weekdays starting in July. The flights are part of their preseason practice routine to prepare for their role in the tradition of pregame flights before almost every Tiger home football game.
That tradition began in 2000, when golden eagle Tiger, War Eagle VI, made a short flight from the end zone to midfield. In the two decades since, the flights have grown into one of the most recognizable and widely anticipated college football traditions in the nation. They have evolved from Tiger's first 50-yard hop into circling, soaring flights around the stadium, launching from an upper deck ramp and ending with a dramatic midfield landing. One of Tiger's successors, a male golden named Nova who was War Eagle VII, is already in retirement at the center. He gets his meals without having to fly for them.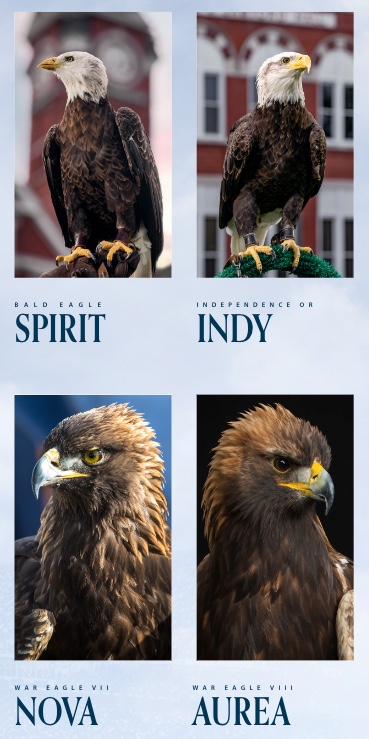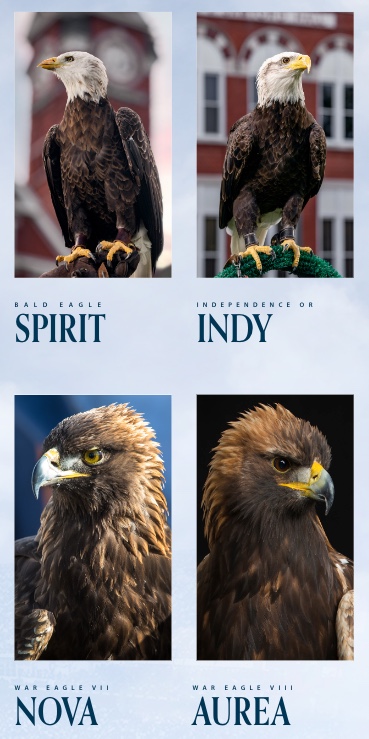 On arrival at Jordan-Hare, Andrew Hopkins, assistant director of raptor training and education, raptor specialist Bryant Tarr and student volunteer Parker Brown note the wind direction and temperature. The decision as to which eagle will fly — or if an eagle flight is even feasible — is always determined by weather conditions and each eagle's temperament and health. Next, transmitters are attached to both eagles "just in case," Hopkins said with a sidewise grin, one or the other decides they want to extend their flight beyond the stadium and look for a fresher breakfast than the thawed mice he has brought along for motivation.
Tarr, who started his raptor career with falcons, said teaching the eagles to fly in the stadium is much the same as training smaller raptors. "They are very food motivated, so once they realize they will get a food reward for coming to the lure, the basic work is done. From then on, the more the routine is repeated, the more the eagles become accustomed to it. That's why we bring them to the stadium and practice regularly."
Transmitters in place, Tarr and Brown load up in a golf cart and depart with 7-year-old Aurea for the upper reaches of the stadium from which the roughly eight-pound bird, the largest of all the SRC's eagles, will begin her flight. It's certainly difficult to detect the fact that Aurea, who was brought to the SRC in 2014 after being found in West Alabama with a severe wing injury, has scar tissue on her right wing that interrupts her flight pattern and is the reason she is non-releasable. After her wing healed, she began training at the stadium and became Nova's successor in 2018. The 2021 football season will be her third year to fly during pregame festivities.
Minutes later, Aurea explodes out of her carrying crate from the upper-level ramp and circles, briefly catching a few thermals rising from the steamy stadium turf, before hurtling like a feathered express train toward Hopkins and his lure on the stadium floor, smacking down onto it at almost full speed with an audible thud — a squirrel's worst nightmare.
"Goldens reach the lure with very little deceleration beforehand," Hopkins noted while reaching into his bag of eagle snacks and plucking out several mice as a reward. "In the wild, they generally hunt larger prey, so they hit it with greater force. When Spirit comes down, you'll see something completely different. Bald eagles pull in their wings and hit the brakes just before they grab their prey."
Hopkins rewards Aurea with several mice, but she still looks around appraisingly as if hunting for a juicier main course. The no-nonsense gleam in her dark brown eyes, along with her wicked hooked beak, won't bode well for anything on her menu. She apparently decides no suitable alternative exists, so she devours the mice instead and punches the clock for the day, her work done.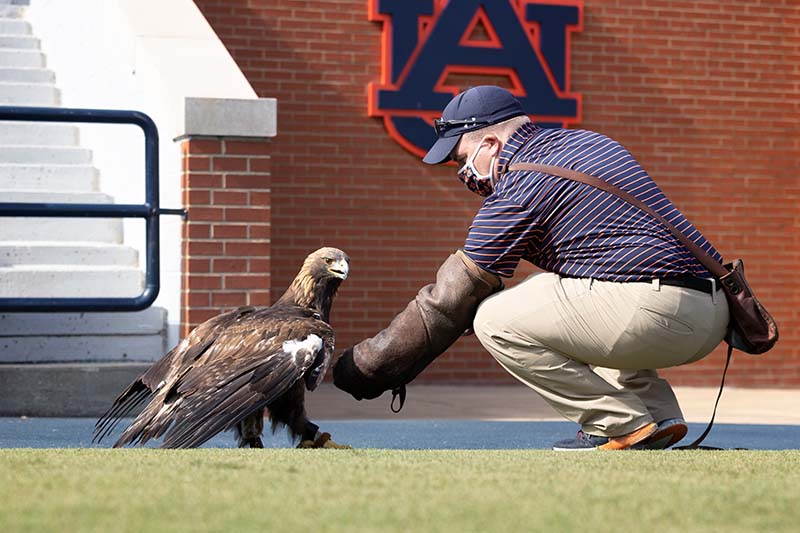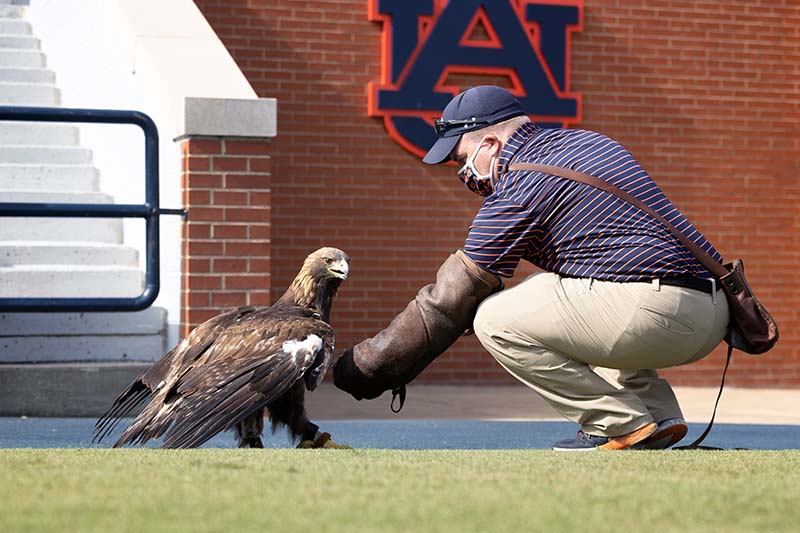 Next up, it's Spirit's turn. Like any short-timer she doesn't waste time or effort beyond the minimum required. Once out of her crate, she makes a "been there, done that" beeline to the lure, tucking in her wings at the last second exactly as predicted to slow down abruptly at touchdown — like a navy fighter jet catching a wire on a carrier deck. At roughly 7 pounds, a bit less intimidating than Aurea, she looks expectantly through yellow eyes at Tarr, who rewards her from the treat bag with a few extra mice thrown in, as befits a cagey veteran. With that, because of the extreme temperatures, the day's flying is done, and it's back to the center to spend the rest of the day ducking the heat on a cool, shady perch. For Spirit, it's also one day closer to her life of retirement leisure.
When she arrived at the SRC in the late 1990s, no one knew Spirit would one day come to represent the Auburn spirit alongside the university's official golden eagles, known as "War Eagles." She was brought to Auburn after being discovered in Florida with an injured wing and beak. Due to her permanent beak damage, she was found to be non-releasable, but she soon began training for pregame flights and made her debut in 2002.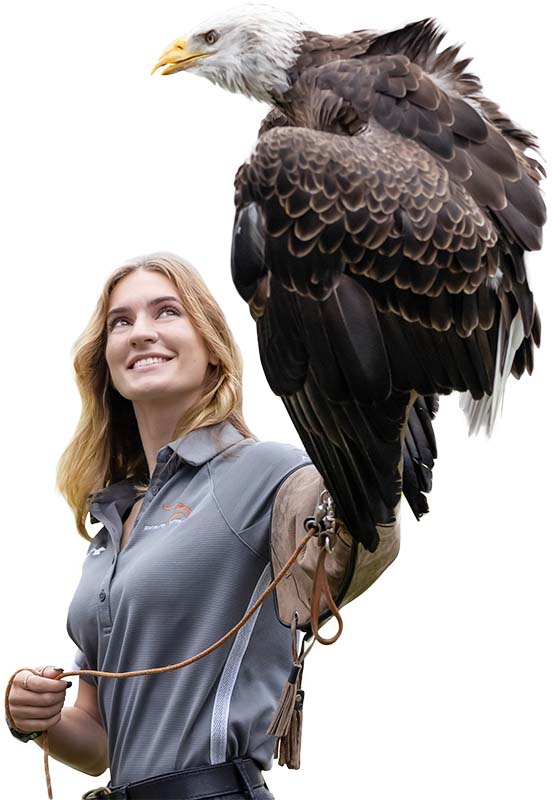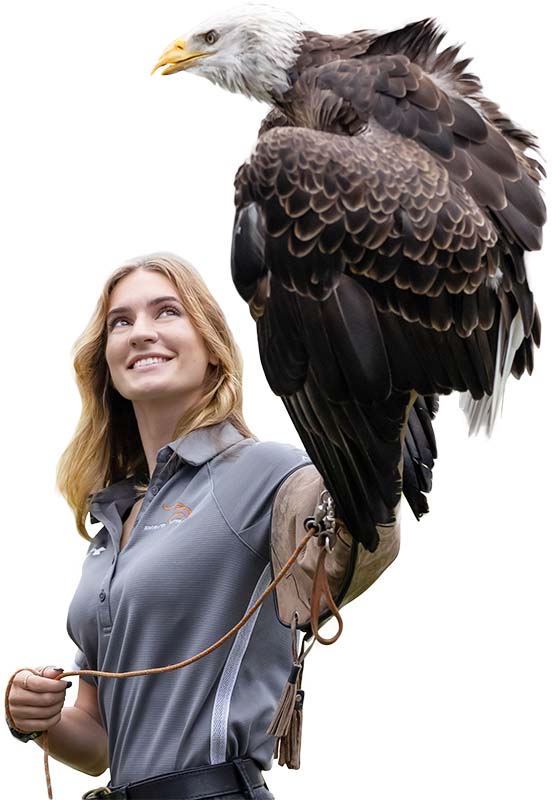 Since then, she has inspired Tiger fans during pregame festivities at 45 football games and has become an unforgettable part of Auburn eagle lore. She has also served as a representative for wildlife conservation, having been part of more than 1,800 raptor center educational presentations to more than 105,000 attendees. Education is a key part of the mission of the SRC, which is permitted by the U.S. Fish and Wildlife Service to house, care for and showcase non-releasable birds of prey for teaching purposes. So, it's fitting that while the younger bald eagle Independence will take over her game day flight duties next fall, Spirit will continue her educational role even after her retirement.
"Spirit has become a major part of Auburn tradition and is as fondly recognized by Tiger fans as Aurea," said Hopkins, his affection for her readily apparent. "She has developed some arthritis, but that is typical for her age and, overall, she is still in very good health. But she has served the Auburn family well for many years and we feel it is time to pass the reigns to Indy so Spirit can enjoy being an ambassador for her species."
Even so, Spirit won't relinquish her flying duties without a fitting farewell. Auburn football fans will have an opportunity to see her soar one last time when she makes her final Jordan-Hare pregame flight at the military appreciation game versus Mississippi State Saturday, Nov. 13. In addition to a halftime ceremony honoring her, there will be a special Football, Fans and Feathers educational program at the raptor center Friday, Nov. 12, highlighting both Spirit and Independence to honor the impact they have had on both the Auburn family and wildlife conservation.
"I know our fans will give Spirit a great send-off when she makes her final stadium flight this fall. For almost two decades, she has been an important part of the Auburn family and has also helped thousands of people become better acquainted with her species. We all look forward to seeing her at educational presentations in the future and wish her well in her upcoming retirement."

Dean Calvin Johnson, College of Veterinary Medicine
Return to home