---
NEW HISTORICAL MARKER RECOGNIZES
SITE OF FORMER REGIONAL
USDA LAB
---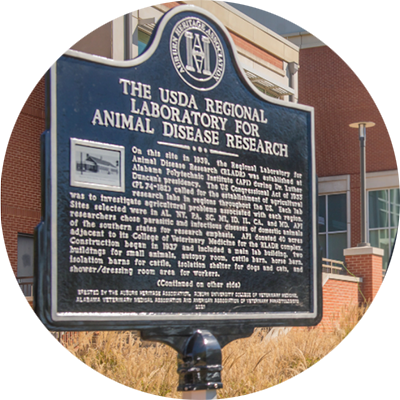 by Jayne Hart
The Auburn Heritage Association, in conjunction with the College of Veterinary Medicine and the Alabama Veterinary Medical Association, recently erected a historical marker on the site of the former Regional Laboratory for Animal Disease Research, established at Alabama Polytechnic Institute in response to the federal Bankhead-Jones Act of 1935. Co-sponsored by Senator John Bankhead of Alabama, the act called for the U.S. Department of Agriculture, or USDA, to establish regional research labs across the country to investigate agricultural problems associated with each region. Alabama was one of nine national sites representing the Southeast. 
The university donated 40 acres for the complex adjacent to the former API CVM site, now located near the core of campus. Construction began in 1937 and included a main lab building, two buildings for small animals, an autopsy room, cattle and horse barns, isolation barns and facilities for dogs and cats. The new facility was completed in 1939. Auburn researchers concentrated their efforts on parasitic and infectious diseases of domestic animals in the southern states.
In 1938, the USDA hired Dr. B.T. Simms, a 1911 API veterinary graduate and protégé of API Veterinary Medicine founder Dr. Charles Allen Cary, to lead the laboratory. He supervised a staff of 11 veterinarians and parasitologists. Initial studies focused on diseases affecting cattle, including parasitic bovine coccidiosis and Johne's disease. The original laboratory closed in 1971 when a modern USDA facility was opened near the current location of the CVM, one mile west on Wire Road. The older facility continued to be used for biological research until the entire complex was razed in 2007, making way for the Auburn School of Kinesiology Building.
"The Regional Laboratory featured a group of investigators who confronted disease problems — namely those of parasitic origin — that were problematic for livestock and small animals," said Benjamin Beck, director and research leader of the USDA Agricultural Research Service and Aquatic Animal Health Research Unit, of the significance of the marker. "The pace of discovery was substantial and the impact of the research program provided significant societal and economic benefits for food and companion animals and humans alike."
Return to home