Ivy Jane
---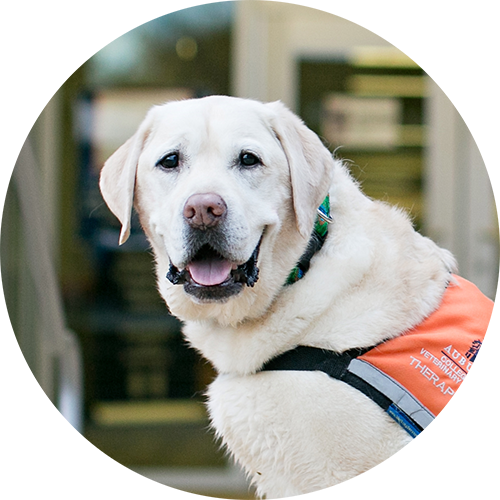 by Abbi Gardner
On January 31, 2021, the Auburn Vet Med family lost one of its most beloved members — Ivy Jane Newcomer.
Ivy Jane was the college's first therapy dog and she holds a special place in the hearts of countless students, faculty and staff who were impacted by her life of service.
When Ivy Jane's owner, Dr. Sara-Louise Newcomer, transitioned into a new role with the college's Office of Academic Affairs in January 2017, she knew that Ivy Jane could be an invaluable resource for the students. After five short months, Ivy Jane graduated from the Alliance of Therapy Dogs training program and there began her new life calling.
Ivy Jane was special to so many people. As a therapy dog she was extraordinarily gifted. We had a special bond — mostly because I was the Cheez-It lady — but also because she knew how to comfort my aching heart too."

Dr. Amelia White, Associate Clinical Professor, Dermatology
"Everyone in the VEC knew her," recalled Newcomer. "She seemed to somehow know that her job was to be a friendly, compassionate companion when people needed it most. Employees and students both knew where to find her when she was sleeping in my office. If anyone was having a bad day or just needed a break, they knew they could stop by and have some Ivy Jane time."
Most days you could find Ivy Jane weaving her way around the halls of the Veterinary Education Center, or VEC, bringing smiles to the faces of students who often feel overwhelmed by the pressures that come with vet student life. She was a bright spot in the day of everyone she met and somehow knew exactly when to offer employees a much-needed break from work. When she wasn't busy providing therapy services, she was most likely sniffing for snacks or sneaking a nap in Dr. Newcomer's office.
Ivy Jane Newcomer was one of those dogs who touches your life forever. She was so much more than a dog. Her memory reminds me why we work so hard to become veterinarians — because being a doctor for animals like her helps make the world a brighter place."

Marie Noel, fourth-year DVM student and Ivy Jane's dog sitter
These days, campus seems a little less cheerful without its resident four-legged greeter. Although the loss of Ivy Jane was tragic and unexpected, the Newcomers hope their other yellow Labrador Retriever, Willa Kate, will follow in her sister's paw prints to one day become a therapy dog, too. Until then, there is no doubt that Ivy Jane's gentle spirit, compassion and unbiased acceptance of all will live on for many years in the hearts of those she encountered.
My very first experiences here at Auburn were touched with Ivy Jane's presence. On the morning of my interview, another potential student and I sat nervously waiting to be called. Then Ivy Jane walked into the room. She happily greeted us and right then I realized I was finally where I wanted to be."

Kate Webb, first-year DVM student
Return to home