One of a Kind
Dr Bill Brawner
---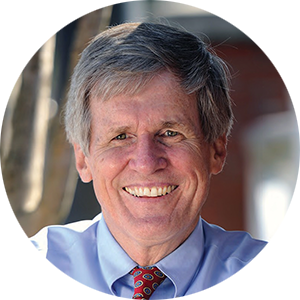 Not many people can say they have loved every minute of their 48-year profession, the majority of the time learning and teaching at the College of Veterinary Medicine. That distinction alone makes Dr. Bill Brawner one of a kind.
But if you talk to colleagues, students and animal owners, you'll quickly learn that his dedication to the profession, his love for animals and their owners and his joy in learning and teaching are his true passions.
Since 1968, when he enrolled as a veterinary student, Dr. Brawner has been an educator, advocate and ambassador for the college.
And although he retired earlier this year, Dr. Brawner continues to find joy in coming back to fill in when colleagues are out traveling, to spend time talking with students about their career goals and calming anxious clients about their pet's recent diagnosis.
The first thing I think of about Bill Brawner, besides being a great friend to me, is that he is an Auburn man," said Dr. John Hathcock, professor and head of the Radiology Service. "His passion for radiology was evident in his desire to teach students and house officers about imaging and radiation therapy. He always had the time to stop and answer questions."
Some would be surprised to know that Dr. Brawner took a side road to the profession, with an initial career goal of being in human medicine. That might seem odd when you realize his father, the late Dr. Reuben Brawner '44, was a noted equine veterinarian in Ocala, Fla.
"My dad was in a 'James Herriot' practice (all creatures great and small), encompassing four to five counties in central Florida, and I was often with him as a youngster," Dr. Brawner said.
"One of my fondest memories of being with my dad was going to the state penitentiary in Starke, Fla., because at the time, they had horse, dog and dairy farms, and my dad's practice had the contract to care for the animals. The trustees would let me ride the horses and give me ice cream and I thought going to the state prison was a great field trip," he remembered.
While in high school, biological sciences appealed to him, and that led him to enroll at Emory University with hopes of being a physician. "I was at Emory for three years before I decided my primary interest was veterinary medicine." He changed paths and enrolled at the University of Florida for his undergraduate degree in agriculture, and went on to earn a master's when he was not accepted to vet school at Auburn, which, at the time, was the veterinary program for Florida students.
Dr. Brawner was accepted on his second try, and was one of 20 Florida students to enroll in 1968. At that time, veterinary classes were held in Cary Hall on main campus, but as a fourth-year student, Dr. Brawner and his 100-member class were the first to have full clinical rotation in Hoerlein Hall, the newly-opened small animal clinic. Little did he realize that, years later, he would chair the college's committee to build Hoerlein Hall's replacement, the Wilford and Kate Bailey Small Animal Teaching Hospital.
Following graduation in 1972, Dr. Brawner practiced in Cincinnati with Dr. Karl Grady, and there realized a love for radiology. He later moved to Sarasota, Fla., to join Dr. Jim Lanier '66 in a small animal and equine practice.
He'd stayed in touch with faculty, and it was Dr. Jan Bartels who convinced Dr. Brawner to return for a residency in radiology.
"It was a hard decision and Jenny and I went back and forth, but in the end I decided that gaining more experience and education was important," he said.
The Brawners moved to Auburn in 1975, and they remained. In those 41 years, Dr. Brawner has seen a lifetime of changes, in the profession, the college and the city.
"When I started, the two x-ray machines and the fluoroscope was the high-tech equipment that no one else had," he remembered. "In my career, I've seen nuclear medicine, ultrasound, CT and MRI come to the CVM—none of those things existed when I started.
"It is amazing what we are able to diagnose because of technology, and how it has changed our profession," he said. "If anyone is bored in this profession, it is because they are not paying attention."
Although too difficult to choose, Dr. Brawner's most noted professional achievements have been in developing radiation therapy to be an integral part of the Auburn oncology program; the evolution of the program to include the Holland Ware linear accelerator; in the relationships with students who are now colleagues, some of whom have had children come through the college; and the Bailey Small Animal Teaching Hospital.
Beyond Auburn, he has served as president of the American College of Veterinary Radiology and also president of the ACVR Specialty of Radiation Oncology.
"Being a part of the construction of the Bailey Small Animal Teaching Hospital was an enjoyable learning experience and I loved being a part of the college's growth," he said.
Architect Skip Wyatt said Dr. Brawner's role was a key to its success. "The facility would not be the fantastic hospital you see today without his profound dedication. Were it not for Dr. Brawner's leadership, the planning team which stayed together for five years through thick and thin might have become frayed at the edges.
"The team remained intact for the duration thanks to the individual dedication of the members but also because of Dr. Brawner's encouragement and management. His finger- prints are all over this facility. We owe him our gratitude," Wyatt said.
Through it all, it is Dr. Brawner's love of being an educator that shines bright. "I've really enjoyed teaching students, being with them and seeing them transition and grow up.
"We have incredibly bright and motivated students—that has not changed throughout my career. They've worked to get here and they want to be here. I've loved helping them find the hidden picture within a picture, to interpret radiological images and challenge them."
Dr. Rachel Moon, an assistant clinical professor, agreed. "He loves his job. Not just being a radiologist but a teacher, clinician and veterinarian. He was always happy to be here, to be interacting with students, residents, faculty, clients and staff.
"I admire how humble Dr. Brawner is. He has a wealth of knowledge and he is always happy to share but he doesn't let all that knowledge get in the way of keeping an open mind, listening to others or learning new/different things."
And while his Florida roots are strong, so are his Auburn ones. In fact, the Brawners have the rare distinction of being three generations of Auburn veterinarians: Dr. Reuben Brawner '44, Dr. Bill Brawner '72, and Dr. Blue Brawner '01. The veterinary heritage in the Brawner family remains strong, and the college is grateful.
Return to home