Our
Greatest Achievements
---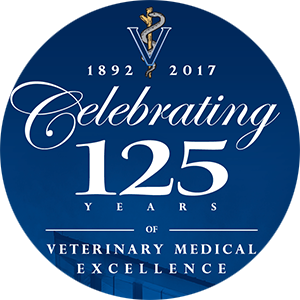 The college asked our alumni, "What do you think is the greatest achievement in the college's history?" To date, we've received some interesting responses:
Joe Long '84
"For me it is the privilege of being a part of a proud profession that still holds empathy and kindness in high regard. This foundational principle was modeled by our professors and has been reinforced by my Auburn colleagues in practice as well as the critical referral/consultation support from the current faculty.
We have far too few heroes today and it is an honor to see veterinary professionals on many levels do their work with integrity, exemplifying what it looks like to do our jobs well. It has been fascinating to watch the profession evolve and the AUCVM continues to lead the way as we confront these challenges. The Bailey Small Animal Teaching Hospital is just one example of Auburn's commitment to a high level of excellence.
Tobe J. Singleton '98
"The greatest achievement for me from the AU CVM is the memories made while I was a student and when my father (J. Whitt Singleton '80) was a student. [When I was] four, my father started veterinary school and I remember having to fall asleep watching him sit at a desk studying since my bedroom was also his study room. The desk light stayed on into the early hours of each morning. He had to work hard to soak up the knowledge those first two years of veterinary school. It was difficult with having a family (my brother was born beginning of his junior year). I remember when my father had clinical rotations that he would take me with him when he had to check on cases while they were in the small or large animal hospitals (Hoerlein or McAdory Hall).
I suppose that is what started me on my path of yearning to be the same as he was when I went to college 15 years later. After years of being his kennel walker, gate opener for large animal calls and assistant with surgery, supportive shoulder for the dear client who was upset over the loss of their dear pet or cleaning a cage for a patient, I loved it all and that's what forged me to focus on becoming a veterinarian.
I was fortunate to secure a recommendation for veterinary school from a professor that my father had as an instructor (Dr. Gatz Riddell). I worked with him in McAdory Hall milking cows for two-and-a-half years prior to entering veterinary school in the fall of 1994. I also had him as a professor along with Dr. David Pugh when I was on clinical rotations in veterinary school and also was lucky enough to have others who are no longer with us (Dr. Bob Carson) or retired (Dr. Dwight Wolfe) to solidify my large animal instruction.
Those are some of my fondest memories and the work ethic, knowledge and the love they showed for the profession warmed my heart.
Dr. Steven Swaim was another special professor (now retired) that I was so fortunate to have as a student in the small animal clinic to instill in me 'pearls of wisdom' I utilize every day in practice. Dr. Bill Brawner, Dr. Paul Rumph, Dr. Phillip Garrett, Dr. Larry Swango, Dr. Joe Spano, Dr. Joe Newton and Dr. Charlie Hendrix (Bay less ask a Riss Pro Sy Own Iss) are just a few of the professors who make me smile when I think of the four years I had the privilege to learn from these individuals and share now with my clients their love for veterinary medicine.
The greatest achievement for me would be the people I was fortunate to call teachers, friends and colleagues. The buildings may change and, even though I would like it all to stay as it was when I was in school, progress is needed. The Auburn University CVM is Auburn in spirit and love of veterinary medicine. I'm thankful of my instruction there and proud to be a member of an elite group of alumni from one of the best veterinary schools in the country."
Evelyn Nelson '91
"When I reflect on this question, I see many answers. The best is that wherever I go, whenever I am asked 'what college of veterinary medicine did you graduate from.,' I proudly reply Auburn. Almost 100 percent of the following refrains are 'that is known to be the best veterinary school in the country.'
This is, I believe, due to the general quality of persons admitted to the college and then groomed and molded by an unwavering quality of education and ethics."
Return to home