Pharamcy
Director
---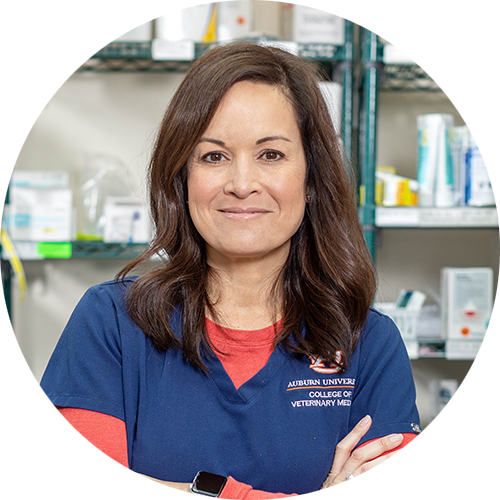 Teresa (Teri) Etheredge '01 recently was named director of the Auburn Vet Med Veterinary Teaching Hospital Pharmacy.
After earning her doctorate in pharmacy at Auburn, Etheredge began her career as a staff pharmacist at the Carolina Medical Center in Charlotte, North Carolina, then worked as a staff pharmacist and pharmacy manager with Walgreens Pharmacy in several locations. She returned to the Plains in 2014 as an integrated pharmacotherapy facilitator with Auburn's Harrison School of Pharmacy, and later also served as a part-time pharmacist with the East Alabama Apothecary, LLC, operated by the East Alabama Medical Center in Opelika, Alabama.
Etheredge holds her licensure from the Alabama State Board of Pharmacy. She is a member of the Society of Veterinary Hospital Pharmacists and a fellow member of the Alabama Pharmacy Association. She also holds the titles of affiliate assistant clinical professor of pharmacy practice in the Harrison School of Pharmacy and APhA Certified Immunization Delivery Provider, certification in sterile products, from the Alabama State Board of Pharmacy.
Return to home