Scott-Ritchey
Director
---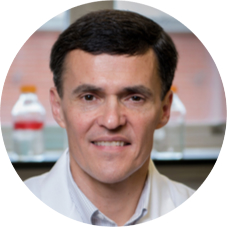 Veteran Auburn faculty member and noted researcher Dr.
Douglas R. Martin '89 was recently named director of the College of Veterinary Medicine's Scott-Ritchey Research Center, or SRRC, one of the premier veterinary research facilities in the nation.
"Scott-Ritchey has given me so much—a purpose, a chance to dream about making a difference, colleagues that are like family, opportunities to learn and work with some of the best people in the world—that it's my turn as director to help others have the same opportunities," said Martin of his appointment.
Martin received both his undergraduate degree in biology and doctorate in biomedical sciences from Auburn before joining Vet Med as a post-doctoral fellow in 2001. He became a member of the research team at Scott-Ritchey as an assistant professor in 2004, and in 2009 was promoted to associate professor in the Department of Anatomy, Physiology and Pharmacology while concurrently continuing his SRRC research. He gained full professor status in 2015.
For more than 40 years, Scott-Ritchey's mission has been to use cutting-edge basic and translational research to improve the health of dogs and cats and communicate these findings to the clinical and scientific communities. The center is a state-of-the-art, interdepartmental and interdisciplinary program relying on private gifts and grants for the majority of its research funding.
Researchers from Scott-Ritchey were most recently in the news for their work in developing a gene therapy treatment for GM1 gangliosidosis, a rare, neurodegenerative disease found in animals and humans. Martin and his team successfully extended the life expectancy of cats by more than five times compared to non-treated GM1 cats through the use of gene therapy, a non-harmful viral vector to produce enzymes missing in GM1 and Tay-Sachs-related diseases. The Tay-Sachs Gene Therapy Consortium, an international collaborative group of scientists committed to searching for a cure, has developed and tested the vector based on the adeno-associated virus (AAV). The first human clinical trials began in 2019 at the National Institutes of Health.
We will focus on translating what we learn in the lab into clinical applications for pets and people. The concept of One Health is not new to veterinarians — they've known for decades that animals and people share most common health conditions. My goal is for Scott-Ritchey to help as many animals and people as possible through our research.
Building on the center's proud history, Martin hopes to continue such success in the future. "I've visited universities and biotech companies around the world," he said, "and there are no better people than those at Auburn. Other places have more people, and one of our main goals will be to return Scott-Ritchey to a critical mass of researchers working together to impact animal and human health."
Dean Calvin Johnson is equally excited about the future of the center under Martin's leadership. "The Scott-Ritchey Center is an important program for the CVM," he noted. "It differentiates Auburn from many of its peers by focusing an aggressive research effort toward the health of dogs and cats. Throughout the center's long history, its previous directors have set the tone for impactful research that is recognized globally.
"Dr. Martin brings tremendous expertise, energy and perspective
to the Scott-Ritchey directorship," he continued. "I look forward to facilitating his plans to advance the SRRC's One Health mission and lead its bright future in research advancing the health of companion animals, and in turn, human health."
Return to home