The Art of
Vet Med
---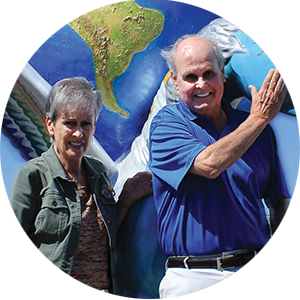 "Pets come in with a human attached, and sometimes in the profession, we forget that. The pet would not be here if it were not for the human and our staff is trained to have excellent client service skills."
Although she has served the veterinary community for 45 years, Dr. Pat Kennedy Arrington '71 has no plans to slow down or stop what she loves. After all, there are animals to care for and young veterinary professionals to mentor.
In fact, her Louisville, Ky., practices are thriving, both in the number of clients and veterinarians she employs. Jefferson Animal Hospitals, which includes the Fern Creek Wellness & Surgery Center and the Outer Loop 24-hour Emergency Center, are both considered among the top practices in the state and beyond for their commitment to animal care and the human bond.
Dr. Kennedy Arrington's passion for her profession is one that started as a youth in Canada and Florida, developed through her educational years and continued as a young veterinarian.
"I moved to Kentucky as a new graduate veterinarian, I fell in love with Kentucky's beautiful countryside and people and have lived in Kentucky ever since.
"In 1978, as a new practice owner, the American Animal Hospital Association was the blueprint for my practice. They provided the best care practices and protocols that I needed and modeled. I needed a mentor and I wanted to set the bar high for myself and for the profession. I used AAHA's standards of practice as my guide."
Among the first AAHA-accredited practices in the state, Dr.  Kennedy  Arrington  continues to lead the profession with innovative ideas to help clients feel more comfortable in bringing their pets to a veterinarian, a key she says many in the profession overlook.
"It is a privilege to be a veterinarian and it is also a responsibility to be the best veterinarian I can be, and I am committed to the profession, to the animals and owners I serve and to providing excellence in keeping our patients healthy," she says.
Both practices are operated using, when appropriate, fear-free and low-stress techniques, ensuring both the pet and their owner a positive experience. "We believe that gentle handling and compassion, not muscling down the animal, will go far in how the animal feels about us and especially ensuring the owner will return their pet for health care visits," she says.
"We understand how every interaction with humans affects an animal's perception and their willingness to cooperate," Dr. Kennedy Arrington says. "Animals often don't understand human language, and miscommunication can cause them to become frustrated and confused, which can lead to a bad experience for the pet and the owner.
"It is our number one reason for acquiring new clients," she says. Educating the owner to make sure they understand what we are doing and have a part in the decision of how we are treating their pet is extremely important.
"Pets come in with a human attached, and sometimes in the profession, we forget that," Dr. Kennedy Arrington says. "The pet would not be here if it were not for the human and our staff is trained to have excellent client service skills.
"We approach every visit as an opportunity to strengthen the bond between the owner, their pet and our staff to help establish a trusting relationship between humans and their pets."
That commitment can be felt by walking up to the front door, past the well-manicured lawn and stunning sculptures of animals and people, and inside the two facilities. The reception areas and exam rooms feel more like a comfortable resting place for owners and their beloved animals—complete with comfortable seating for people and beds and climbing structures for animals versus a sterile medical environment. Services are enhanced by the latest in technology for the 30-plus technicians and staff, and 14 full- and part-time veterinarians.
Convenience is an important factor as well. The main hospital has been open 24 hours for the past 36 years for both emergency and wellness.
"Since Louisville is a 24-hour town with UPS, GE, Ford and the hospitals, clients can come at 3 a.m. for normal vaccine wellness in addition to their pet emergencies which fits well into people's around-the-clock shifts. This was a unique concept in 1980 and has worked extremely well for the practice," she said.
Kennedy Arrington credits her husband, Rick Arrington, for the business and marketing direction of the practice, who along with son, Adam, who oversees the non-medical side of the practice.
"When we took over the Fern Creek space and remodeled, Rick was adamant that the exam rooms and the reception area room windows have built-out areas around the windows and also pet cushions to allow cats and small dogs to be able to comfortably sit, as well as provide natural light," she said. As a cat-friendly, low-stress and fear-free practice, there is also a separate entrance/exit and waiting area for feline or canine patients and owners. "And we can discharge, check out and make the next appointment all in the comfort of the exam room," she said.
Dr. Kennedy Arrington's professional philosophy also includes a commitment to passing along her expertise and experience, providing externships for soon-to-be veteri- narians and employing and mentoring those just beginning their career path.
"We have been an Explorer post for 15 years and work with high school Vet Wanna Bees and several of our students have become veterinarians and event-boarded specialists. I'm so proud of all of them."
And, as much as she loves Auburn veterinarians, she believes hiring from a spectrum of the veterinary medical colleges strengthens her practice because graduates come to her with a variety of experiences and training. By sharing those experiences with her colleagues, Dr. Kennedy believes she is making the profession stronger. "We have graduates on staff from Ohio State, Purdue, Illinois, Iowa State, Colorado, LSU and Auburn, and while I didn't necessarily do it on purpose, I think having a broad spectrum of graduates provides a wealth of experience in diverse opinions for all of us."
She has that same commitment to the techni- cians and administrative staff. "We cross-train all our employees, no matter what position we hire them into, so that they know what it takes for our clinics to be successful. They learn the basics of every position in our hospital.
"I want our employees to walk in their teammates' shoes as much as possible, so they understand the importance of all the positions here."
Dr. Kennedy says her philosophy, one she learned from the late Dr. Karl Grady is to "always hire people smarter than you, work with your staff and get them to believe in what you are doing… then step aside and watch them go."
Her best advice to veterinarians: "Diagnostics and complete physical exams should always be the core of your practice management. That's why we are veterinarians. Vaccines without an exam are not an option at our hospitals. 'Tip to tail' exams will find many problems the pet owner wasn't even aware of and will often extend that patient's life.
"Veterinarians often don't want to charge for their time and expertise but pet owners deserve the benefit of our knowledge and are willing to pay for services their pet needs."
Her career philosophy, the first part of which many in the profession would dispute but one that has served Dr. Kennedy admirably: "I am not the best, I am not the smartest. But I am the hardest working."
Return to home