First-generation Auburn veterinarians-brothers-and the remarkable 1964 graduate who succeeded one of them
by Sam Hendrix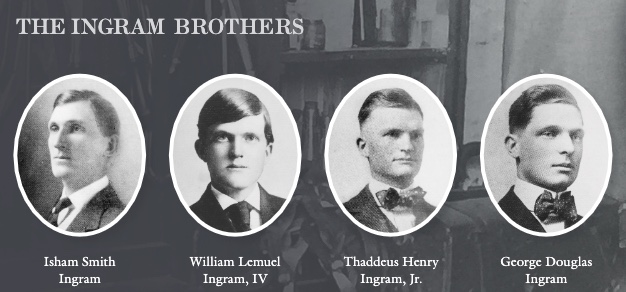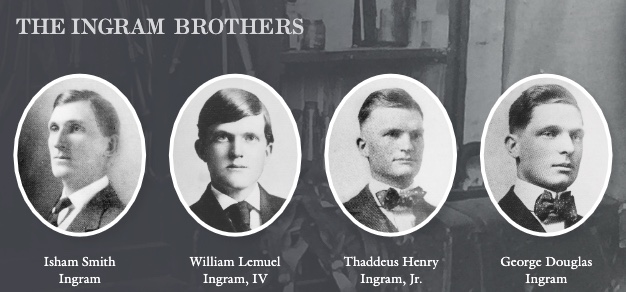 The phone rang early at the Davis home that Sunday in 1967. Phil Davis, 34 and three years removed from his graduation from veterinary school at Auburn—"bullet-proof and invincible," he would later describe himself at that time—was getting ready for church. His wife, Tuttie, was cooking breakfast or helping Debbie, Mary and Donna put on their Sunday best. The girls were 11, 8, and 2, and the family lived in a modest new subdivision on the north side of Florence, Ala., not far from where Phil had served his preceptorship with Frank Gravlee, DVM Auburn class of '56.
Phil answered, assuming the call would involve business at one of the stockyards he served during the week as an assistant state veterinarian. He traveled in and out of five north Alabama counties Monday through Friday, monitoring for hog, cattle and horse diseases, work he described as "rewarding, but routine."
The caller's voice was unexpected though familiar. "Hey, can you come by and see me this afternoon?"
George Douglas Ingram, DVM, was in his mid-70s, six feet tall, a little over 200 pounds, a livestock veterinarian who had graduated API in 1916. He was still plenty formidable, "a striking figure," Davis said, but not quite the hoss he had been in his early practice days, when he went for years as the only veterinarian within 50 miles. In 1967, 41 years after he had launched the first small animal hospital in North Alabama and nearing the end of his career, he owned a sale barn practice in Florence, with the town's two large stockyards adjacent to the clinic. Davis described Ingram's work then as "largely taking care of horses and mules in cotton country. There was a large farm outside of Florence, the Perry estate. Ingram would travel there in a buggy and stay a week at a time, treating horses and mules."
Davis reflected on what one found at Ingram's clinic. It was, he said,
. . . a barn-type building, with a cattle-loading chute and cattle head-catch, a structure for trimming cattle feet, constructed with a sling to lift the animals and large timbers with leather restraints to immobilize cattle's feet while trimming them. There was also a table for surgery on horses—mechanical, not electric—which would allow them to be restrained. The table tilted, somewhat archaic compared to those we had at Auburn. Other items used were a dental roll still bearing the "US" from his W WI Army service in the Veterinary Corps. In the roll was a collapsible dental speculum, various trephines, punches of different sizes, a hammer and chisel, several sizes of dental elevators and a set of wolf tooth pliers. All of this fit into the roll of leather and was bound by three leather straps. Attached by a strap was a leather pouch containing a curry comb with a folding hoof pick, also bearing the "US" insignia. Another item was a spout casting harness with a halter made of heavy leather and a one-inch rope used for casting and restraining horses for hoof trimming and other procedures, such as castration.
Ingram's work routinely included testing and vaccinating cattle for brucellosis, vaccinating hogs for hog cholera and dipping them in a creosote dip. After the sale, Davis said, there would be castrations, de-hornings, and other preparation for these animals' shipments to the new owners' farms.
Davis saw Ingram on a regular basis, usually twice a week as he worked the sale lots in Lauderdale County. There were sales every week of the year except for the week of Christmas. After they got to know each other, Ingram would share with Davis his memories of his days at Auburn, studying under Cary and McAdory, and about his early days in private large animal practice.
"Dr. Ingram always wore a shirt and tie with overalls," Davis remembered. "Even when he went to deliver a calf. And a Stetson like those worn by LBJ. I bet he had 10 Stetsons. He never went outside without his hat. He was a genuine character. He made all different types of medicines there. He had all that stuff on his shelves. He mixed up a blue medicine that we used for everything. I remember the formula: water, glycerin and ethylene blue. We dispensed it in four-ounce bottles with a dauber. You could paint it on a dog, and six months later, it was still there. He made something we called I.A.S. Tonic: iron, arsenic and strychnine. Given in feed to horses…after about three doses they would eat anything in the trough."
Another formulation was P.I.G. Paint—potassium, iodine and glycerin—recommended for application to alleviate sprains in horses' legs. Dispensed also in four-ounce dauber bottles. And my favorite: Cow Whiskey, for 'brown grass fever,' a common term for ketosis. It was simply chloral hydrate dispensed in quart jars [origin explained later] with instructions to drench the cow with a quarter of the bottle daily for four days.
"There weren't regulations then like we have now."
When Davis arrived at Ingram's clinic that Sunday afternoon of the 1967 phone call, Ingram sat at his roll-top desk and wasted no time in bringing the matter to a head.
"Son, I've decided to sell you my practice."
"He didn't ask me if I wanted to buy his practice," Davis said, five decades later. "He told me that was the decision he had made. I had no idea this was coming. And after a day or so, after I talked with Tuttie, I told him I would buy his practice.
"Ingram's selling price was $4,000, plus $250 per month in rent, "a little more than the value of the drugs he had on hand," Davis said. "There were some caveats: I had to keep his employees…I would not increase his fees for a year…I would assume no debts on the practice.
"Davis borrowed the money and went to work as a practice owner, "scared but optimistic."
The change in ownership did not mean the immediate departure of Ingram, however. According to Davis, Doc kept his office and continued to come every day, picking up our mail at the post office, where mail was in the boxes by 9 a.m. and 2:30 [p.m.] Monday through Saturday. He would arrive, dressed in a suit and tie and his Stetson, enter, greet everyone, and go to his office, close the door, and open the big safe. He'd take out a fifth of 100 proof Old Forester and pour himself about two fingers in one of those bar glasses that resembled a barrel. He would open his mail, sip his whiskey, and then lay down for a short nap. He woke around 11, took another two fingers, and left to go home to pick up Mrs. Ingram. They'd go to lunch at Barber's Café every day. He would repeat his cycle after the afternoon mail was up and then around 4 o'clock he would go to his farm and check his cows. He'd return to the clinic around 5:30 when the office closed and finish the fifth before returning home. Oddly, after consuming this much alcohol, I never saw him drunk, even tipsy, or smelled it on his breath. I assumed his body simply metabolized it like food. This went on until Mrs. Ingram died, and thereafter I never saw him take another drink. The empty bottles were washed, the labels removed, and they were dispensed with Cow Whiskey for drenching.
Ingram and his brother, William Lemuel Ingram, joined forces to practice in Florence in 1919. William—who had graduated API in Cary's second class, in 1910—died in 1958, two days after reaching his 70th birthday. By 1967, George Ingram had been in Florence almost half a century.
Both these brothers—as well as a third—served as Army veterinarians in the First World War. And in the beginning, before the war, there was actually another Ingram brother—four in all. That first one set the stage, so it's appropriate to pick up the story with that first Ingram. But first: what was in store for American veterinarians in World War I, into which the Ingram brothers ventured? (See Veterinarians at War sidebar)
END OF PART ONE
to be continued | Fall 2019
Veterinarians At War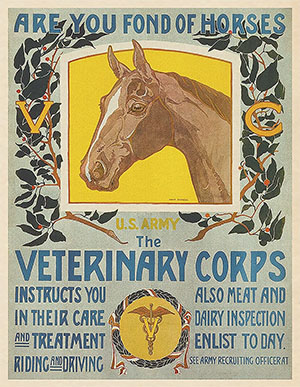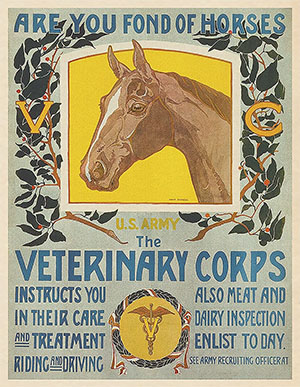 The work of the veterinarian as military participant in the United States began technically before the United States existed as a country . . . when Gen. George Washington directed the establishment of a farrier/veterinary service to support the horse artillery in the Revolutionary War. The early focus was on farriers—not veterinarians—and at $8 or $10 per month in pay, the farriers weren't exactly a focus. More an allowed accoutrement. Farriers served in the American Revolution, then with mounted units in the Mexican War of 1846-1848, and a few years later during the Civil War. There were Europe-trained veterinarians in America before the Civil War, but LTC Brian Moore, DVM, Ph.D., with the U.S. Army's Medical Research Institute of Infectious Diseases, in an online History of the U.S. Army Veterinary Service, contends that at the Civil War's outbreak, no veterinarians were serving in the Army, presumably Union or Confederate. Veterinarians were eventually brought on board on both sides, chiefly to care for the more than five million horses that played a role in the Civil War—3.4 million for the Yankees to 1.7 million for the South.
To an extent before the Civil War, and more so soon after, veterinary medical instruction took root at established college campuses, succeeding the private, for-profit schools that had contributed to America's early staffing of the veterinary—and military—workforce. When the Spanish-American War took place in 1898, according to Moore, 14 veterinary surgeons were enlisted in 10 cavalry regiments. There may have been many soldiers with some level of veterinary science training under their belts taking part in the conflict, given the number of Alabama Agricultural and Mechanical College boys under Cary's tutelage who served. Moore mentions an "Embalmed Meat Scandal" at the end of the Spanish-American War that served to launch the Army's veterinary food inspection service.
The Army Reorganization Act of 1901 granted all veterinarians serving in the military the pay and benefits of a second lieutenant—a substantial upgrade from the days of playing second-fiddle to the farriers. Army veterinarians at the turn of the century were assigned to cavalry and artillery regiments and were paid $1,500 per year (not far from what Cary was making at API at the time).
Fifteen years later in 1916, Congress passed the National Defense Act, establishing the U.S. Army Veterinary Corps. Enlistees had to be between ages 21 and 27, had to have graduated from a recognized veterinary college, and had to pass professional and physical examinations. At the beginning of World War I there were 72 veterinary officers and no enlisted men. Within 18 months, the corps grew to 2,312 officers and 16,391 enlisted personnel. This rapid growth in the middle of the war required the establishment of recruitment, training, policies, procedures, and equipment. What was apparently a haphazard arrangement at the war's beginning, by necessity, grew into a more organized veterinary-military partnership.
The American Expeditionary Force required large numbers of animals to accomplish a variety of missions ranging from cavalry mounts and artillery transport to logistical supply and ambulance service. The rugged and muddy French terrain was better suited to animals than gas-powered engines. The vast number of horses employed by the Allies in the Great War necessitated a trained cadre to care for them.
Return to home