Vapor Wake
Detection Canines
---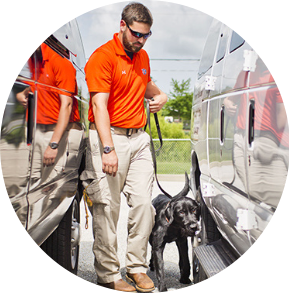 by David Housel, reprinted with permission.
Whether you are an Auburn fan, an Alabama fan, a Georgia fan or an LSU fan, even a Tennessee or Florida fan, you have a new Auburn hero.
Or should have.
The Auburn Dog. Not a Georgia Dawg or a Mississippi State dog, but the Auburn Dog.
The Auburn Vapor Wake Dog should be your hero because they are keeping you, your family, and your country safer than it would be without them. Alabama and Florida fans attending [the most recent] SEC Championship game especially [owe gratitude] to Auburn Dogs.
Perhaps even grateful enough to say "War Eagle!"
Auburn Vapor Wake Dogs are more refined than bomb-sniffing dogs; they are vapor dogs. The difference between a bomb-sniffing dog and a vapor dog is too complex and scientific to explain here.
But Auburn Vapor Wake Dogs, using a process developed by the Canine Performance Sciences program, are more versatile and alert than standard bomb-sniffing dogs.
Bomb dogs react to stationary objects. Vapor Wake dogs react to explosives on the move.
Rather than finding a pre-placed stationary explosive device as bomb dogs do, Auburn's vapor wake-trained dogs sniff out moving explosives, in backpacks and such, while the intended bomber is still moving to the place where the bomb is to be placed.
Case in point: the Boston Marathon Bombing. Bomb-sniffing dogs walked by the spot where the explosive was to be placed, but there was no bomb there at that time. Had it been there, the bomb dogs, no doubt, would have found it. But if the device is placed after the bomb dog makes its rounds, as was the case in Boston, it proves to be a clear and present danger. A vapor wake dog, however, would have detected the bomb before it was ever placed, while the bomber was still moving toward the location. Lives would have been saved, injuries prevented.
Vapor wake dogs are one of the nation's newest and most effective anti-terrorist assets. They are protecting our troops in Afghanistan and are being used at major venues and at transportation hubs and systems throughout the country.
Auburn Vapor Wake Dogs are more than man's best friend; they are rapidly becoming best friends of law enforcement and security agencies across the country.
The NFL, MLB, NBA, Marta and Amtrak have all been monitored and protected by Auburn Dogs. They also have been used at the College Football Playoffs.
Vapor wake dogs—Auburn Dogs—do their work by sniffing molecules left in the air by moving objects. Just as perfume leaves an aroma, all moving things, living or inert, leave behind a scent or a vapor trail. Auburn Dogs are trained to sniff out the vapor trail of substances that could be used to make bombs or other explosive devices.
Vapor wake dogs can smell potential explosives up to 10 minutes after the would-be bomber has passed a particular point. That kind of skill and information it provided may well have prevented the Boston bombing.
An Auburn Dog's finely tuned sense of smell enables it to detect a dash of Kool-Aid in an Olympic-sized swimming pool or a single blade of grass in an area the size of several football fields.
A single blade of grass.
So, no matter how you feel about Auburn Football, love it or loathe it, this is just another example of how Auburn—Auburn University—is making our world a better, safer, more secure, and enjoyable place. And this but one example.
Isn't that enough for at least one "War Eagle"?
A Gordo, Alabama native, David Housel first came to Auburn University in 1965 and earned a bachelor's degree in journalism four years later. He left the Plains for a brief stint as news editor at The Huntsville News, only to return and start a career with Auburn Athletics. Housel spent two years in the ticket office before teaching journalism at Auburn 1972-80. He rejoined the athletic department as an assistant sports information director, was named sports information director in 1981 and assistant athletic director in 1985. Housel became athletic director in 1994 and served in that capacity until his retirement in 2005. That same year, the press box in Jordan-Hare Stadium was dedicated in his honor. Housel has written numerous books including From the Desk of David Housel, a Collection of Auburn Stories and Auburn Saturdays to Remember. He and his wife, Susan, residein Auburn.
Return to home