Veterinary Medicine
and Auburn
---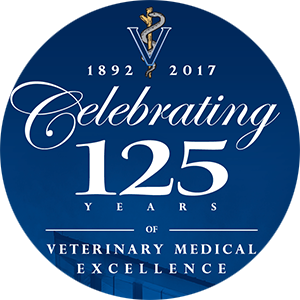 Dr. William LeRoy Broun's primary aim when he arrived as president of the Alabama Polytechnic Institute in 1882 was to add, or build on, programs that trained students in the agricultural and mechanic arts. With a science and technological background, he headed the Confederate Arsenal at Richmond during the Civil War. By the time President Broun took charge, he began adding faculty members to advance areas that would be key to the South's overcoming the damages of War and Reconstruction: agricultural research, multiple branches of engineering, pharmacy, chemistry, geology, and veterinary science, among others.
To launch Auburn's program in veterinary science, President Broun in 1892 hired a young veterinarian, Dr. Charles Allen Cary, an Iowan who at the time was professor of veterinary science at South Dakota Agricultural and Mechanical College but who was already planning study excursions to Columbia, Missouri, and Berlin, Germany.
President Broun convinced Dr. Cary to come to the dirt streets of a village in east Alabama to start a veterinary program. After a three-month "visiting lecturer" appointment and his several months in Germany, Dr. Cary accepted President Broun's offer of a permanent position. Auburn Veterinary Medicine was born.
Dr. Cary methodically built the program: teaching classes; overseeing construction of modest facilities at what is today the northeast corner of main campus (near Toomer's Corner); offering free Saturday clinics for area farmers which doubled as laboratories for students; organizing the Alabama Veterinary Medical Association; lobbying for—and getting—legislation authorizing the position of state veterinarian; fighting myriad diseases such as tick fever, hog cholera, and tuberculosis; elevating his program into a degree-granting school; traveling the state to conduct Farmers' Institutes and hosting Summer School for Farmers, all the forerunner of work seen today in the Cooperative Extension Service; and hiring a succession of highly capable lieutenants who also made their mark in veterinary medicine at Auburn and elsewhere.
After Dr. Cary died in 1935, the program continued under the leadership of Deans I.S. McAdory and R.S. Sugg to relocate to what was then the western border of campus, where the Physiology Building stood from 1922 until its demolition in 2013, to Cary Hall, and to the large and small animal clinics that were built along today's Donahue Drive.
In 1960, under Dean James Greene, the large animal program relocated two miles to Wire Road to the then-new McAdory Hall. A decade later, the small animal program and veterinary administrative offices joined in new facilities that were later christened Hoerlein Hall and Greene Hall.
The college has grown in almost every imaginable way since the days of Dr. Cary. Today, 480 professional students and several dozen graduate students are preparing for careers in any of several tracks of veterinary medicine. They study under a highly accomplished faculty in state-of-the-art classrooms, laboratories and clinics across a multi-million-dollar campus where world-class research addresses health issues central to both animals and people.
We proudly salute the accomplishments of Dr. Cary and the thousands of men and women who have had, at their core, a commitment to veterinary medicine. The following is a timeline of veterinary medical excellence at Auburn.
Return to home