It was soon after Walter Woltosz, who holds both his bachelor's and master's from Auburn in aerospace engineering, toured the College of Veterinary Medicine's Canine Performance Sciences, or CPS, unit on a University Research Advisory Council tour that he and his wife Ginger decided they wanted to be a part of achieving the program's mission. That mission involves cutting- edge research into canine detection technologies that increase the capabilities of Auburn-bred dogs to detect existing and emerging threats.
"Ginger and I both love dogs," Woltosz recalled of that decision. "I told her about the program and we connected with Pam Haney, CPS manager of performance research and development. We liked the program so much and were so impressed with the amazing progress they've made over the last 20-plus years that we decided to sponsor a litter."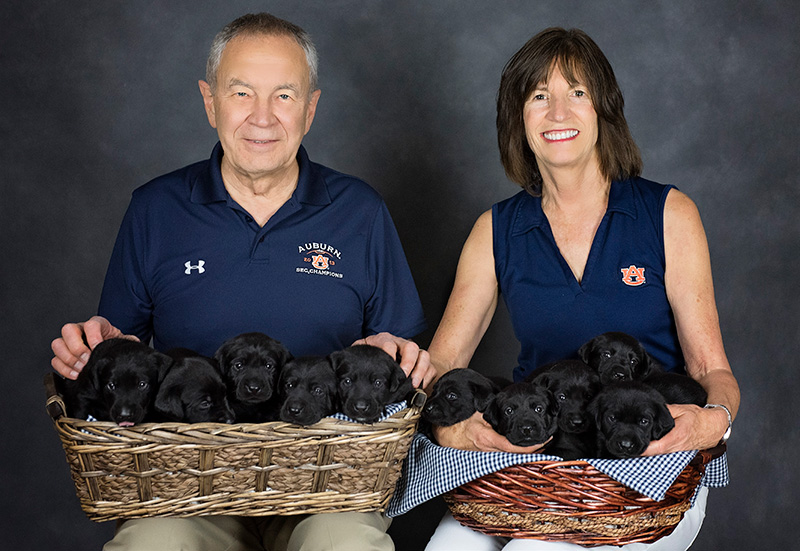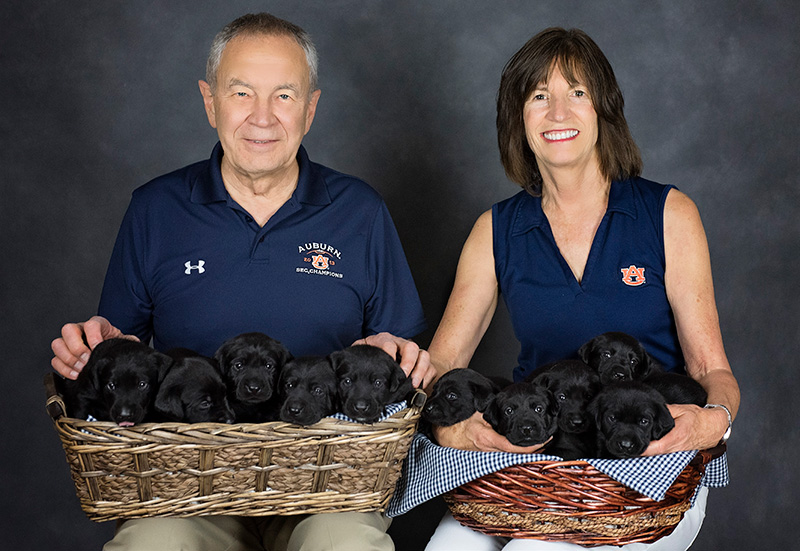 The couple, who are also members of Auburn's 1856, Petrie and Foy Societies, Athletics' Pat Dye Society and the College of Engineering's Keystone and Ginn Societies, was able to do just that through the CPS Help Raise a Hero – Support a Litter initiative, comprised of a philanthropic community of donors who financially support the CPS breeding program.
"Donations made through the initiative are used to help raise canine heroes and allow us to conduct research that underlies the development of some of the world's most highly regarded detection dogs," said Haney. "Walt and Ginger's tremendous gifts have helped accelerate the CPS vision of enhancing the abilities and lives of our canine partners to make the world a safer place."
One of the 10 puppies in the litter the couple sponsored was named for Ginger and, after mothering several litters of her own, has now been trained as an explosives detection dog and joined the Auburn Police Department K9 unit to help protect the Auburn community.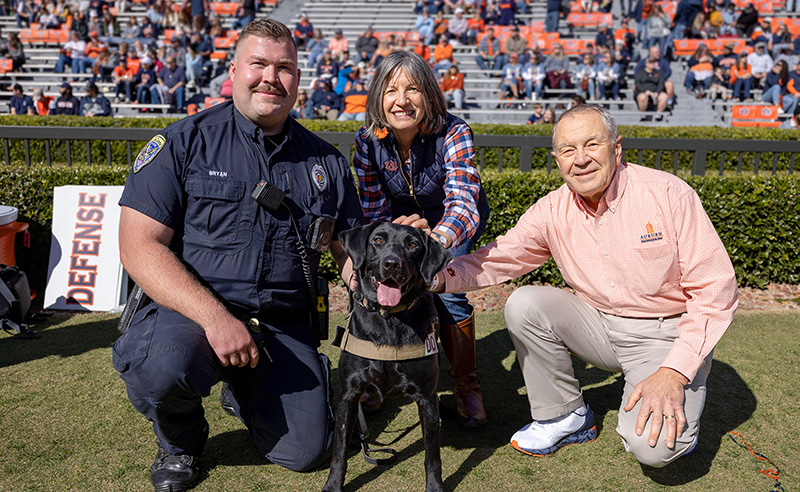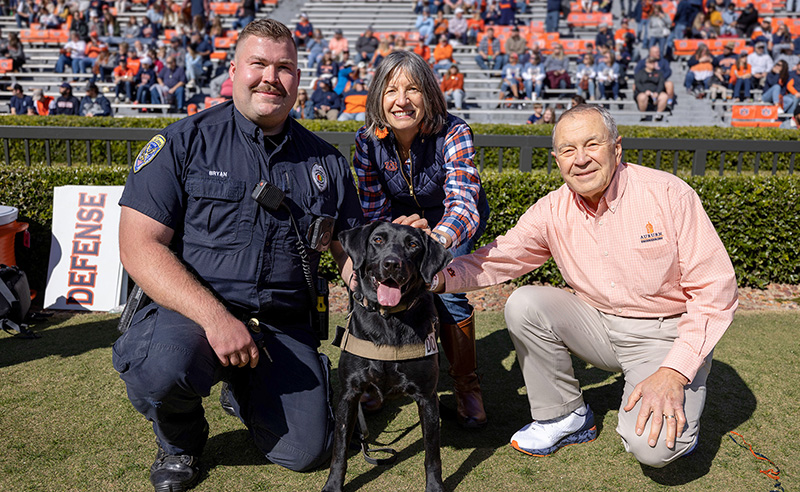 "Honestly," said Ginger Woltosz, "I would have been honored to have any of the CPS dogs named after me. The fact that Ginger has proven to be such an exceptional dog, that she was chosen to be one of the CPS breeders — and that she is so excellent in the work she does now with the APD — makes me even more proud and honored. Both Walter and I have been with her for more than one of her litters and played with her pups. We have also been fortunate to observe her as she demonstrated her detection skills."
"Our breeding program provides a unique platform in the college for educating veterinary students, clinicians and the public about canine reproduction, puppy development, detection training and, ultimately, protecting the public around the globe," said Haney. "Help Raise a Hero donors allow us to maintain our program's legacy of Man's Best Friend. Man's Best Defense."
For more information or to find out how you can participate in the Help Raise a Hero initiative, visit www.vetmed.auburn.edu/cps.
Return to home