---
Auburn's Equestrian Team & Vet Med
A Winning Combination
Work Together,
Win Together
---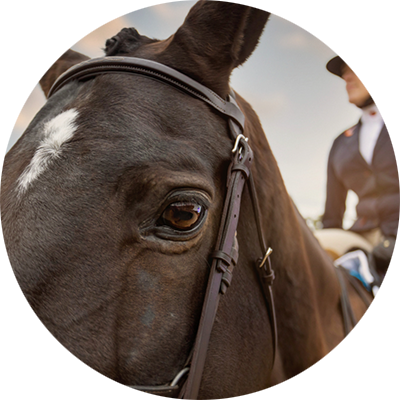 by Mike Jernigan
IS AUBURN, WITH ITS LAND-GRANT HISTORY AND STRONG AGRICULTURAL TIES, ACTUALLY A COW COLLEGE? 
Not if you ask Greg Williams, head coach of the Tigers' outstanding equestrian team, or Dr. Jennifer Taintor, associate professor in the Department of Clinical Sciences, who oversees the veterinary care of the team's horse herd. For them, Auburn is a "horse college." And the Auburn equestrian team — despite having only competed as a varsity sport since 2002 — has six overall national championships, four hunt seat national titles, one western national title, one Southern Equestrian Conference crown and four Southeastern Conference championships to prove it. 
Both Williams and Taintor have been associated with the team and its predecessors from its earliest beginnings in the 1990s, when Williams, a 1986 Auburn animal sciences graduate, managed the animal science equine breeding program, which would eventually evolve into the equestrian program with between 50 and 75 mares and five stallions. Taintor began working for Williams while an undergraduate student "doing a little bit of everything," then continued the job while attending veterinary school.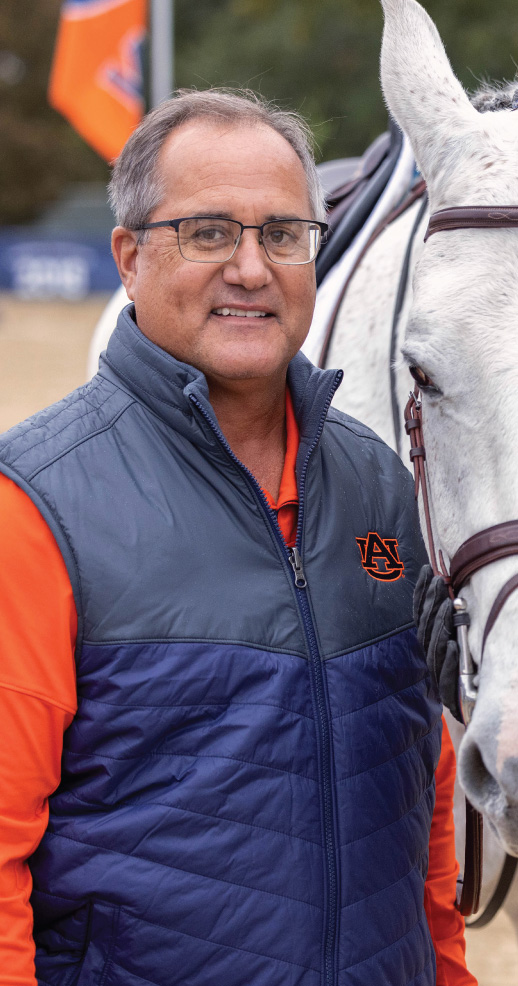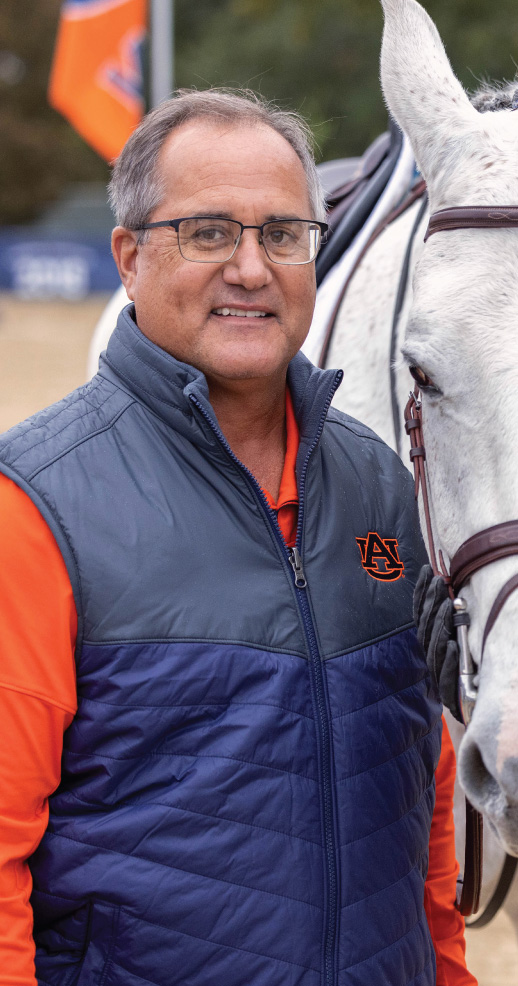 After graduating and leaving Auburn to go into practice for several years, she returned to Vet Med as a resident in 2000 and once again became active with the equestrian program which, by that time, had begun competing as a club sport. Taintor then joined the faculty as an assistant professor in 2007 and began to oversee most veterinary care for the team, by then a full university varsity sports program under the auspices of the NCAA. 
Coach Williams let us students run the program," Taintor recalled of her student job. "It was ours. He taught us a lot about teamwork and problem-solving, plus it was a lot of fun. It was like a family and those experiences really impacted my college career. Working with the team now is like going back home. It's a chance to give back." 
Williams also knows the team's horses couldn't be in better hands. "Our history with Dr. Taintor goes back 30 years, when she worked for me as an undergraduate," he said. "As for the equestrian program's history with Vet Med, it goes back to even before the team's beginnings. I started the team in 1996 and the Vet Med involvement has continued to increase through the years with the growing demands of the sport.
"Our team spent six years as a club program and then moved to the NCAA (the NCEA is the governing body for NCAA equestrian teams) in 2002," he continued. "That is when the pressure was really amped up. To have a string of horses competing at the varsity level, day in and day out, is very daunting. But our care team in Vet Med doesn't just have the expertise, but also the competitive drive to keep Auburn's team ahead of our competition."
Today, the program's approximately 60 horses — which are split almost evenly between those used for Hunt Seat and those for Western competition — are utilized by the university's NCAA equestrian team, the Intercollegiate Horse Show Association team and equine education classes offered through the College of Agriculture's animal sciences curriculum. They are also part of the College of Veterinary Medicine's ambulatory rotations and two equine lameness diagnostic imaging rotations for veterinary seniors. According to Taintor, the horses, which are all donated, are largely ex-show horses that for one reason or another — age, past injuries, disposition, etc. — are no longer able to compete at the highest show level.
"The NCAA equestrian competition is not nearly as intense for these horses, so it's really like dropping down a level for them," Taintor explained. "In a lot of ways, they mimic human athletes. They still want to compete, just at a lower level. A good way to think of them is like Major League Baseball players who, due to injury, are sent down to the minor leagues, or older professional tennis players who can no longer compete at Wimbledon or the U.S. Open, but still play in charity and celebrity tournaments."
Williams has a slightly different analogy. "I always say college equestrian competition is the rescue program for ex-show horses," he said. "Most of these horses are donated with some type of medical maintenance issue beyond the scope of what a typical owner wants to deal with. The largest number we have are horses that couldn't quite stand up to the rigors of industry competition. In that venue, they have to be perfect every single time, which gets hard for aging horses or those battling a sports injury. That is where we come in. We provide new flexibility and opportunity for these equine athletes."
Just as with human athletes, Taintor said most of the team's horse problems requiring veterinary care are musculoskeletal in nature. "As you would expect, we see a lot of wear and tear on joints, tendons and ligaments," she noted. "Many of the horses are a little arthritic as well. We usually have four or five on the injury list at any one time. If they reach a point where they can no longer compete, we try to find them good homes.
"Keeping the injury list as short as possible is important," she added, "because some horses are more talented than others." Since in 
NCAA competition the home team provides the horses ridden by the members of both teams, Williams and his assistant coaches need as much flexibility as possible when considering the horses to be used in each meet. Taintor and the veterinary team determine which horses are able to compete, then the coaches choose their horse lineup based on the opponent and the level of competition they expect.
The success of the system and the synergy between the program and its veterinary care providers have been critical to the team's great success. Not only do the horses have a chance to continue to perform and extend their working lives, their care provides real world experience for numerous veterinary students each year. Equestrian team members are also exposed to the veterinary side of competition, resulting in relationships formed and knowledge gained to last a lifetime.
"We have a number of team members who have gone on to become veterinarians and several members of the current team hope to enter those ranks soon," Willams said. "Another great thing about the relationship between the equestrian team members and Vet Med is how many of these riders will depend on equine sport veterinarians later in life when they are competing as professionals or adult amateurs. The demand to continue performing at a high level doesn't end with the completion of collegiate eligibility."
Taintor said the synergy works both ways. "Having an equestrian team is just a really good fit for Auburn. Coach Williams is not only very supportive of the relationship with Vet Med, but also the educational aspect of our students learning while helping to provide proper veterinary care. Learning takes practice and time, and he is very patient with the teaching component that comes with caring for the program's horses."
For his part, Williams is quick to point out that he considers the College of Veterinary Medicine an irreplaceable part of the program's remarkable accomplishments. "Not all equestrian teams have veterinary programs at their schools," he concluded, "so they are forced to seek outside help. Others have access to institutional veterinary programs that aren't invested enough to help them stay competitive in the NCAA realm. I feel really fortunate to not only have access to a great veterinary program with the expertise and facilities for competitive equine sports medicine, but also staff and students with a vested interest in the team's success. We all work together to win."

Return to home